Top 5 Call Center Trends Through 2015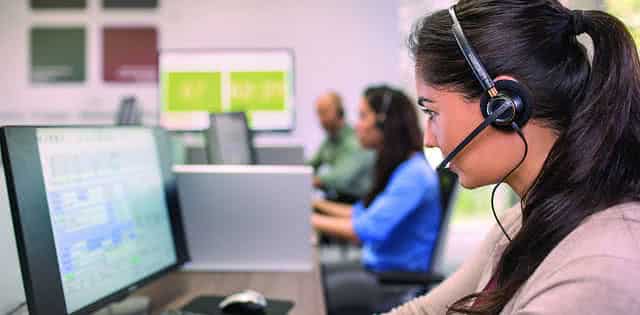 Where are call centers headed this year? According to No Jitter, the traditional call center is dead. It has been replaced with what some term "relationship centers," which focus more on customer satisfaction than business metrics. This presents a unique opportunity for call centers to evolve through 2015 — here are the top five trends to watch:

Consolidation

A recent Spoken Communications post highlights several call center trends for 2015. Topping the list is what they term "consolidation and centralization," as companies take a step back to examine their communications infrastructure this year. While the rise of VoIP and unified communications (UC) technology has prompted greater scrutiny (and spend) on cloud computing services, 2015 brings a narrowing focus as companies size up their budgets and find ways to make existing technologies more efficient.
In many cases, this means choosing an automation-focused approach, which removes the need for employees to navigate endless screens and commands to access consumer information. On the customer side, investment in consolidation and automation should help reduce call wait times and help ensure that call center agents always have the most up-to-date information on hand. The key to this trend? Picking the right battles. Infrastructure must be intelligently scaled back and automation must never be allowed to trump the critical human element of an effective call center.

Combined Channels

Going with a multichannel approach has offered the promise of increased ROI for years, but even in 2014 this amounted to little more than a buzzword. With more than three quarters of consumers still opting for the phone over email or social media, it's critical that companies don't underinvest when it comes to agents, phone systems and integrated data support technologies such as integrated CRM, telephony and desktop support agents.
In 2015, however, expect to see the groundwork laid for true multichannel support as individual channels are steadily combined. For example, a good starting point is the combination of phone system and email access, allowing agents to speak with clients even as they send and receive documents or other attachments.
Another noticeable trend is the use of agent screen pop-ups of relevant information from other back-office systems during the active call to further reduce the time to onboard new agents and improve first-call resolution times. Desktop support agents take this a step further, providing real-time data from business support applications to phone users based on their role and need. The next step is rapid integration of text, social media and other commonly used channels. 

Speech Analytics

As noted by Wired, the speech analytics market grew by 20 percent in 2014. Why all the interest? Because the ideal speech-analysis solution can identify consumer sentiment by using tone of voice and talk and silence patterns, then route callers to the appropriate end point. Instead of frustrated consumers being forced to explain their circumstance again and again until they're sent to the right person or new clients misdirected to the support desk instead of sales, speech analytics promise to eliminate significant amounts of call center guesswork.
According to SpeechTechMag, there is considerable interest in this technology's potential — for example, several European firms are currently developing what they call project D-Box, "an architecture for conversational agents whose purpose would be to support multilingual collaboration between users on a common problem in an interactive application." The plan is to first test this system in the naturally collaborative world of online gameplay; if successful, this real-time, multi-language building tool could have significant implications for the call center environment.
For companies looking to implement current iterations of speech technology, the key is moderation. This is an emerging market — it's better to identify a few sentiments correctly rather than go for broke and completely miss the mark.

Employee Valuation

In addition to focusing on customer satisfaction, 2015 will also see a shift toward improved employee valuation, which points to the expanding use of integrated call center tools. When at their workstations, for example, many employees are frustrated by the lack of obvious feedback on their performance and the "robotic" nature of their scripts when interacting with consumers. By adding tools such as gamification to measure performance in a non-intrusive way and giving agents more leeway in conversation, it's possible to humanize the call center experience without compromising efficiency. 

Remote Workers

Finally, 2015 will be a banner year for remote workers. According to Global Workplace Analytics, by 2016 approximately 63 million Americans will telecommute rather than work in a traditional office — call centers are ideal candidates for this trend. Making best use of work-at-home employees, however, requires two critical support strategies. First, companies must invest in robust cloud-based technologies with high redundancy and low-failure rates. In addition, mobile support cannot be an afterthought. Just like consumers, many employees prefer smartphones to landlines, meaning call centers must be willing to onboard bring-your-own-device (BYOD) policies this year.
Opportunity is calling in 2015. Tapping in means increased consolidation, channel combination, investment in speech analytics, employee valuation and infrastructure for the remote call center.

Find more information on top call center trends, solutions and industry practices by visiting the call center section of the Business-Software.com blog.
[Photo courtesy of Flickr user plantronicsgermany.]