Retail Call Centers: The Key to Creating Happy, Loyal Customers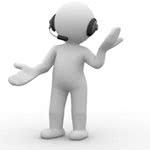 The fierce competition in today's industry has forced companies to eat into the share of their counterparts. No doubt, we live in an age where wafer-thin margins can turn the tables within no time. It goes without saying that the business needs of two organizations even if they are from the same industry are as different as chalk and cheese. In such a situation, organizations often look for customized solutions that perfectly fit into their value chain. However, the success of an organization is driven by many factors; it is not just a robust value chain or a large market share.
Like any other segment of the industry, the environment of the retail sector is very competitive. Retailers need to struggle more than ever to retain the present customers. In addition, they also need to attract new customers. This is the reason conventional retailers have diversified their arena and explored new channels for improvement of sales. Interestingly, the new trend of retail call centers is picking up fast in the retail industry.
Call Centers and Retail: Making the Connection
One can't deny that a retailer can't do without the support of call centers in today's world. This is especially true in the holiday season, when almost all retail employees don't even have time to breathe. It is often seen that customers place orders at the last moment. At times, even retail companies organize special events for festive occasions. There are times when companies cannot do without the aid of answering services. Not only do efficient customer services handle the calls of customers, but also help organizations keep up with the change in customer preferences and a dynamic environment. Therefore, outsourcing some part of the work is not a bad idea either.
An organization can definitely outsource a part of its customer service, support or sales. Not only does this reflect on the top lines and bottom lines of companies, but also enhances the relationship that an organization shares with its customers. If you are an online retail company that uses e-mail for customer service, you can opt for a retail contact center. This would allow you to leverage on their ability.
Once your work is outsourced, customers are assured of round-the-clock service support. They're no longer going to tell their old stories of calls going unanswered up by agents. Outsourced contact centers can do a lot more than just solving the problems of your customers. Your customers can utilize the services of such a contact center for placing orders, tracking of orders and even inquiring the status of shipment. The presence of a customer service representative who answers the queries of customers and place orders encourages online shopping among customers. Besides all this, you can also support your customers through the trendiest medium for customer support, online chat.
Core Objectives for Retail Call Centers
Having discussed the benefits of retail call centers in a detailed manner, let us talk about the objectives for which retailers can use to the services of call centers.
Reactivation of clients: Every retailer has some existing customers who have not been active for a certain period. Hence, a contact center can do the needful by enticing such customers through attractive discounts or gifts. The offer should be designed in such a way that it is not very expensive, but forces the client to reactivate his account. It has been observed that a reactivation campaign has a high rate of client conversion.
Analysis of customer behavior: During a reactivation campaign, customer service representatives also make efforts to understand why customers have stopped using the services of a particular retailer. Customers are also encouraged to give their valuable feedback about the product or service that they used. All these activities help a customer service executive compare the position of a retailer and its competitors.
The parameters that decide the success or failure of a reactivation campaign are:
Significance of an offer: One needs to understand the mindset of a customer to design an offer. After all, an organization cannot exist without its customers. Always remember that an offer does not need not to be just attractive, but lucrative as well. A customer might be enticed by an offer, but he would make a purchase only if he feels that the deal is worth it.
Line of attack: In general, a call center keeps a track of customers. This is done by keeping a track of customer's buying behavior. So, your outsourcing partner can not only help you understand the purchase pattern of customers, but also provides you with a history of their purchases. Therefore, you can design the campaign accordingly.
Accuracy of database: A call center representative certainly makes every possible effort to help his customers. However, a contact center executive also needs to maintain an accurate record of the customers. This is something that might not be an everyday need, but is definitely worth it in the long run. The database must be updated on a regular basis. One needs to do so in keeping a track of the contact details of customers.

There are many other things that work well for a client besides a reactivation campaign. It is the innate desire of every human being to be loved and taken care of. We are not only expecting this from our near and dear ones, but from the retailers as well. A retailer can give a warm welcome to his customers through a welcome call that should be made as and when an individual becomes a customer. This is one of the best techniques to reinforce ties with your customers.
Your welcome call might just include a very formal "Hello" and a one-liner expressing your gratitude. However, the impact of this call is much more. You can make your customers feel that they are the most important assets of your organization. In addition, you can also use the opportunity to verify the contact information and other necessary details.
Want more on Call Center Software? Discover and learn more about call center software by exploring blog posts, whitepapers and more on our call center resource page. For comparisons of the best call center software, download Business-Software.com's Top 10 Call Center Software report.