Top 5 Discrete Manufacturing Software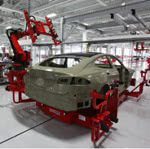 Discrete Manufacturing is a subset of manufacturing that entails the production of physical goods that go directly to businesses and consumers. Everything from toys and computers to cars and airplanes are all products of the discrete manufacturing industry. Discrete manufacturing has its own set of challenges and needs that have to be met by the software that controls it. Manufacturing software solutions must be to be extremely flexible in order to improve quality and cut costs.
Because discrete manufacturing is not continuous, software must be capable of more complex functions including delivering more sophisticated routing, capacity planning, engineering change management, and outsourced production within a routing sequence. With discrete manufacturing software there is a greater emphasis placed on efficiency and cost containment, and other important features required include: visibility in sales forecasts, customer specific bill of materials, enhanced workflow controls, and accurate inventory management. Below are five discrete manufacturing solutions that are robust and proven in the industry.
1. Exact Macola

Exact Macola is an all-in-one enterprise resource planning (ERP) solution that includes customer relationship management (CRM), business process management (BPM), accounting, document and human resources management, and distribution capabilities. It offers low cost per user and high modular functionality. Exact Macola fits well with small to medium sized companies that do a variety of manufacturing.
While the core modules are manufacturing in nature (bill of materials, inventory management, supply chain management, material requirements planning, and product lifecycle management), it also contains a variety of other capabilities. The accounting modules include AP/AR, general ledger, credit card processing, end-to-end analytics, and currency manager. There are also payroll, eCommerce, and distribution modules. WIth the numerous different modules that it possesses, Exact Macola can service the entire manufacturing pipeline without having to utilize other software solutions.
2. ECi M1

ECi M1 is another complete ERP system that is designed for small to medium sized manufacturing companies. ECi M1 is unique in that they offer their Materials Requirement Planning (MRP) module on a best-of-breed basis, making it easy for companies to grow into an ERP system and spread their costs over time. There are several other features that makes ECi M1 different from its competitors. They have a free (view only) license for buyers and others who just need to view/edit reports, smart-screen technology which changes screens based on user input, and a free M1 Design Studio that allows users to modify and customize their system without knowing how to program.
3. E2 Shop System

E2 Shop System is designed specifically for job shops and other make-to-order manufacturers of all sizes. E2 has a reputation to be easy to use and their mobile app (E2 Mobile) is the only one that is aimed specifically at ERP shop management needs. E2 simplifies estimating by allowing users to create both quick and complex estimates on labor, overhead, and materials. E2 also streamlines the shipping process by automatically generating shipping labels and packing slips. It also allows users to track the shipments online to multiple addresses. E2 possess a variety of other modules to help companies remain efficient and streamlined. The scheduling module removes guesswork and its contract management module ensures that everyone is on the same page. It also has payroll, AP/AR, general ledger, and analytic capabilities.
4. NetSuite Manufacturing Edition

NetSuite Manufacturing Edition is a cloud-based ERP/Financial suite geared towards larger manufacturing companies. The system is integrated with inventory, warehouse management, accounting/financial management, CRM, business intelligence, eCommerce, and order management.
Netsuite can also track down leads as well as track the association between production and revenue with its comprehensive business intelligence suite. Their SuiteAnalytics is a standard feature, so users can get get real-time information on company performance across finance, sales, marketing, service, and fulfillment. It also helps companies make better business decisions by giving them access to more and accurate data. It is also available on the web and mobile device, so users can review analytics from anywhere. Because the system is a cloud-based service-as-a-software (SaaS) package, there is less initial cost and faster implementation.
5. Epicor Express

Epicor Express is a cloud-based SaaS solution aimed at small to mid-sized job shops and manufacturers who don't want to invest a lot of capital into hardware and network support. Due to its on-demand nature, Epicor is simpler and easier to implement than other ERP systems. Like other ERP systems, Epicor includes a wide range of features and capabilities, including: financial management, CRM, BI, material management, eCommerce, product management, and production management.
Epicor Express is a simplified version of Epicor 9 which is a comprehensive enterprise-level ERP solution. Simplified simply means that there are several functionalities that have been hidden or restricted in order to increase simplicity and ease of use. The benefit is that once companies grow large enough, they can easily make the transition/upgrade to Epicor 9.
For more information on these vendors and more download our free Top 10 Discrete Manufacturing Software Report.