Top 5 Innovation Trends and Topics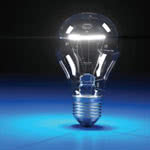 What are the innovation trends going on in the community right now? Here you get my views based on the interactions I have had in the recent months.
1. Innovation culture
We all talk about it. Some corporate innovation leaders claim to have the answers. Lots of consultants are sure they know. Most CEOs don't really have a clue.
This is how I started the description of my webinar / whitepaper with InnoCentive and given the continued interest and the many other initiatives related to innovation culture that keep popping up, I did not have to think much about what topic to place at the number 1 spot for this list.
This is also related to the people side of innovation, which I believe is the most important element for anything related to innovation.
2. Smartfailing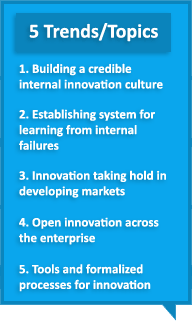 In the lack of a better term, I came up with Smartfailing to describe how companies need to improve their capabilities for learning from their innovation failures. There are lots of failures and we will see even more as companies have begun to understand that more and better experimentation is key for innovation. And then we realize that since failure is a close friend of experimentation comes failure, we need to learn how to deal with this in a constructive way.
At this point, very few companies have processes for this, but I had a great session a few weeks back which indicated to me that things are about to change on this difficult topic. The interest is definitely there.
3. Emerging markets
South Africa, Colombia, Russia are among the emerging markets with regards to innovation management that I visited recently. We are still in the early days, but I really like the drive and interest I sense in these place.
4. Open innovation
It is still relevant, but it is no longer the big topic that everyone wants to discuss. This is a good sign. Companies seem to understand that they need to open up their innovation efforts and now they are pondering on how this impacts their initiatives related to the corporate culture.
5. Concepts, tools and processes
There are actually a good number of concepts, tools and processes related to innovation management out there today and there also seems to be a great demand for this given some of my latest shout-outs and blog posts.
[This post originally appeared on 15inno and is republished with permission.]
Want more on today's trends? Find blog posts that cover the latest trends and news through Business-Software.com's news blog section.