The Top 4 Features of MRP Software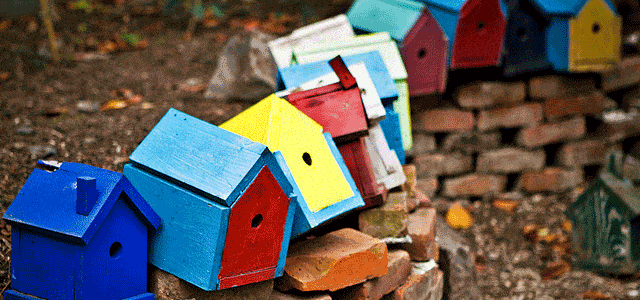 Suppose you wanted to build a dozen bird houses to place around your community; what steps would you need to take to accomplish this project? First, you would have to buy all of the tools and materials from a local hardware store. Buying materials can be expensive, depending on where you shop, and choosing the right supplier requires research, action and negotiation.
Once you find your supplier, you'll have to take into account the amount of materials required to build a dozen bird houses without having excess materials left over. The ideal outcome would be to buy the exact amount of materials needed at the lowest possible cost. After that, you'll have to plan out your process of designing, building and placing the houses around your neighborhood.
Now, imagine having to build a hundred or even a thousand bird houses — which must to be shipped and placed around the world! That's where MRP software comes in handy, helping companies to manage their massive inventories, manufacturing activities and delivery schedules.

What Exactly Is MRP Software?
Material Requirements Planning (or MRP) is a method that manufacturing companies can use to organize their resources and develop a plan for each resource. MRP software ensures that a manufacturer's materials are readily available for production, that the supplies are obtained at the lowest cost possible and that delivery schedules and processes maximize efficiency.
When looking for an MRP solution, it is imperative to find a solution that can take care of every aspect of the manufacturing process for you. To help you get started, here is a list of the hottest features of MRP software:
1. ERP

Enterprise Resource Planning (ERP) is a must-have capability for many MRP users, as it provides the foundation for you to track critical business processes ranging from production to distribution. This feature uses a database management system to monitor various factors like materials, cash flow, budgets, inventory and production schedules. In addition, an ERP module can inform you of processes statuses for purchase orders, schedules and more. When looking for an MRP solution, check to see if an ERP feature is included or if the software allows for integration with an ERP system.
2. Accounting/Financial Management

Having the all-in-one package is a big trend in the software industry; so it should come as no surprise that MRP with financial management is very valuable to users. To put it simply, having an accounting or financial management feature in an MRP solution makes it easier for business owners to plan budgets, allocate money toward resources and make sure that their costs and revenue are in check.
3. CRM (Customer Relationship Management)

Sometimes people have the misconception that CRM and ERP are the same thing or come as a package deal — unfortunately that's not true. CRM assists salespeople in dealing with customers during each stage of the product lifecycle, whether it's at the sale stage or during technical support. CRM capabilities come in handy when you have a large number of customers to deal with and want all of the customer-related issues organized and handled automatically. If the MRP software does not have one built into the system, don't fret; many include the option to integrate with a third-party CRM platform.
4. Forecasting

Forecasting helps businesses predict the demand for their materials, products and sales. This feature is a definite must for any business owner who wants to see growth in their company, because it provides the ability to see how well your materials are selling. Not to mention that forecasting can help you follow trends, giving your business a huge advantage in the industry. In addition, some MRP solutions that have forecasting also include a reporting feature that works with forecasting to produce charts, graphs and prediction reports.

The Lowdown
Creating your own products, materials and supplies can be overwhelming when produced in such large quantities. What material requirements planning software can do for you is to automatically organize, plan and execute your manufacturing process. The top features of MRP software — such as forecasting, financial management, CRM and ERP — offer additional assistance to your manufacturing operations by providing insight into your cash flow, customer relationships and growing trends within your specific industry.
To compare some of the leading material requirements planning solutions on market, download our free Top 10 MRP Software Vendors Report.
[Photo courtesy of Flickr user See-ming Lee.]