From the Community: ERP vs MRP Which is Better For Me?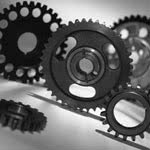 Welcome to Business-Software.com's latest addition to the blog, a weekly series called From the Community where we highlight questions from our community members. Join us each Friday as we dive into the featured inquiry.
This week's question is from Brenda F., who asks which type of software solution would be a better fit for her business: "ERP vs MRP which is better for me?"
Brenda's got a business that manufactures tools for the power industry. In addition, the company functions as a job shop, a type of small-scale manufacturing focused on customized items. She wants to find out whether that kind of multi-use manufacturing outfit will be better served by a straight up Material Requirements Planning (MRP) or Enterprise Resource Planning (ERP).
ERP vs MRP: Apples and Oranges
The first point that needs to be emphasized is that the premise of ERP vs MRP is slightly off-base. There are a few differences in terms of overall purpose and individual features that need to be taken into account.
While the origins of ERP are in manufacturing–ERP actually began as an outgrowth of MRP in the 1970s–the segment has since expanded far past the factory floor, becoming a fixture in enterprises-level organizations across almost every vertical out there.
Some of the central elements of ERP:
ERP
Designed as a suite to provide coverage of virtually all aspects of an enterprise's operations.
All the modules of that suite share a common database
Diversified feature set with tools for both employee and management-level use.
In contrast, MRP is a far more specialized type of product focused on manufacturing. As we mentioned in a previous article, MRP started off not as software but as a general philosophy for manufacturing in the 1960s. It quickly ended up finding new life in software form, however, and has become a fixture in the operations of many a manufacturing operation.
MRP
Demand forecasting: Push systems like MRP guide production based on predictions of amount of demand for the finished good. The math for forecasts takes both existing inventory of finished product (surplus) and raw consumable materials into account.
Continuous production: Because production is guided by forecast quotas instead of on-the-fly orders from down the supply chain, finished product will still be added to inventory regardless of demand.
Bill of Materials (BOM): BOM is a full manifest of all the materials that go into the finished product including raw consumables, components and parts.
MRP is, in essence, an inventory control system designed to calibrate supply of raw materials and other constituent parts in the inventory based on estimates of demand for the finished product(s).
The Answer


As Miranda notes in her answer to Brenda's question, a lot of ERP solutions come with MRP modules prepackaged. Contemporary ERP is meant to be an umbrella solution for all an organization processes after all, so it makes perfect sense, especially for manufacturing/factory-focused ERP suites like Plex Online and Aptean Ross ERP

Another very important factor to take into account is that MRP is not the only manufacturing inventory control solution of its type out there. MRP's origins are not as software, but as a general philosophy of process for manufacturing, and there's more than one. Chief among these is Kanban, a Japanese system from the 1960s which was developed internally within Toyota.
Kanban takes a markedly different approach from MRP, dispensing with the concept of basing production on projections of future demand and keeping materials surpluses to an absolute minimum across the entire supply chain. Some industry experts have said that kanban is far more suited to the modern reality of high-cost, high-quality manufacturing. Consequently, there are many ERP systems, such as OpenERP which have rather slick kanban modules. It would be worth checking these out as well unless your enterprise is married to the MRP process.
For more in-depth profiles of some of the top MRP software products available, check out our exclusive Top 10 Material Requirements Planning Software report.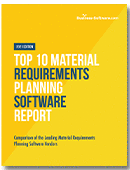 If you have any experience implementing MRP or kanban software at a manufacturer let us know in the comment sections below.
Have a question you'd like us to feature in our weekly blog post? Send us an email at marketing@business-software.com or tweet us at @BiznessSoftware with the hashtag #softwarequestion after you've posted your question to the Business-Software.com community and we'll do our best to make it happen.