Uzi Shmilovici of FutureSimple Talks to Us About Making CRM Easier with Base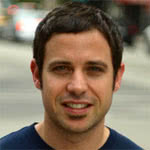 CRM is a tough market, but it's even tougher for the small businesses looking for solutions that fit their needs. FutureSimple—founded in 2009 by Uzi Shmilovici, Bart Kiszala, Pawel Niznik, Ela Madej and Agata Mazur—aims to solve those needs with Base CRM.
We talked with Uzi Shmilovici, CEO and founder of FutureSimple, on why he started developing software for small businesses, how Base CRM came about, and where the future of CRM is headed.
What was the initial inspiration behind founding FutureSimple, and how did Base CRM come about from there?
About the Company


WEBSITE: www.futuresimple.com
FOUNDED: 2009
CUSTOMERS: Base CRM helps tens of thousands of companies all over the world.
LOCATION: Chicago, IL
In 2009, I was a co-CEO of a web agency in Israel. We needed software to manage our sales and customers, and we ended up using Salesforce. The product was too complex and clunky. I've looked at the market numbers and realized that the opportunity was so big that I immediately started planning and designing how the CRM of the future should look like.
We released an alpha version late in 2009 to get some initial feedback from customers. We were amazed by the reaction. While the product was rudimentary and limited, people switched from other applications and fell in love with the user experience and ease of use. In the beginning of 2011 we raised a $1.1 million round, which we invested in making the mobile more robust. We then experienced exponential growth with no marketing budget. We released an iPhone app, Android app, Mac and Windows client apps while making Base even better. This led to a $6.8 million second round which we recently closed.
What's different about Base CRM compared to the competition? Why should users choose Base over some other solution?
That's a really good question. After all, there are many products out there, a couple of them are even decent. It boils down to the question of whether you are betting on the past or on the future. You see, Base is the first post-PC CRM. With amazing native mobile applications, and an intelligent app that learns what you do in order to personalize the experience, it will be very hard to compete with Base. It is the first time that a CRM is built for people. All we care about is making people more productive and more happy. When you put that all together, with the best pricing in the market for such an advanced CRM, it is really hard not to choose Base.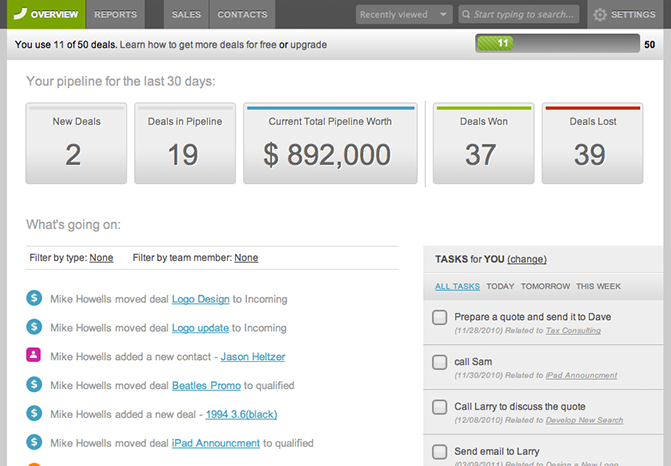 What do you do to make sure your product stands out from all the industry noise?
We are a product company. 90% of the people in Base are in the R&D team. That means that you get a group of ridiculously talented people to constantly work on building a great product. When the product is great, the noise in the market doesn't matter anymore. People are smart and know how to find great solutions for their businesses. This is why we enjoy such growth from word of mouth. Noisy advertising campaigns and shady marketing tactics are less effective than they used to be.
Where do you see mobile CRM 5 years? How does FutureSimple and Base CRM fit into that landscape?
We're always saying internally that we're building the CRM of 2020, today. There are so many things that we are working on that I can't talk about and that will amaze people in our market once they see them. In any case, I'm absolutely sure that as a result of that we will dominate the market of post-PC CRM simply because we have such a huge head start.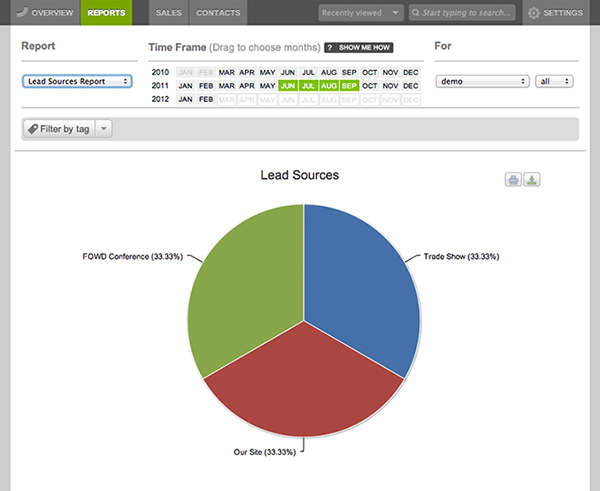 What do you see as the biggest challenge in online/mobile CRM, and how do you think businesses can overcome those challenges?
I think that the biggest challenge in the CRM market to date is that people don't use the CRM systems they implement to the full extent. This is a direct result of the CRM being built for managers and not for people. Businesses don't have to do anything to overcome that. It's not their fault; it's the vendors' fault.
What do you feel is the most exciting thing about your software?
As I mentioned above, there are some things that we can't share yet. However, the most exciting thing about Base is the fact that it's build for the people who need it. We are moving technology out of the way and allowing people to be ten times more productive.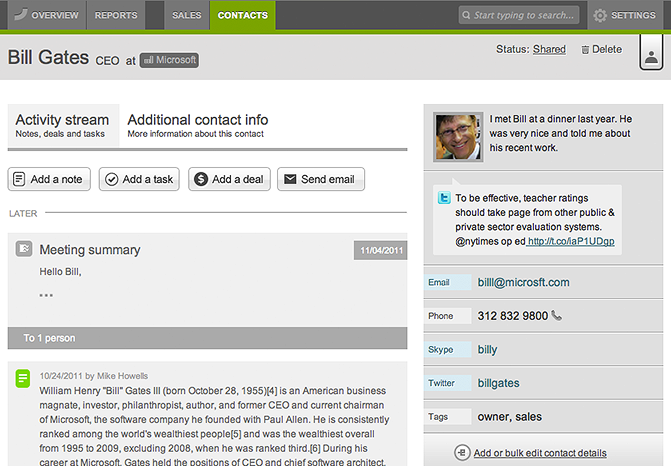 Although it's a huge field and there are countless companies, who do you think are the most interesting players in CRM right now and why?
I have a lot of respect for Salesforce and Marc Benioff. They defined a category and have been executing phenomenally well on marketing and sales. From our perspective, this is the only interesting player out there that makes a major impact today. We don't see any other company trying to truly innovate in that market.
For more information on FutureSimple and Base CRM, check out www.futuresimple.com, as well as our profile of Base CRM and our review of the Base CRM mobile app.