Salesforce.com Sales Cloud Review
About Salesforce.com Sales Cloud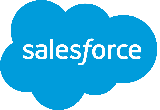 Salesforce.com's Sales Cloud is the world's number one sales application. This solution stores and manages the vital information sales teams need to better connect with customers. The Sales Cloud delivers up-to-date, complete data—from account information to social insights—and makes it available anywhere at any time. Built on an open architecture and designed to resemble consumer websites like Amazon.com, the Sales Cloud is easy to use and feature-rich. More than 100,000 customers around the world rely on the Sales Cloud to help them close deals and improve collaboration.
About Salesforce.com
Salesforce.com is the leading enterprise cloud computing company with a strong focus on the Social Enterprise—infusing a social context into the way businesses are run. Founded in 1999 by former Oracle executive Marc Benioff, Salesforce.com has gained recognition for its innovative products right from the start. Salesforce.com delivers a range of CRM and business applications that help companies improve the way their employees collaborate and the way they connect with customers.
Salesforce.com Acquisition History
Sendia (April 2006) – now Force.com Mobile
Kieden (August 2006) – now Salesforce for Google AdWords
Kenlet (January 2007) – now Salesforce Ideas
Koral (March 2007) – now Salesforce Content
Instranet (August 2008) – now Salesforce Knowledge
GroupSwim (December 2009) – now part of Salesforce Chatter
Informavores (December 2009) – now Visual Workflow
Jigsaw Data Corp. (April 2010) – now Data.com
Sitemasher (June 2010)
Navajo Security (August 2011)
Activa Live Chat (September 2010)
Heroku (December 2010)
Etacts (December 2010)
Dimdim (January 2011)
Manymoon (February 2011)
Radian6 (March 2011)
Assistly (September 21, 2011)
Model Metrics (November 2011)
Rypple (Dec 2011)
Salesforce.com Sales Cloud Key Features
Salesforce.com Sales Cloud Screenshots
Salesforce.com Sales Cloud Videos
What Others Say about Salesforce.com Sales Cloud