4 Tips to Get the Most Out of Your VoIP Service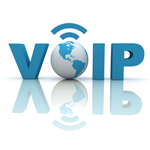 In the past several years, Voice over Internet Protocol (VoIP) has experienced a tremendous surge in popularity, growing 33 percent in 2008 alone. Pike & Fischer's Broadband Advisory Service predicts that the VoIP market will grow 14 percent over the next five years. This phenomenon isn't specific to the workplace either — many homes are adopting top VoIP business phone systems as well in place of traditional landlines. The reason we see this large migration towards hosted VoIP is because these systems are often much cheaper and easier to implement than their landline counterpart.
Hosted VoIP: What Makes it Better?
Adopting a VoIP system translates to lower hardware costs and lower phone bills. Domestic costs are often free and the cost for international calls is much lower than from a landline. The convergence of voice and data services is a welcome change too, as it lowers the number of different services you have to manage. Additionally, with hosted VoIP systems, you don't have to worry about IT infrastructure to keep the system running; It's all done by your VoIP provider.
VoIP: What Not to Overlook
While there are many positive perks about switching to a VoIP service, there are some very real disadvantages that may hurt you if you're not aware of them. The most prominent and problematic bottleneck to your new VoIP phone service is your internet connection itself. While your bandwidth needs may not be extensive, your business needs to have an adequate amount of bandwidth to properly utilize VoIP without any dropped calls or decreases in audio quality. Several weeks ago, fellow Business-Software.com blogger Mark Aspillera wrote a great piece about some of the pitfalls with adopting VoIP and why it isn't always a great choice, especially if your company doesn't have the proper infrastructure to support it.
Getting the Most Out of Your VoIP: Planning Stage
As with most things in life, the majority of getting the most out of your VoIP system occurs before you even make a single call. Your internet connection needs to be fast enough to support the number of lines your company will use along with normal business tasks on the computer. You may need backup power sources so that business operations can function even in the event of a blackout. It is also wise to do some research and purchase your VoIP services from a reputable company that can actually support a company of your size. Knowing if your new VoIP system will be integratable with existing business software is a plus as well. Planning and purchasing the right components is half the battle to ensuring a successful implementation of VoIP.
Getting the Most Out of Your VoIP: Tips and Tricks
While the majority of proccsses to getting the most out of your VoIP occurs before the VoIP system is even in place, there are a few things that you can do to get more from your VoIP system after it's been implemented.
Remote Employees: Having remote employees specify or name their smartphone or tablet to the company PBX (private branch exchange) as a business phone will extend the VoIP features to your device. You can then make work calls from your personal phone without worrying about paying for them. Additionally, you can set up business calls to be forwarded to your personal mobile device.

Workstation Employees: Monitoring what lines are occupied and unoccupied can help you choose the which line to use. By using lines with less traffic you ensure faster and smoother communication.

Auto Attendants: Companies like 8×8 are constantly improving their auto attendant capabilities. Auto attendants allow you to route calls to the right person faster and smarter. It can also send emails to the appropriate people with attached voicemail audio files.

The 8×8 attendant can screen calls or even forward them to employees working from home and thus connect customers to the right employee as quickly and efficiently as possible. Ultimately, shorter response times lead to more satisfied customers, and auto attendants are the perfect tool to help increase responsiveness.

VoIP Network Optimization: With every hosted VoIP system, there is a delicate balance between minimizing delay and conserving bandwidth. You have the ability to change one at the expense of the other, and you can use this to your advantage. Most systems allow you to change and specify the size of the voice payload in each packet. What this means is that you can increase the size of your payload, thus decreasing bandwidth but increasing delay and vice versa. You can utilize this knowledge and feature to optimize your phone system to your exact circumstances.
VoIP: Technology Worth Knowing

The advantages that VoIP systems bring to your company far outweigh any of the drawbacks that exist. In this age of cloud computing, all facets of business and technology are being transformed. Companies like RingCentral and Jive Communications embrace these changes by providing services and features (virtual PBX, auto-receptionist, call forwarding, etc) that properly utilize this technology.

While VoIP may be far from perfect, it has the potential to be a very powerful tool if leveraged properly.
Of course this doesn't mean that every company should just immediately adopt one without a second thought. You can easily save yourself hundreds of dollars by doing some research and making sure that it's implemented the right way the first time. With the proper infrastructure, VoIP will almost certainly help increase efficiency and decrease costs.
Want more information on VoIP business phone systems and how they can improve your company's call center? Browse additional blog posts, product reviews and top 10 comparison reports using Business-Software.com's call center resource page.