4 Ways Your Contract Management Software Can Make the Contract Approval Process Easy
Managing multiple approvals, eliminating bottlenecks, minimizing costly delays, and overseeing disparate workflows are all challenges you must navigate to get deals closed, and if there is a lot of complexity, it can be difficult to avoid stepping on your own feet. This is exactly why contract lifecycle management (CLM) software exists.
Having recently released an update to our own CLM solution, we'd like to think we have a few good ideas about how approvals ought to be managed. So if you're looking for a contract management solution that makes approvals easy, here are four things your contract management solution should do.
1. Your contract management solution should provide easy access to approval and contract history
If it's tough to see the information you need to approve a contract, don't be surprised when your contract managers make errors, or circumvent their part of the approval process entirely.
Context is key when it's time to make decisions on a contract, and the fewer clicks away that critical contract information is, the less time it takes to close a deal. Having relevant information—like approval history and deal size—in front of you on a single screen is critical, because when approvers have everything they need to make informed decisions, bottlenecks simply go away.
Key takeaway: Look for a contract management solution that tracks contract activity and makes it available during the approval process.
2. Your contract management solution should offer a simple mechanism for rule modeling
Administrative tasks aren't always fun, but they can at least be less painful. When it comes to setting up approval workflows in a contract management system, the easier the better. Especially because keeping your contract administrators tied up in the system stops them from adding value with tasks designed to uncover the hidden revenue in your contracts.
With an easy-to-use UI-based modeling system, administrators are empowered to model complex additional logic, combining and consolidating coding, with UI clicks rather than standard coding. This results in huge efficiency gains when setting rules for conditional and nested approvals.
Key takeaway: Look for a contract management solution that has an easy-to-use administrative tool, and doesn't require coding.
3. Your contract management solution should make collaboration during approvals easy
When you need additional information from a colleague to make business decisions, you ask them for it. Your contract management solution should support the same action, but make it even easier. The ability to request more information from individuals, roles, or groups within your system not only enables faster, more prudent decisions to be made, but also enables you to track that activity, so those inescapable audits get just a bit easier.
Key takeaway: Look for a contract management solution that allows you to collaborate internally through the approval process.
4. Your contract management solution should provide real-time visibility into your approvals
Being able to look at contracts as they move through the approval process and track what happens to them over time should never be an "additional" feature—it's a must.
Using CLM, you should be able to easily determine where contracts are in the approvals process, prevent bottlenecks, and request more information about contracts in your approval queue if needed.
Key takeaway: Look for a contract management solution with real-time visibility into approval workflows.
Increase efficiency and improve your approval process with contract management
If you are looking to manage the contract lifecycle with CLM, there are some "nice-to-have" features, and some "must-have" features. Efficient approvals are the latter, so as you're shopping, make sure you take into account how the system handles approvals.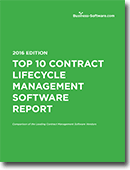 And, if you're looking to find more ways to minimize potential for risk and speed up contract cycles, have a look at these five benefits of automating the contract management process.
Want more on Contract Management Software? Browse additional articles and reviews on best contract creation tools and contract management software with Business-Software.com's CLM resource page. Also check out the free Top 10 Contract Management report which compares pricing, features and more to select the best CLM solution for your business.