5 Essential Community Forum Platform Features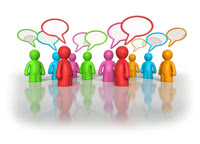 It's hard to find anyone these days who hasn't sought guidance from at least one forum in the course of their surfing career, but the title has come to represent a deeply diverse and often confusing array ranging from amateurish HTML-based pages that hark back to the early days of the internet to sophisticated community platforms that enable client-customer interaction and generate insightful analytic data.
In the early years of the 21st century businesses began hosting their own community and support forums, but lacked a cohesive strategy or goal for what to do with all of the valuable information and interaction occurring within them. In the SaaS era, the top community forum platform vendors have emerged wielding tools that turn plaintext discussion into marketable, reusable content. Organizing a community's contributions into a content matrix is only the beginning, however, as developers continually compete to create the first undisputed forum archetype. Without further ado, here are five essential features of forum and community platforms of the future as currently showcased by some of the industry's leading companies.
Single Repository
Truth be told, all of the solutions on this list tout this feature, but Get Satisfaction offers a perfect example of a client that saw a number of significant benefits after consolidating all of their forum and community content into a single repository. In the case of ERP provider Kenandy, they knew that their community was vibrant and ready to communicate about their product, but simply didn't have the platform for interaction to occur. As Stewart Florsheim, the company's Vice President of Marketing, attests, "It allowed us to build one searchable 'knowledge base' instead of having separate knowledge bases created by Kenandy and our clients." Likewise, Kenandy used the new platform to make communication easier between clients and developers in the form of a single bug tracking repository: "Having one way of receiving bugs makes it much simpler for companies to prioritize and resolve them."
SEO
Typically a larger problem for small businesses than enterprise, search engine optimization is nonetheless a goal that no company can afford to ignore. DotNetNuke is unique in that they offer a complete WCM and forum solution, but the same SEO features of their site builder apply to forum and community platforms universally. Among the benefits of a properly optimized platform are organization and hierarchy for indexing, displaying keywords clearly and often, automatically populating title and descriptive content, and integration with webmaster tools from providers like Google and Bing.
Predictive Analytics
Analytics tracking is without a doubt the single biggest trend of 2013, but that doesn't make it any less awesome when we see the results of its real world application. The ability to track, measure, and follow each user's chain of interactions and contributions means the ability to extrapolate user behavior data that would have been inconceivable just a few years ago. Best of all, analytic data from your forum can easily integrate with tracking features on the rest of your site to measure metrics like conversion, churn, and demographic information. Forum developer Socious gives a great explanation of predictive analytics' power on their blog:
Assume that 80% of your customers continue doing business with you year over year. If you learned that of the customers who accessed your online customer community once a month, 85% of those customers renewed their contracts with your company. Then, you learned that you retain 97% of the customers who asked a question, started a discussion, or responded to a thread in your online customer community.
Using the data in this simplified example, you can predict that your average customer retention rate will increase if you can drive more of your customers to participate in your online customer community. That basic predictive model combines demographic, transactional, and social/behavioral data to help you make smarter business decisions.
Single Sign On (SSO)
If you're reading this, odds are you've already experienced single sign on even if you don't know what it is. In the past, companies either didn't require that users create a profile or only required it ad hoc for making a purchase, commenting on the forum, et cetera. The latest trend across all industries is to have visitors create a default profile on their first visit which will act as their key to the rest of the site. As a result, companies saw that users who were already logged in were far more likely to contribute to a forum or community page than those who faced the barrier of registration. As Demandforce Community Manager Becca Piastrelli told Lithium, "Another risk was moving our training center to the community, behind SSO. This essentially made training less accessible to the customer, but the benefits far outweighed the risk with our ability to tie in customer conversations to the training program and engage in a deeper manner." In the case of Demandforce, they integrated their training resources into their community forum using single sign on to appeal to a wider audience which increased participation and helped them create a cohesive support resource.
Social Ideation
The idea of crowdsourcing has been lauded in the last few years for democratizing everything from t-shirt designs to major motion pictures and though some argue that it only focuses on the fringes (evangelists and dissenters) while ignoring the silent majority, in the scope of a community platform it makes sense to let users decide which content is featured. To provide an example of the amazing potential for crowdsourcing or "social ideation" as dubbed by community software developer Telligent, one need look no further than the nearly ubiquitous influence of Reddit which relies entirely on community voting to curate its content. Using a similar methodology, Telligent's theory is that:
Social ideation encourages community members to respond to challenges, suggest ideas, vote on which ideas should be implemented and keep track of the status as ideas are implemented. This new offering provides quick ways for you to gather ideas on particular topics and get a sense of the importance of each idea based on up and down votes.
If your goal is to provide a platform for users to interact in an organic and unhindered way, it follows that they should have agency within the system to influence the content and questions that they are discussing. Though each of the features mentioned here is unique, the axiom that ties them is clear: make your community visible, easy to join, and rewarding to its best users, and the return will be unparalleled customer information and an invaluable resource for customer support.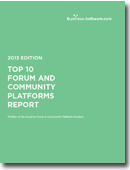 Are you ready to take the next step toward finding the best community forum platform for your company? Download our Top 10 Forum & Community Platforms report to browse and compare the leading community and forum solutions or visit our community forum research page for more news and articles on the best forum software.