The Best-Value Community Forum Platform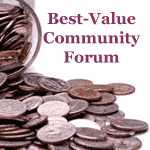 Welcome to the Best Value series, a Business-Software.com exclusive about the software solutions that give you the most bang for your buck. We created this series in an effort to address one of the most common questions we receive from our Business-Software.com community members, "what software is the best value?" Browse the entire series in the Best Value series section of our blog.
2014 is all about the customer. What she prefers, how she spends her time, if she makes purchases from a mobile device—you get the point. While companies have always tried to better understand their customers, a growing arsenal of customer engagement tools now makes deeper insight a reality. Today's top-rated community forum platforms offer numerous features that help you focus on what matters most—your customers—and we're here to make sure you find a comprehensive platform that doesn't break the bank.
In our last best-value post, we listened to the Business-Software.com community and deemed EmpXTrack the best-value HR solution. This week, we're uncovering the best-value community forum platforms. Top community forum platforms can help your company better understand and please your customer base, making them an increasingly important platform for engaging with customers.
How an Engaging Customer Community Will Benefit Your Business
Community forum software enables companies to create and moderate communities, and can net numerous benefits for both organizations and their customers. Online community forums empower customers to find the information they need 24/7. These forums also provide a place for customers to brainstorm, discuss, troubleshoot or comment on a company's actions or products. For companies, these community forums reduce customer service burdens, offer valuable customer feedback and provide a controlled environment for companies to respond to and interact with customers.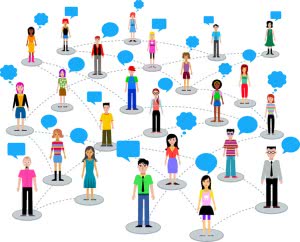 Traditional community forums are customer-facing, meaning that they are designed for use by customers. Yet many of today's forum platforms have dual functionality, meaning that they can be used to create either external customer communities or internal employee communities.
With this dual functionality, some community and forum platforms end up functioning more like enterprise social networks than traditional customer forums. This new trend is promising for companies looking to create an internal community or forum centered around topics and functions that benefit employees. For instance, a company could use an employee forum as a place where employees could provide written feedback on the company's direction and decisions. In this example, the company executive might benefit from better understanding how employees are reacting to company change.
5 Key Features Your Community Forum Should Provide
Robust Moderator Tools
Even the friendliest forums run the risk of being negatively affected by trolls, spam and other troublesome individuals. To ensure that your community isn't compromised, it's important that your community forum have robust moderator tools that empower administrators to keep their communities safe and positive. From spam monitoring to word censoring to automatic alerts, moderator tools are a must-have feature in every community forum.
Single Sign-On (SSO)
While community forums can be a great place for customers to find information and interact with others, it's imperative that you make the entire process effortless. If members have trouble finding answers, responding to posts or logging on, they will be less likely to return to the forum. Single sign-on allows your existing authentication systems to integrate with your community so that customers only have to log in once. SSO drastically improves the customer experience and increases the likelihood of members returning to the forum.
Social Integration
Since most of your customers are already using social media platforms, integrating your community forum solution with social media channels like Facebook and Twitter can increase participation and better cultivate a community. Unlike social media platforms, communities encourage members to interact and focus on a specific topic. Yet by integrating with social media sites, members are provided with familiar tools that can encourage them to participate more freely, as they would on a social media site.
Q&A Forum A Q&A forum is an integral part of any community forum solution, as it provides customers with 24/7 access to the community and, more importantly, to answers. Q&A forums empower customers to find their own answers, increasing satisfaction and reducing your need to provide 24/7 customer service agents.
Gamification
While gamification tools aren't necessary for customer-facing community forums, they are very beneficial for internal communities and forums. Gamification is the idea of using game mechanics to drive engagement in a non-game setting. These tools encourage desired forum behavior and therefore discourage misuse of the forum. Incentives, badges and scoring systems are all examples of gamification tools that can increase employee collaboration and participation in your company's online community.
The Finalists
Keeping in mind functionality and affordability, we reviewed 15 of the top community forum platforms on the market. After analyzing the results, we uncovered the following three best-value finalists, each with comprehensive features and an economical price.
Invision Power – Invision Power's IPS Community Suite is offered as both an on-premise and SaaS solution and has numerous moderator tools to make any administrator's job a breeze.
Simple Machines – With word censoring, SEO tools and analytics reporting, this SaaS community forum is perfect for managing members. Oh, and did we mention that it's 100 percent free?
Vanilla Forums – Vanilla Forums offers a highly customizable cloud-based platform that's perfect for companies large and small. Plus, it integrates with a number of solutions that you're probably already using, like MailChimp, WordPress and Akismet.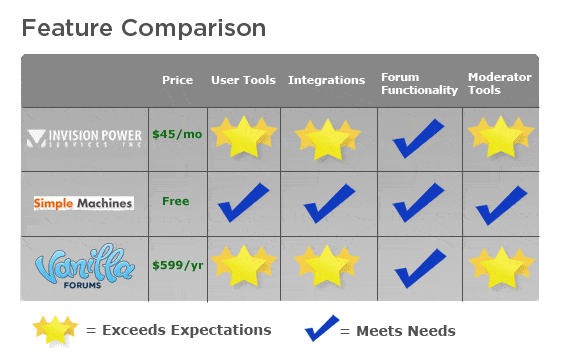 To provide as close of a true comparison as possible, we calculated pricing based on a small community, around 50 members or so. For more detailed pricing information, feel free to check out each company's website.
And the Best-Value Community Forum Software is…
We've tallied our reader's responses and the results are in! The best-value community forum is… a tie! Our community felt like both Invision Power and Vanilla Forums were worthy of the best-value honor. To uncover the true best-value solution, the editors at Business-Software.com had to step in to pick which platform provided users with the most functionality for the smallest price. We've chosen Vanilla as the best-value community forum platform!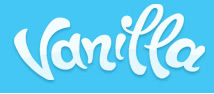 For a starting price of $599 per year (that's about $50/month), Vanilla provides users with tons of features, including customizable themes, robust search tools and improved applicant spam filtering. Community moderators will enjoy the benefits of inline moderation tools, quick views of bad content and member-driven moderation queues. To see how your company's community has grown over the years, analytics tools give you a quick look at all standard growth metrics tracked on a weekly basis.
Vanilla also provides a number of tools to keep community members happy and engaged, including one-click social sharing, single sign-on, mobile support and gamification badges. The cloud-based solution provides an intuitive, bright interface and can be used for both internal and external communities. Other impressive features include notifications, a Q&A forum, user profiles and a "Best of" page that helps users find the top content.
Are you ready to take the next step toward finding the best community forum platform for your company? Download our Top 10 Forum & Community Platforms report to browse and compare the leading community and forum solutions or visit our community forum research page for more news and articles on the best forum software.