How Lithium Helps Brands Engage with Social Customers
Thanks to social media, consumers can share their opinions and have their voices heard by both their peers and the brands and companies they want to buy from.
Social media has changed the name of the game; companies who want to survive and thrive can no longer simply broadcast their messages to their current and potential customers. Advertising, marketing, and brand building has become a two-way conversation. People are talking about brands amongst themselves on social media networks like Facebook and Twitter, and companies can leverage this engaged audience to spread their message.
That is Lithium's value proposition. Lithium Technologies is dedicated to helping their clients build their brands and transform their customers into passionate brand advocates by harnessing the power of social. Lithium provides solutions for social marketing, social commerce, social support, and social innovation, which are packaged as the Lithium Social Customer Suite.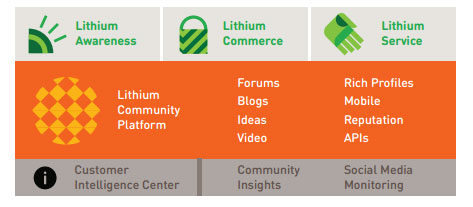 The Lithium Social Customer Suite is built with applications to engage a brand's social customers by delivering vibrant community experiences. These include social apps for connecting to customers, listening and analyzing their social conversations, and engaging with them:
Lithium Community Platform: enables brands and companies to build a social community site and provides tools to create forums, contests, reviews, Q&As, and more
Lithium Social Media Monitoring: provides immediate intelligence into the conversations your customers are having about your brand and products in the social web
Lithium Customer Intelligence Center: turns social data into customer insight by analyzing social customer behavior to drive campaign strategy and market research
Major brands like Sephora, Best Buy, Verizon and others have implemented solutions from Lithium to build their online communities, improve social engagement, and deliver customer support to their client bases. Lithium's customer success stories share a common theme: how companies were able to build an active and engaged community that brought their customers closer to their brands.
If you have a strong brand, chances are you already have customers that are loyal to it. Lithium provides the tools to leverage that customer loyalty and commitment to grow your business. It's an exciting time–and still somewhat uncharted territory–for brands now with the increasingly prevalent use of social as a tool for customer engagement and retention.
Lithium is one of several companies offering solutions to tap into the power of social to drive business growth. Lithium is primarily focused on serving enterprises and their solutions do not come cheap. But, its track record and customer success stories point to a vendor with products that are advanced, robust, and definitely worth considering.
Looking for the right software to build and manage a thriving online community? Browse product reviews, premium content and blog posts at our community forum research center. To compare the leading community forum platforms, download the free Top 10 Forum and Community Platforms report.