5 iPad Apps for Your Next Business Trip
Now that the iPad has been established as a necessary device for businesses, many users take it on their business trips. The iPad is ideal for travel because users can access the Internet from any place with a 3G network. WiFi is not necessary, making the iPad even more convenient. Its large and easy-to-use interface make the iPad preferable to the smartphone for travel.
So, now that you have an iPad and want to use it for your business trips, what are the essential apps? Here are some great travel applications that mobile business users should definitely upload to their iPad.
1. Truphone (FREE)
Take advantage of the iPad's high quality speakers and mic with Truphone. Truphone lets you call people locally or abroad at a very low cost. All calls are free to other Truphone, Skype, or Google Talk users on the 3G and WiFi network. You can store contacts on the iPad application so you never have to look up numbers elsewhere.
Users can even send SMS text messages or Instant Messages (IMs) to Truphone, Facebook, Skype, AIM, GoogleTalk, or MSN users. There is also a free voicemail feature available that allows callers to leave you voice messages on your iPad.
This iPad application enables you to communicate for free if you are abroad (or at a low cost if the person you are calling does not have one of the applications specified above). Stay in contact with family, friends, or coworkers while you are away on your business trip. There is no catch or contract if you upload Truphone.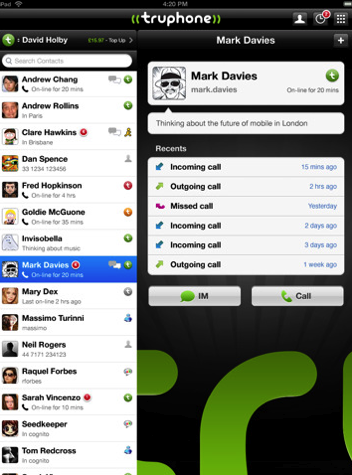 Truphone for iPad Interface
2. BizXpense Tracker ($5.99)
This expense tracking and reporting iPad application is very useful for those who go on business trips. Use the BizXpense Tracker for iPad to record all expenses so your company can reimburse you. Users can customize categories so they can easily track personal and business expenses separately. Expenses can even be filed by trips, by date, by client, or by payment type. After the trips, users can mark each category "reimbursed" or "submitted."
The BizXpense Tracker for iPad supports all currencies and automatically converts them to the appropriate currency. Users can even take pictures of their receipts with their iPad and upload them to the application.
Your data is always backed up. Users can export the data from their iPad onto their Mac or PC easily, with a WiFi connection. This iPad application is very useful for business travelers who have their expenses paid by their company. Don't risk losing a receipt or forgetting a charge and get the BixXpense Tracker for iPad instead.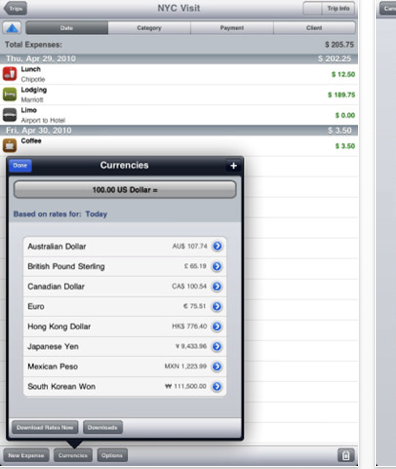 BizXpense Tracker for iPad interface
3. Converter Plus ($1.99)
This all-in-one converter performs a variety of tasks, primarily currency conversions. For business travelers who go abroad, this feature can be very useful. In addition to currency conversion, the Converter Plus for iPad can convert temperature and calculate tips, mortgages, and even loans. Of course, it also has basic calculating abilities as well.
This iPad app is completely customizable. If one feature is deemed unnecessary, it can be deleted. The Converter Plus also has a feature section with dozens of conversion options, which you can choose to put on the main page of the application.
The conversion rates are continuously updated when you open the application. For 2 dollars, this iPad application is well worth the purchase. It will make your trips easier and trouble-free.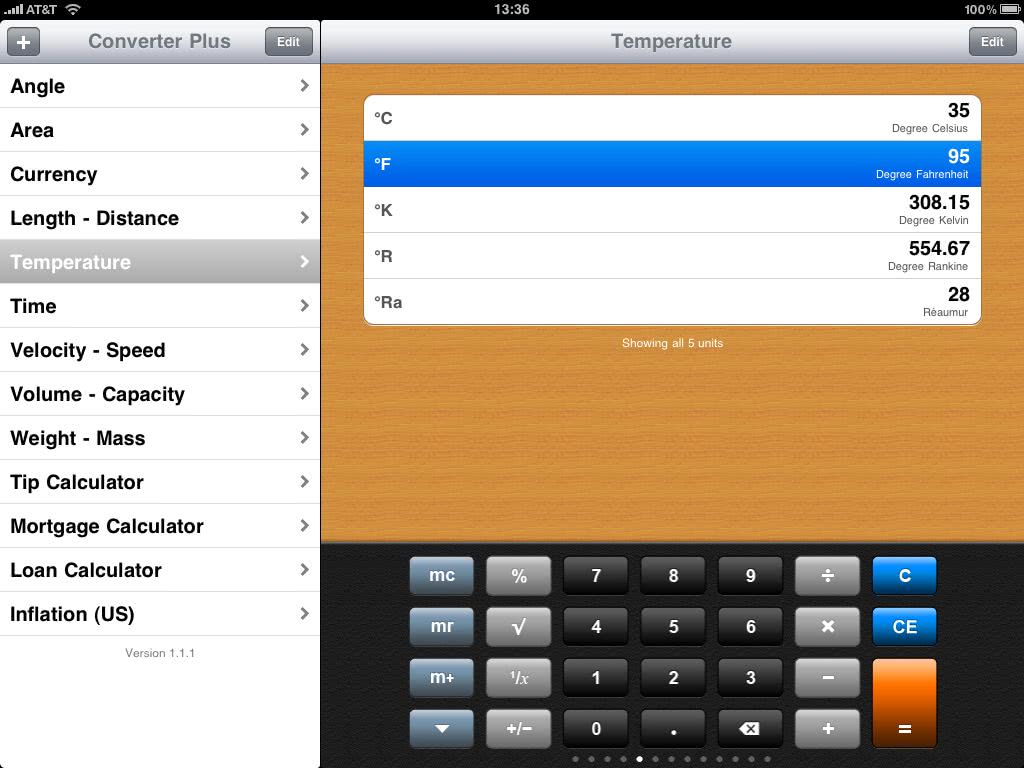 Converter Plus for iPad interface
4. Kayak Flight (FREE)
Kayak.com has built its reputation as the ultimate go-to airline flight website, as it searches several different airline and airline deal websites. It is useful for looking up flights and comparing prices between airlines. Now, all these functions can be accessed on the go with the Kayak iPad app, which is completely free.
This iPad application is useful if you need to look up a flight, either in advance or at the last minute. Perhaps your business trip ran longer than expected and you need to find a new flight to take home. Avoid calling the airlines or trying to find an Internet cafe to access flight information – the Kayak for iPad application will solve all of those problems for you. Kayak includes features where you can specify how much money you want to spend, whether you want direct or indirect flights, and what time of day you want to leave.
Kayak for iPad even helps you rent cars and book hotels. It is an all-in-one travel iPad application.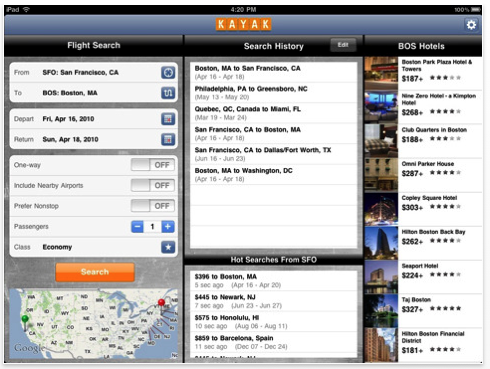 Kayak.com for iPad interface
5. TravelTracker Pro ($8.99)
While the $8.99 price tag might seem steep compared to the prices of other apps, this iPad application is well worth the cost because of its extensive feature set. Users can enter all of their itinerary information into this iPad application so that they can track and organize their upcoming flights. If you enter the date and flight number, TravelTrackerPro will do the rest for you. It will present departure and arrival times, your departure gate, baggage claim information, and even seating charts.
TravelTracker Pro tracks your flight, so you know if it is running late or early. This travel iPad app also tracks your expenses and weather forecasts and includes a section for a packing lists so you don't forget anything. This iPad app even tracks your frequent flyer information, so you can access the number of miles that you have acquired at any time.
If the $8.99 seems like too much, there is a free version of this iPad app. The free version does not have flight status updates, expense tracking, packing list, and the other advanced features that come with the TravelTracker Pro iPad app. The extra dollars may be worth it in the end if you require such features.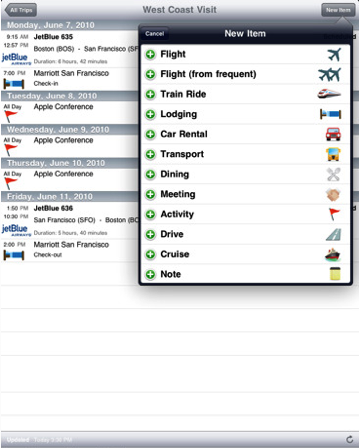 TravelTracker Pro for iPad Interface
There are many iPad business applications available, but the five listed above are very useful for business travel. Read more details about the iPad apps listed above at the iTunes iPad App store.
Looking for more information on mobile apps for your organization?
We're compiled prices, key features and technology model specs for some of the top mobile business platforms on the market right now in our comprehensive Top 10 Mobile Device Management Software report.
[Photo courtesy of healthy travel.]