5 Ways to Use a Real Estate CRM to Get More Organized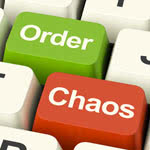 Organization and time management are key in real estate sales, like they are with many other professions. But REALTORS® have lots of details to think about, and so much going on all at once, that sometimes things fall through the cracks. Well, that's one of the reasons real estate customer relationship management (CRM) systems exist – to help you get and stay organized.
Here are five ways a real estate CRM will get you more organized:

1. Transaction and Contact Management
A real estate CRM makes managing all of your listings, buyer, sellers, real estate leads, and business-to-business referral sources quick and easy. At any time, you can see a complete overview of your transactions and manage your showings and third parties related to a listing. When you have a lot of business, it can be easy to get overwhelmed, which is why having a real estate CRM with robust transaction management capabilities is so important.
You also want to easily pull up contact details of a real estate lead or client, know their birthdate and home purchase anniversary date, your communication history with them, and what you've done to keep in touch. A real estate CRM makes this possible.
You'll never scramble to find contact information again and you'll always know where your conversation left off with a lead or client. And the next time you give that past client a call, you'll know what to say/ talk about because you'll be able to bring up that tennis tournament you discussed with them on the last call!
2. Listing and Closing Activity Plans
A listing or closing activity plan is a series of tasks associated with a listing or closing. Once you assign a listing or closing Activity Plan, you get reminded (via email) at different points in time to do one activity or another. The best real estate CRM solutions include pre-designed listing and closing Activity Plans to choose from and will allow you to create your own. With these plans, you don't have to rely on your memory to ensure each and every detail is executed, and executed perfectly.
3. Keep in Touch Dashboard
You likely know the value that "keeping in touch" has on building a business based on referrals and repeat transactions. But you may be short on time, weighed down, and busy, which means that keeping in touch falls by the wayside.
A good real estate CRM will come with a Keep in Touch dashboard where you can plan and schedule recurring activities to stay in touch with your real estate sphere of influence (SOI). These activities can include a quarterly phone call, a cup of coffee, a happy birthday wish, a round of golf, a home expert seminar, or anything else. It only takes a few minutes to set up these activities and the system reminds you at the appropriate times.
4. Drip marketing campaigns
One great way to stay in touch and "top of mind" with your SOI is to assign your contacts to drip marketing campaigns. A drip marketing campaign is a series of emails that go out automatically at different times. There are drip programs for various types of leads as well as campaigns designed for past clients.
Drip email helps you to automate your real estate marketing so while you're busy on the road showing homes, you're marketing to hot leads at the same time! You'll find drip programs created for you and loaded into your CRM. The ones in IXACT Contact have been carefully designed by real estate marketing experts.
5. Built-In Business Directory
Use the built-in business directory in your real estate CRM to organize your business contacts. If you'd like to position yourself as a "home expert," you need to be able to readily and quickly recommend a competent professional, such as a mortgage broker, plumber, attorney, or landscaper.
Only the best CRMs come with a built-in business directory. With this directory you can search and filter professionals based on business type. So if you're on the phone with a client, you can quickly pull up the right person to meet their needs.
And recommending other business professionals comes with lots of benefits for both you and them. They benefit because you're sending business their way and you benefit because you're 1) providing a value added service to your clients and 2) fostering goodwill with other professionals. When these professionals see you're recommending them, they'll reciprocate and recommend you back.
If you already have a CRM, make sure you're utilizing the features discussed in this article. If you don't have a system already, do some research to find the best one for you and then start integrating it into your business as soon as possible. You'll find that staying organized, proactive, and in control will be easier then ever.

Looking for more tips on customer relationship management software and how CRM can be used for your industry? Visit the CRM software resource page to explore all of our exclusive content and vendor assets. If you're ready to browse software solutions, you can also download one of our free CRM software comparison reports.