Business Software Moves to the iPad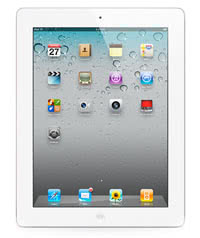 According to Forrester's latest Global Tech Market Outlook, Apple is expected to sell $10 billion worth of iPads to business customers in 2012, representing a 68% increase over 2011. Surprisingly, Apple doesn't spend much time selling into the business software space, so this stupendous growth is driven almost entirely by iPad users. This hasn't gone unnoticed of course by business software companies. Apple doesn't need to sell them on the importance of deploying their solutions on the iPad — the numbers speak for themselves.
SAP Adopts the iPad
One of the earliest "adopters" of the iPad was SAP. They released their first iPad-enabled business software solutions at SAPPHIRE in 2010, just a few months after the first unveiling of the iPad. iPad-enabled solutions at that time included SAP Business Suite 7, SAP BusinessObjects Crystal Reports 2008, enhancements for SAP Business ByDesign 2.5, and more. SAP claimed to want to accelerate its development of business software for all mobile devices, including smartphones like the iPhone and Blackberry, with desktop PCs no longer being "a topic of conversation." SAP had seen the future, and it was called the iPad. They had even rolled out their iPad-enabled CRM 7.0 solution to General Mills before it was released to the general public, enabling 200 bakery and food service associates to access customer data in the field using their iPads.
Oracle and Others Follow
SAP is not alone in this. Oracle moved its JD Edwards EnterpriseOne solution to the iPad in 2011, with full-fledged E-Business Suite and Peoplesoft releases still to follow. IBM developed a client for its Maximo workflow software for the iPhone, allowing repairmen the ability to update their status directly from the shop floor. And Microsoft is extending its Dynamics ERP suite to work with the iPad.
Here's a short list of other ERP vendors that are currently offering iPad-enabled versions of their business software solutions:
SugarCRM
Sage ERP
Syspro
SouthWare
NetSuite
Salesforce.com
Next View
Unit 4/Agresso
Why Mobile Business Software?
A big driver for why these vendors want to have their business software solutions available on the iPad — besides the need to stay competitive — is the user-friendliness of the device. Companies that run their enterprise software on the iPad are reporting greater user adoption, because their employees actually want to be using the iPad to manage data. This is key, because a company can spend a fortune on implementing an ERP or CRM solution, but the success of this venture ultimately depends on user adoption. And that's where the iPad sells itself.
Looking for more information on mobile business applications? Stay updated on all of the latest mobile trends, apps and vendors by visiting the News & Trends page of the Business Software blog. Or peruse one of our free downloadable software comparison reports to discover which products in specific segments are mobile compatible.