7 Cloud Tools for Small Businesses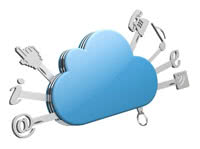 Now that small business have taken to the online world, it's vital for small business owners to use services that will keep them interconnected with their market. Gone are the days of installing software on company desktops—now, most business owners are referring to the abundances of the web for their needs, in the form of cloud services.
The benefits of cloud tools for small businesses are endless. It's more cost-effective; most cloud-based software works on a "pay as you go" basis with monthly payments. It's easy to set up and accessible from multiple mobile devices and computers.
There are many small business tools that are available, either for free or through a fee, at your fingertips. In order to find the service that works best for your company, do some research. Find other companies who use the service. Check the service's online presence and availability of tech support.
Hootsuite
Hootsuite is a social media dashboard that helps you manage multiple social media accounts at a time. You can also schedule messages, tweets, and updates. Hootsuite also lets the user track social media traffic and track brand mentions.
And it's free. It's a great tool to use if you rely on Twitter and Facebook to communicate with your target audience. If you go pro for $9.99 a month, you can manage an unlimited amount of accounts.
Google Drive
Google Drive is an option for cloud storage. If you are a Google user, you can use it to create documents, spreadsheets, and presentations. Employees can all work on these documents at the same time and see the changes in real time.
Office 365
Office 365 is marketed for small businesses without a "technical expertise." It integrates the standard Office tools with cloud storage and collaborative features. It offers "Office On Demand" which allows you to stream versions of the desktop software to PCs.
Evernote
This free program serves as a good alternative to Word. You can include pictures, video, and audio into any text document. The application includes a "clipping" feature which allows you to save an entire web page: from links to pictures to text.
Quickbooks Online
Now that Quickbooks is web-based, you don't have to install software. It allows you to manage your accounting and track finances. You can also use it to start a company website or manage online bill pay. With the monthly fee, you get customer support that responds within 30 minutes.
FreeScreenSharing
If you have employees working remotely, this is a great tool for sharing information. With a free subscription, you get unlimited meetings, up to 96 participants, and audio conferencing. You can use it for presentations, demos, and webinars.
Campfire
Campfire is essentially an online chat service. Business owners can set up password-protected chat rooms and invite others to collaborate in real-time. Campfire is part of Basecamp, a 37signals project management application.
Many, if not all, of these tools can be used together. However, since some apps cost money, you can use free cloud alternatives to replace staples. Like using Evernote in place of Microsoft Word. You might also use FreeScreenSharing in order to share your desktop with other employees, allowing them access to Office365 if they don't have it on their own computer.
The biggest benefit of cloud software is that it allows you to use certain services for free, and upgrade when you need more space or service. These apps are absolutely imperative for any small business startup. Like any startup, in the first year of business, you probably won't have extra funds to devote to software for multiple computers. Cloud software allows you to maximize your business without stretching your budget.

Want to read more insider-perspective posts on tools for small business? Check out our Browse our entire archive of tips and advice from software industry experts by visiting the Small Business Software Solutions section of the Business-Software.com blog.