Today's Business Case for Cloud Computing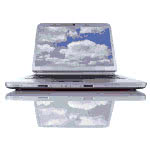 Today, the business case for choosing a cloud software solution, ERP or otherwise, is more compelling than ever. The Financial Executive Research Foundation (FERF) interviewed four companies that use cloud computing to determine the tangible benefits they derive compared to on-premise solutions.
The study looked at "real" cloud software—web-based, multi-tenant—and not solutions that are hosted versions of on-premise applications. Upon examination, one quickly sees how cloud advantages can be separated into direct and indirect benefits. One important consideration in determining a business case for cloud computing is to factor in the indirect benefits.
As the FERF results attest, some of the direct and more evident benefits companies receive from cloud computing include eliminated or reduced costs in the following: hardware and hardware maintenance, up front software licenses (when the model is transitioned from a purchase to a monthly or annual price based on number of users), implementation, upgrades, IT maintenance and support, and backup and disaster recovery.
In short, the cloud lifts the burden of hardware, financing a large capital expense, in-house IT support, and backup/recovery. It also lessens implementation times and makes upgrades painless, more frequent (some are quarterly), more advantageous, and absolutely free.
Considering the Cloud: Other Benefits
If that isn't enough to consider a cloud solution, one only has to look at the indirect benefits. For example, accessibility and visibility of real-time data anytime-anywhere from one centralized location, including the integration of applications. This all brings huge time savings and increased employee productivity. Numerous manual processes are eliminated. These have positive impact like streamlining reporting and achieving the ability to make business decisions based on accurate, real-time data. Moreover, companies report much reduced close times, for example, from 25 or more days to less than five is common. What's more, when firms are on a growth trend, they find cloud computing's scalability and efficiency leads to business expansion with minimal staff increases.
Finally, is the remarkable impact cloud accounting software has on the finance department. The FERF report concludes, "Each of the executives interviewed noted that cloud-based solutions have freed up their time so that they could support their businesses with better and more strategic information." This leads to a CFO role transforming from merely a day-to-day process manager to a leadership and performance manager that can focus on strategic issues and business growth.
The business case is strong for cloud computing, especially when an evaluation includes the numerous indirect benefits. To see FERF's full report that includes a section on how cloud can transform finance, download, the Business Case for the Cloud.
Want to know more about Cloud Computing? For additional reading material such as articles, blogs and software reviews, visit Business-Software.com's  cloud computing resource page.