The Past (and Future) of SaaS Service Desks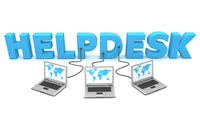 Widespread adoption of software as a service (SaaS) is driven by numerous factors. Web-based user interfaces and applications are decreasing demand for traditional client-server software. Furthermore, the cost of developing new SaaS solutions (including SaaS service desk software) is falling, allowing more competitive challenges to traditional software vendors.
Companies large and small are seeing the wisdom in turning to SaaS for more of their enterprise software, since it avoids the problems of on-premises software, takes advantage of economies of scale, and is far more cost-effective.
Here is a brief timeline of where SaaS has been and where it's headed:
The 1990s: Software Bloat, Interoperability Issues, and Frustration
As the 20th century drew to a close, software bloat became a problem with all types of software, including IT service desk software. By the late 1990s, computing resources were "cheap" and it was easier to fit more and more features onto PCs and servers as processing capacity increased along with storage density. The fact that prices were dropping rapidly didn't hurt either. The result was inelegant code, competing standards for operating systems and browsers, and interoperability problems. Software could seemingly try to be everything to everyone, or it could lighten up and make itself useless to a significant number of enterprises. Something had to change.
The Year 2000: First Online Help Desk Products Start to Appear
It was around the turn of the millennium that online help desk products started to appear. It only made sense as high-speed internet access became the norm. Live, open-source, and app-based online help desk software started emerging, addressing user frustration with on-premises software bloat. Still, it took awhile for these web-based services to get through growing pains and become useful enough to be a real option for a wide range of enterprises.
2008: Social Media Support Meets Help Desk Software
Social media really gained a foothold around 2008. At the same time, economies around the world were being upended by a worldwide recession. Suddenly, it was advantageous for enterprises to be agile and nimble, rather than relying on sheer massiveness to survive the economic downturn. With the SaaS service desk concept gaining shape, and the emergence of social media, it was perhaps inevitable that the two should collide and create something awesome — a metaphorical Reese's Peanut Butter Cup of the IT service desk world.
2010s: Remote Computer Access and Help Desk Apps Mature
As we enter the 'teens, social media features are pretty much expected. Smartphone saturation has brought about mobile SaaS service desk apps that make the IT professional's job less onerous, and less tied to an actual desk. SaaS service desk software makes sense for more enterprises than ever, as businesses realize the cost savings, flexibility, and effectiveness of this approach. Remote computer access is helping IT professionals and end-users alike, as service desk tickets can be addressed by IT workers who can gain control of individual desktops remotely, avoiding having to go to where the sick computer is, and avoiding the chore of talking end users through complex processes.
2020: You Think It's "Cloudy" Now?
Forrester Research expects the worldwide cloud computing market to go from what was a $40.7 billion market in 2010 to a $241 billion market in 2020. Cloud computing should start approaching saturation around 2016. Increasingly, SaaS will seem less like a different option for consideration and more like the go-to plan. SaaS service desk software will most likely be the norm for all but certain specialized sectors within seven to 10 years.
John Brandon, writing for CIO.com, says, "By 2020, there will be a shift from an IT department for end users to a 'follow me' IT service provider mentality. In other words, IT itself will move to the cloud."
Why wait? Right now you can have powerful, flexible, customizable SaaS service desk and IT asset management software with SAManage. You won't have to worry about forecasting peak demand for an on-site server, patches and upgrades are automatically applied and included in subscription costs, and since it's cloud-based, you can scale up or down quickly and easily. The future of the service desk is in the cloud, but with SAManage you can reap the benefits today.
Looking for more information on cloud-based service desk software solutions? Check out our customer service research center page for blog posts and reviews of the top help desk software products. To find the best solution for your business, compare help desk software in our Top 10 Help Desk Software report.
[Reposted from the SAManage Blog]