Desk.com Puts Social Into The Help Desk Environment

Think of the name Salesforce.com and the first thing that comes to mind is, naturally, cloud computing. In particular you might think of cloud-based Customer Relations Management, the segment that Salesforce has pioneered and maintained such a dominant presence in in recent years. But it wouldn't be correct to assume the company hasn't been expanding into different avenues of the business software industry.
One of Salesforce's most recent expansions was heralded with its 2011 purchase of Desk.com, a developer focused on taking the traditional model for help desk software and integrating it with social media platforms. Help desk software might not be the most exciting field at first glance, but Desk.com's approach, started when it was an independent company and continued now as a subsidiary of Salesforce, brings a novel spin to what can typically seen as a dog with very few new tricks to roll out.
A History of Desk
Desk.com got its start in 2009 as Assistly, an independent company with software geared towards new models of "delivering customer service in a social world."
The approach appeared to find broad appeal with both customers and investor, with Assistly collecting $1.7 million from True Ventures and Social Leverage in its Series A round of investment. The company's staff included star player names like Wink Communications veteran Matthew Trifiro and superstar tech entrepreneur and Dallas Mavericks owner Mark Cuban, who came on as an adviser on Assistly's board. A second round in January of the following year reflected the company's growing prominence in help desk technology, amounting to a total of $4 million from six different venture capital firms. Later in the same year, however, the company would learn that investment firms were not the only organizations interested in their help desk innovations.
Assistly was purchased by cloud computing mammoth Salesforce.com in 2011, only two years after its debut, with the official announcement made in September at that year's Dreamforce convention in San Francisco. The purchase was agreed upon for a cool $50 million, The company would change its name to Desk.com to match the nomenclature for Salesforce's incipient probes into the help desk solution market, a changeover that officially went into effect on January 31, 2012.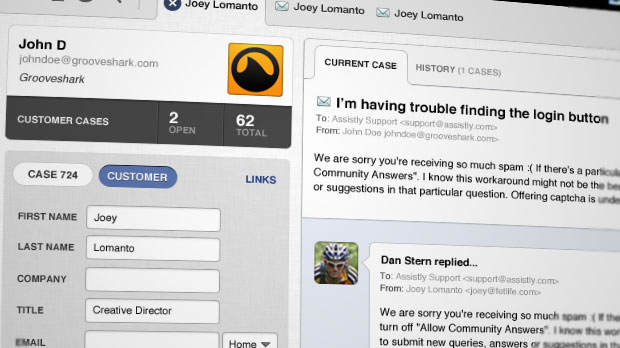 What Desk Does Different
Core to the Desk.com approach is the social help desk concept they helped define. Broadly defined, help desk software is the framework through which one's customer service division–be it in-house or outsourced–organize, distribute and attend to all their formal interactions with customers on product support and service support. Traditionally this is a piece of software run off standard workstations at a call center or customer service department–the typical image of rows and rows of support staff clicking through screens of contact management tabs while speaking to customers on headsets.
In essence the service that Desk.com provides is not all that different, but the delivery method is far more robust and adaptable to non-traditional workplaces, particularly in regards to the advent of mobile technology's influence.
In many ways Desk.com's help desk package is a direct response to the Bring Your Own Device (BYOD) trend that's hit offices full force in recent years. With more and more employees and managers bringing in their own consumer electronics to use as their primary means of accessing company assets and maintaining productivity, two primary modes of thought come to the forefront when thinking of a proper IT infrastructure:
– Mobility– Compatibility
Naturally the widespread introduction of devices like smartphones and tablets offers a great opportunity to let employees go mobile with their work in many different departments, customer service included. The idea of software that's accessible from anywhere at anytime, regardless if the representative is at his or her desk in the office, is of particular appeal to the customer service field, being an environment where the workload doesn't always work along the needs of the representative, but the needs and frequency of customer queries coming in.
Compatibility is often cited as one of the biggest issues facing BYOD. Suddenly IT does not just have to account for a single type of workstation deployed uniformly across the enterprise, but every manner of different device brought in by each individual employee. All of a sudden security, accessibility and format standards all become far more difficult to implement and enforce. Desk.com's solution attempts to mitigate this by being a lightweight, cloud-based application. Being in the cloud lowers overall hardware demand (making the program far more mobile device-friendly) and maximizes the potential for it to be run on various different operating systems and platforms.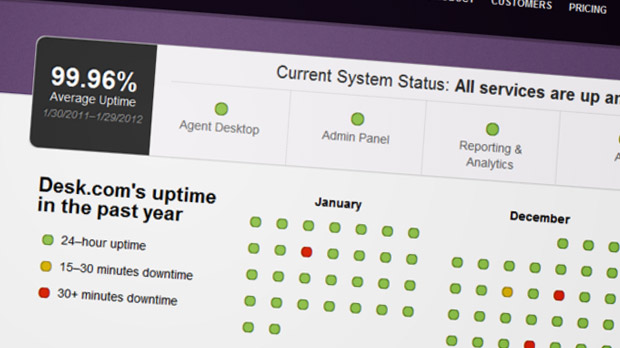 The Social Side of Desk
Where Desk.com shines, however, is its built-in integration of social networking applications like Facebook and Twitter. Customers of many a product and service are wont to talk about their related issues on platforms like those regardless, now, however, the enterprise can take advantage of these platforms' openness to join the conversation to help address problems directly. What Desk.com's role is is providing a unified dashboard through which those interactions can be tracked and tabulated for integration into an enterprise's customer service strategy.
Additionally, Desk.com's pricing system includes "Flex" time for use by personnel who might not be part of the dedicated customer service staff, but could contribute to a particular customer service interaction by dropping in and providing direct input or assistance.
It's still a developing service and segment, but with several prominent clients like Twitter and formidable and established opponents like Freshdesk and Zendesk, Desk.com has the potential to be an instrument in letting Salesforce gain the lead in yet another highly competitive segment of business software.
Looking for more information on top help desk software solutions? Check out our customer service research center page for blog posts and reviews of the top help desk software products. To find the best solution for your business, compare help desk software in our Top 10 Help Desk Software report.