Top 5 Cloud Help Desk Solutions to Replace Your Outdated System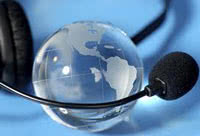 Your customer service department is a vital ingredient in the success of your business, but many companies skimp when it comes to their help desk. The emergence of new technologies and increased use of cloud services has made customer service easier to manage than ever before, giving help desks the ability to receive more tickets decrease response and resolution times.
So what kinds of cloud help desk solutions are out there to help your customer service department maintain a high level of service? We've compiled a list of our favorite cloud help desk software solutions that will not only help you improve customer service, but they'll also streamline your operations.

Freshdesk's customer support software is fast becoming one of the leading cloud help desk solutions on the market today; and with features such as customizable ticketing systems, automated tasking, and community forums, Freshdesk makes it easier than ever for organizations to better manage their customer support tickets. Freshdesk also helps your agents do their jobs better by providing smart suggestions for frequently asked questions, thus resolving issues faster and improving your customers' experience.
Launched in June 2011, Freshdesk's founder, Girish Mathrubootham, set out to create a system that would provide a better, cheaper customer support alternative to the solutions that were currently out there. Finding the majority of help desk software just too cumbersome, he decided that it was time to provide the sort of help desk that companies could actually use. Since its official launch, Freshdesk has won the Microsoft BizSpark Startup Challenge, and they managed to sign on 100 customers in (a little over) 100 days.
Part of Salesforce.com's offerings, Desk.com is an affordable, easy-to-use, and mobile cloud help desk solution. It organizes  your company's social media channels (including Twitter, Facebook, etc.) into a single place; and its clever and visually appealing UI make managing support tickets simple and intuitive. Help desk agents also have live-chat capability and a centralized support environment that puts emails, social media, phone calls, and discussion boards in one place–eliminating the need to move back and forth between several applications and windows in order to solve customer issues.
Formerly known as Assistly, Desk.com boasts that it can get companies up and running with their new help desk system within a couple days. Acquired by Salesforce.com in the summer of 2011, then relaunched as Desk.com in February of this year, Desk.com serves big names such as Yelp, DirecTV, Bonobos, and Grooveshark.

A fully cloud-based solution, LogicNow can help your organizations improve your customer service experience with interactive front-end help desk features, customer self-service, email handling, and incident tracking and management. LogicNow also allows you to integrate Twitter and Facebook interactions with your customers, making it a social help desk as well. In addition to your external email, the LogicNow platform also offers instant integration with FAQ management, detailed reporting, and is fully customizable and brand-ready.
Since its founding in 2007, Zendesk has been gathering customers and accolades in the past few years because of its cloud-based approach and extensive yet easy-to-use interface and support ticket system. As a cloud help desk solution, Zendesk can be used by small and large businesses alike; and its reporting, analytics, and monitoring tools make it easier for executives and supervisors to control and optimize help desk configuration.
Founded in Denmark, Zendesk has grown incredibly fast, landing MSNBC as a customer within a year of launching their product. Now based in San Francisco, Zendesk is continuing to grow, providing integrations with several of the most popular cloud CRM solutions (such as Salesforce.com), as well as iPhone, Android, Blackberry, and Windows Phone mobile support.

VanillaDesk's cloud based IT service management and help desk solution is better suited to medium-sized enterprises, including features like incident management, request fulfillment, a customer portal, email integration, and more. Their dashboard comes ready with pre-configured reports that clearly display key analysis points of your help desk performance and operations, making it easier to take the steps necessary to continually improve your operations. VanillaDesk users can also customize their Dashboard so that they can better focus on particular customers, processes, and resolution groups.
Looking for more information on help desk software? Download Business-Software.com's free Top 10 Help Desk report, which include comparisons of the best help desk platforms on pricing, features, delivery model and more. For additional reading material, visit Business-Software.com's Customer Service resource page.