Community Forum or Social Media: Three Essential Buying Questions
So you want to nurture a community of users that will celebrate your successes and advocate for your product? Both community forum software and social media management tools can accomplish just that.
Similar to how a bird feeder functions, community forum and social media platforms enable your customers to interact and offer feedback. A feeder provides a gathering area for birds to congregate and converse, just as your online community allows clients to "Tweet" among one another and share their experiences.
While social and forum software build powerful bonds with customers, companies can easily make the wrong software investment. Forum and social software may strive toward similar goals, but picking the wrong one for your business can cost your company when the service fails.
At Business-Software.com, we've built a handy guide so you can identify whether you need a social media management software solution or a community forum solution. All you need to do is ask yourself these three questions:
1. Is Your Target Audience "The User" or "The Customer"?
Understanding the difference between a user and a customer is essential for deciding between social and forum software. While a "user" can be anyone actively using a product, the user in this instance should use a product for an extended period of time. Software and video games definitely have ongoing use, as well as subscription services and even nonprofit organizations that take monthly recurring donations.
"A fan of shaving cream would rather have a giveaway than a deep discussion."
Users tend to have more potential to become a community. Ongoing users are on a journey, always discovering new aspects to your product, developing questions to ask or ideas for improvement. They want to know if other users are having similar experiences and may be naturally inclined to join a community should one be available to them.
On the other hand, customers will enjoy social media management more. A fan of shaving cream would rather have a giveaway than a deep discussion. Somebody who recently discovered a delicious brand of banana bread would feel more inclined to make a shout out (or several) into the WebSphere than join a community.
2. Does Your User Base Have Something to Discuss?
This point may seem obvious. Of course you don't want to build a community around a product that fails to prompt discussion. But this question becomes harder to answer with products in the gray area — ones with several or even dozens of fixed discussion topics related to company expertise. Companies that fall under this category have a narrow market or a simple product, with a product that is easy to explain and that has immediately obvious benefits.
Instead of addressing fixed, unchanging topics through a forum, address common concerns in a Q&A or blog post. Social media tools will serve more helpful to you, as you can post a limited set of industry expertise without vying for constant, dynamic interaction.
Remember that social media is also able to prompt community involvement and discussion. In social media's case, companies uniquely steer control by posting blogs and giving away products, information and entertainment. In this instance social media is helpful for straightforward or simple products.
The social media relationship comes from a business that gives, gives, gives as opposed to a community forum, where users give the experience to each other, not needing a company representative to facilitate.
3. Can Users Become Experts?
Does your product provide something that can be mastered? Community members not only need topics for interaction, but they need something to strive for.
Video game and software creators are more easily able to nurture a user base of experts where people can learn, grow and enrich their lives together. There are also several other industries that can generate community involvement with relative ease.
Industries with Community-Friendly Products:
Food industry –  A community of people interested in traveling to unique eateries or creating their own dishes
A nonprofit organization – Community members share passionate stories of adversity and triumph
A travel notebook manufacturer – A traveler's community where people share experiences from their travels
A literary magazine – A community for online writing workshops and book clubs
In a community, the companies hand control to users in a way that social media software can't. This can create a powerful bond — one even stronger than regular social communities can provide. Sometimes products already have experts in existence, and your only challenge is to find a way to attract them.
Experts will enjoy official validation by your company, motivated to post on your forums as long as they feel acknowledged and prized. When you buy community forum software, look out for gamification elements so that you can acknowledge your top posters. This will give them reason to boast about their accomplishments, even on their resumes.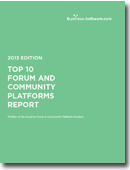 The Process of Buying Community Forum or Social Media Software
After evaluating whether you need a community forum or social media software to build an involved fan base, your next step is to research top vendors. Luckily, Business-Software.com provides free buyer's guides and comparisons. Browse our Top 10 Forum and Community Software report or our Top 10 Social Media Management Software report to get started. For quality software advice, visit our blog.