Document vs. Contract Management: Is It Time to Trade in Your "Jack-of-all-trades" Tool?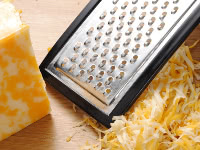 People underestimate the handheld cheese grater.
The usefulness of the cheese grater goes far beyond its intended purpose of grating cheese. Indeed, it can also serve a number of other critical food preparation functions: flour sifter, zester, garlic smasher, an easy way to get a nice, even dusting of powdered sugar on pancakes. Instead of buying a kitchen tool for each of those activities, the cheese grater is "just fine" and saves money.
However, what about when someone wants to take their culinary talent to the next level and open a bakery or restaurant? Suddenly, the cheese grater won't be able to as effectively perform all of the functions mentioned above, particularly on a large scale. In fact, relying on the trusty cheese grater to keep business booming will do the exact opposite: slow you down, and ultimately cause you to lose money.
In business, doing more with (and for) less, is not a new concept. It's natural that companies often look to systems they already have in place to perform as many business functions as make sense—and it does often makes sense to do this up to a point. Yet as companies grow and scale, technology needs to follow suit to keep growth momentum going.
In the interest of doing more with less, it's not uncommon for companies to utilize content or document management systems for contract management. After all, they integrate with myriad applications, make it easy for parties inside and outside of a company to collaborate, and keeps documents safely stored in a searchable database. Document management systems are pretty awesome tools.
To a point.
Many companies can effectively run their contract management functions off of a document management system which ticks the initial boxes including storage, easy access, and collaboration. But for companies with complex contract processes, contract lifecycle management (CLM)  is the only contract management option for a number of reasons. Here are three:
CLM manages the entire lifecycle—not just pieces of the contracting process
Truly, document management and content sharing is just a slice of the contract management pie. While document management serves as a beautifully comprehensive and searchable repository and collaboration tool, it doesn't effectively cover all stages of the typical contract lifecycle, namely, request, authoring, negotiation, approval, execution, obligations management, contract amendment, audit and reporting, and renewal. Contract lifecycle management is specifically designed to ensure businesses are making the most of their contract relationships in each of those stages with as little manual work as possible.
CLM gives you less of a workout, but infinitely more convenience in approvals
Too often contract administrators end up scrambling to hunt down where a contract should be in the approvals process, who should be approving it in each scenario, and where that person is. Automated CLM may not give you the same cardio workout, but it saves time, gives all parties who need to be "in the know" visibility into a contract's progress, and allows companies to do more business, faster. Content management systems can do this to a degree, but—again—it requires much more manual work, basically eliminating the time-saving benefits of CLM.
CLM doesn't write contracts for you, but it gets as close as possible
A distinct way contract lifecycle management differs from content management—particularly for Legal teams—is in authoring capabilities. First, best-in-class CLM systems provide a clause library, which eases the contract creation process thanks to the ability to drag and drop approved legal language directly into contract drafts. Additionally, automated CLM provides unparalleled redlining capabilities, including the ability to get side-by-side contract comparisons, a single "effective view" of contracts and all of their amendments and attachments, and the ability for a system to catch contract changes—no matter how minute—even if track changes was turned off during the authoring process.
When it comes to making the decision between document and contract management, suffice it to say, both systems are a great way to manage contracts; the difference lies in an organization's level of contract complexity. In an upcoming post, we'll have an interactive quiz to help you determine (if you aren't 100% sure) what your level of contract complexity is, and help suggest next steps in making sure you're using the right tool at the right time.
Want more on Contract Management Software? Browse additional articles and reviews on best contract creation tools and contract management software with Business-Software.com's CLM resource page. Also check out the free Top 10 Contract Management report which compares pricing, features and more to help select the best CLM solution for your business.