Let's Talk Tradeshift: Behind the Software with CEO Christian Lanng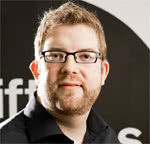 According to Tradeshift CEO and co-founder, Christian Lanng, today's business processes are broken because they're bogged down by user-unfriendly software solutions that aren't keeping up with the needs of a growing online economy. In addition to providing completely free e-invoicing to suppliers, Tradeshift is going one step further and delivering a complete business network in the cloud. Lanng took some time to tell us more about Tradeshift's mission, how he thinks the company is disrupting the market, and what he sees in store for Tradeshift in the coming years.
How was Tradeshift founded? What got the ball rolling initially?
About the Company

WEBSITE: Tradeshift.com
FOUNDED: 2009
LOCATION: Denmark; London; San Francisco, CA
PRODUCTS: Tradeshift Business Cloud
Tradeshift was founded in 2009 and launched in 2010 by myself, Mikkel Hippe Brun, and Gert Sylvest. The impetus for Tradeshift came after our team was commissioned to build an e-invoicing and P2P solution for the Danish public sector. During that project, we noticed some fundamental problems with the way e-business was developing and being monetised.
We realized that modern business is broken. Growing companies that want to focus on doing what they do best are plagued by user-unfriendly, time-consuming solutions for essential tasks. On the other hand, enterprises striving for a more efficient digital future find themselves compromising when partners aren't ready, willing or able to join such a reality. In addition, business software has never been connected. Rather there are many different solutions existing as separate islands where data can't be easily shared.
Tradeshift rethinks all of this. In establishing a platform for all business interactions, it helps smaller companies run more efficiently, harnessing the power of their network to create new value from old processes. Apps like e-invoicing become a route to getting paid faster and open doors like supply chain finance and dynamic discounting.
What was the most difficult part about getting started?
When you create something completely new, it takes time for potential customers to forget the limitations they've been told are insurmountable for decades. Showing our customer base that they can get much more value than they've been led to believe for the last 30 years can be challenging. But once they see beyond simple e-invoicing and start to imagine the power of a platform, there's no turning back.
What's your approach for ensuring that you deliver the best product possible to your customers?
We run Tradeshift with a lean startup methodology. That is to say that everything follows the pattern of "build, measure, learn", using data from experiments to directly judge their success or the need for iteration. Talent is another important aspect — being headquartered in San Francisco, we have access to some of the brightest minds out there. This is what keeps Tradeshift ahead of our competition and ensures we deliver the absolute best products possible for our users.
What makes Tradeshift different from other online invoicing solutions?
Well first and foremost, it is a solution that suppliers want to use. We provide free accounts to suppliers. This is an entirely new business model. Other solutions on the market often charge users to submit invoices to their customers. Also, with Tradeshift, e-invoicing is just the beginning. Certainly, most users first experience with Tradeshift is indeed e-invoicing, but Tradeshift is a platform for all business interactions. Third party apps enable so much more functionality – Tradeshift adapts to the best practices of your business, rather than your business having to adapt to the constraints of your software.
Is there an ideal type of customer for Tradeshift? What does that customer look like?
Our goal is to connect every business on the planet. And we mean every business. So there is no real ideal customer or user.
Where do you see your company headed in the next 5 years? Do you anticipate any changes in the industry landscape?
We just announced a new strategic partnership with Intuit, so these are exciting times at Tradeshift. The platform is now available to five million QuickBooks users. That makes our network the largest in the industry. The industry certainly is changing and I think a lot of that change is in response to Tradeshift and our business model. Others, our competitors, are trying to deliver large networks and position themselves as platforms. Tradeshift is already there. We've been a platform since day one, so we are lightyears ahead in that regard. We get to spend our time and resources developing new technologies and products rather than catching up. We'll see a lot of consolidation of competition over the next 5 years as companies that deliver some features, but not all, try to bolster their product offerings and reposition themselves as cloud platforms. We'll also see the business models shift to be more in line with our own–free for suppliers.
What are the major challenges that you see your customers facing? How can businesses overcome those challenges?
For enterprises not using Tradeshift yet we understand that often their biggest challenge is getting their suppliers to adopt the e-invoicing solution they have. Businesses can overcome this by implementing a solution their suppliers want to use and by not charging them fees and taxes to use them. This is why Tradeshift boasts the highest onboarding rates our industry has ever seen.
What makes you the most excited about what Tradeshift is doing?
Certainly what we are doing is new. That in itself is very exciting. Innovation is exciting. The fact that we are pioneering real global connectivity among businesses – something that has never been achieved and is set to revolutionize business. That makes me the most excited.
Who do you think are the most innovative or interesting people/ companies in the software industry right now and why?
From our perspective, it has to be people who are experimenting with data, and of course, that comes in many forms. Companies like Duedil are creating Tradeshift Apps that take typical due diligence style data (e.g. registered financial records) and bring it into context with other valuable data to increase its value.
Companies like The Currency Cloud are transforming the old industry of financial currency exchange and again integrating it with Tradeshift to make it a more valuable and efficient experience for their users.
Looking for more information on e-invoicing software? Check out our side-by-side comparison of leading platforms in the Top 10 E-Invoicing Software report. You can also browse exclusive Business-Software.com resources on e-invoicing and financial management by visiting the Financial Management Software research center.