How Energy Storage Will Help Cleantech See More Green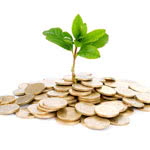 For a decade, the renewable energy sector's double-digit growth and headline grabbing global activity painted a rosy picture with unlimited growth potential. But in 2011, the eyebrow-raising bankruptcies of a few high-profile cleantech companies dissuaded government support, frightened away skittish venture capitalists, and dampened public sentiment. Had this turn in the market meant we'd never escape our fossil fuels dependency?
New advancements in storage technologies are ushering in an era of rebirth and unlimited possibilities in renewable energy. So ask yourself this: when opportunity in cleantech knocks—will your business be ready to scale when and where the market demands?
Arena's whitepaper, "How Energy Storage Will Help Cleantech See More "Green," peers into the future of cleantech providing fact-based revenue projections and analysis of technologies that will shape the industry — and mean more "green" ($$$) for your company. Whether you are a cleantech, electric transport or consumer electronics manufacturer, this paper provides the most insightful analysis you need, right now, to take advantage of business opportunities in the cleantech sector.
In this whitepaper, you'll discover:
Impact of energy storage on cleantech ecosystem
Revenue projections for storage's three business drivers
Cleantech's most influential venture capitalists.
Arena Solutions believes the cleantech sector is at an inflexion point with its brightest days ahead. While cleantech funding has indeed fallen dramatically over the last sixteen months, innovation across the entire sector continues to soar. The development of green buildings, smart grid hardware and meters, hybrid electric vehicles, "buildings as batteries", and a litany of other cleantech breakthroughs are booming as never before.
In May of 2013 alone, the excitement over Tesla Motors' first-ever profitable quarter announcement was quickly eclipsed by news of a high school student's invention of a storage device that can charge a cell phone in 20-30 seconds. This affirms the only hurdle preventing renewable energy from becoming the primary source of electricity in this century's future is, perhaps, storage.
This whitepaper leverages third party market research and Arena Solutions' deep manufacturing insights to inform cleantech executives, investors, policymakers, and complementary technology stakeholders of the diverse types of current and emerging storage technologies – and the impact these innovations have across the entire renewable energy sector. The paper also presents comprehensive growth forecasts across storage's three main business drivers (consumer electronics, electric transport, and large-scale grid) as well as examines rebounding global investment trends.
For 13 years, Arena Solutions has helped a diverse range of leading cleantech companies, such as Sunlink, EnerVault, and SunPower, streamline their product development processes across a globally distributed supply chain to reduce time to market and maximize product release potential.

Browse more whitepapers from Arena Solutions and other top software vendors by visiting the Business-Software.com Whitepapers and Demos archive.