How Much Will an Outdated Accounting System Hamper Your Growth?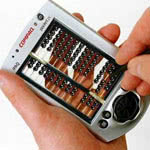 Quite a bit! At least that's what many of you out there indicated in a recent survey of nearly 200 finance executives in the U.S., a survey appropriately titled "Accounting Systems of Today." Conducted in April and May of 2013-the survey's primary purpose was to help us better understand the current state of today's finance departments-where your departments are headed, what your biggest challenges are, and what types of solutions you need to be more efficient. The results were insightful and helpful, but also got me saying the word "ouch" more than a few times.
What prompted the "ouch?" Well, the majority of you indicated your current accounting system plagues you with too many spreadsheets, too much manual entry, too long of a period close, no CRM integration and simply not enough cloud. How do you stack up?
The respondents' reality:
70+ percent don't integrate their accounting system with their CRM
40 percent have a period close that takes two weeks or more
64 percent are using more than 25 spreadsheets across the department
18 percent are using 100+ spreadsheets across department
51 percent are still painfully dealing with manual data entry
27 percent are using an accounting system that's more than 11 years old (that's when people were still faxing!)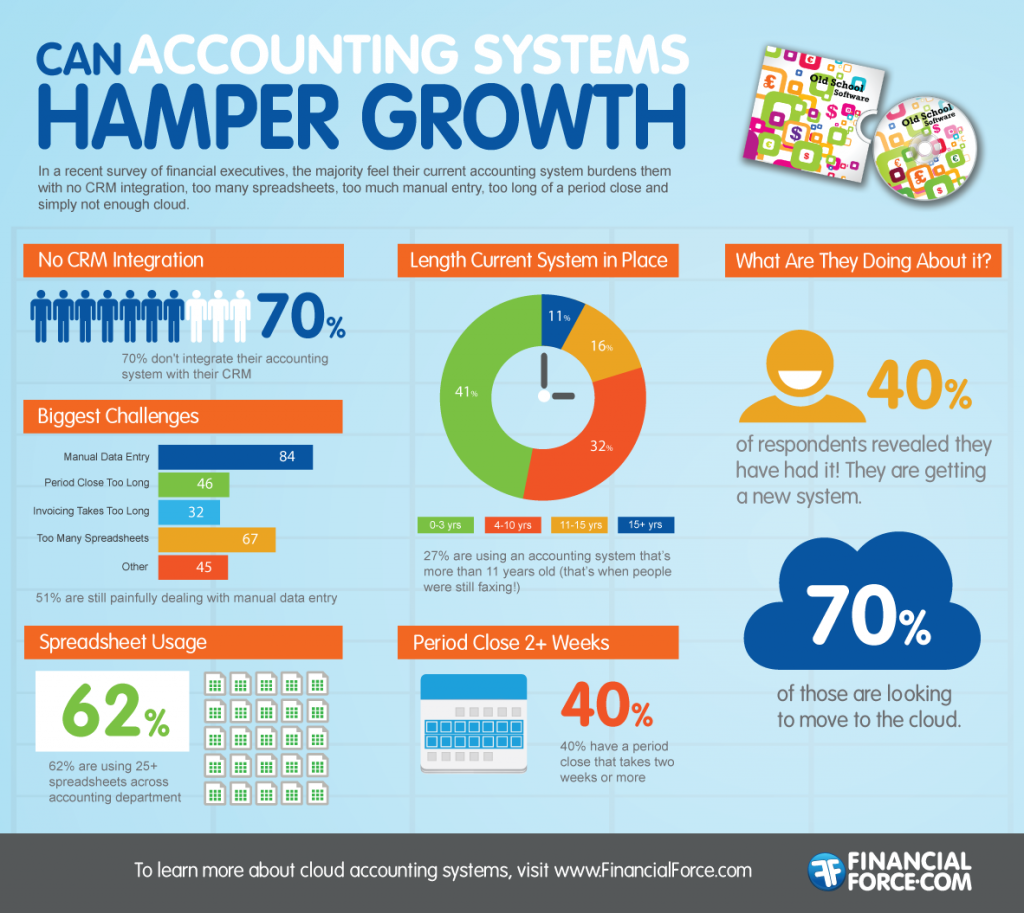 What are they doing about it?
40 percent of respondents revealed they have had it! They are getting a new system.
70 percent of those are looking to move to the cloud.
The biggest shocker from my perspective was how totally under leveraged the cloud is right now for the back-office. It's clear companies are dabbling in the cloud, but are not even remotely close to optimizing it for back office processes. The accounting department of today should not be stuck with this much manual entry, relying on this many spreadsheets, or using a system that does not hook into a CRM.
The second, yet refreshing, shocker for me was that 40 percent of respondents indicated they are currently looking or have plans to look for a new accounting system. That's a step in the right direction. That tells us they are finally recognizing their current systems are holding them back. Let's face it. The business world is constantly changing. Employees are using apps everywhere in their personal lives, and have come to expect the same application accessibility at work. It's the businesses that embrace that new world that will come out ahead.
Now let's jump a few years forward. I don't think we'll see figures like 70 percent not tightly linking their accounting system to their CRM. Hooking the two is a path to streamlined order to cash processes, single account management, and an elimination to re-keying of data and manual entry. In this age of lean companies and a focus on customer service, companies can't afford to have sales, services and finance on different systems.
On that note, accounting teams need to be firmly embedded in the business, not segregated from the business with superficial walls. That's where a cloud accounting solution might be able to help. Picking a solution that applies CRM, social and mobile concepts to back office functions makes finance more like a fabric that runs through the business rather than a department. It's time to seize an accoutning solution that will help tear down walls between departments and get the business working as one.
Let accounting systems help your company scale instead of the other way around.
Looking for more information on top-rated accounting software solutions? Browse leading product reviews and helpful blog posts on the accounting software resource center. To find the best solution for your business, download the free, Business-Software exclusive Top 15 Accounting Software report where we compare the top products by pricing and key features.