How to Enact Operational Change through Social Research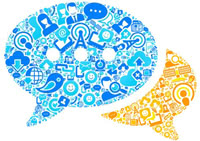 There are plenty of data sources out there that can help you create efficiencies and improvements in your brand or business. One commonly overlooked source is social research. We have written about the importance of social research many times, with its opportunities for proactive customer service and online reputation management. However, the most lucrative aspect of social monitoring research is its ability to convert data into dollars. Here are some key operational changes you are able to make based on intelligence gleaned from social listening.
Competitive Analysis
Competitive analysis is imperative for staying ahead in the digital world. Therefore, social listening does not have to be restricted to your business, brands, product lines, etc. It can also encompass your competitors' brand and products. You are not only able to assess how customers respond to your deals, customer service, website and more, but what your competition's new and most successful initiatives are through the eyes of the consumer. For example, perhaps you and your competition both offer price matching, but your competition also offers free shipping. Therefore, the customer is saving even more money. Social research can tell you if people choose that brand over yours for this reason.
Inventory
In addition to staying competitive, social research can tell you how many people successfully and unsuccessfully search for your products and brands on your site or elsewhere online. If there is a large spike in customers tweeting that they wanted to buy a product on your site that was either not available or not in stock, you may be able to predict–based on trended data over time–what products will sell best at certain times of the year. You will also be able to assess whether or not you should expand brand and product line offerings based upon demand.
Opportunities for Product Improvement
Unsolicited consumer opinion about your product or service is a gold mine. With social research, you are able to analyze what consumers like most and least about your product or service and find opportunities for improvement. Let's say, for example, that you are a shampoo company that just switched over to all natural ingredients in an effort to be more environmentally-friendly. While some loyal customers think the new ingredients smell funny, the eco-friendly community has lauded your efforts and promoted you on every imaginable channel, which has increased sales. With the help of social research, you are able to calculate the profitability of adding natural ingredients to more of your products.
Opportunities for Expanding Markets
Social research does not have to be restricted to certain languages, countries or continents. Therefore, it is possible to ascertain what other markets in which your product or service might do well. By listening to consumer conversation in other potential markets, your company can assess whether or not there is enough demand for your product in other regions of the globe and expand.
Price Sensitivity Analysis
Prices are a very popular subject on social media. People do not hesitate to tweet about a great deal, especially when there is incentive to share. Likewise, they are not afraid to share when they feel a product is not worth its price tag. Therefore, social research is a great place to conduct a price sensitivity analysis (e.g. how much people are willing to pay for a particular product or service).
Looking for more information on the best social intelligence tools? Browse our social media tools resource page for blog posts, product reviews and exclusive content. Or, download one of our free Top Social Tools reports to compare the leading social tools by pricing and key features.
This article was syndicated with permission from Asking Smarter Questions.