How to Evaluate ERP Software for Your Business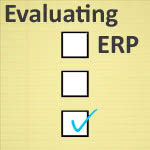 Enterprise Resource Planning (ERP) is business management software that connects the different work groups or teams in your business to a common platform. Even start-up companies eventually require a system that helps document your entire business and eases collaboration between employees. But how does one decide which software is best for your business? With the amount of ERP software options available, choosing the best one is a difficult decision.
While researching the different ERP software choices on the market, ask yourself the following strategic questions:
What do I want from the software?
This is your number-one question. Why does your business need this software? What are your goals for implementation? How will ERP software improve your business?
What does your team want from the software?
Form a team with representatives from each area of your business e.g. finance, HR, technical teams, etc. Based on their requirements, finalize the needs that your personalized ERP system must have. Assign a dedicated person who will head the entire process. From its conception to final implementation, this team will oversee this project.
How user-friendly is the software?
Ask for a free demo and have your inter-departmental team evaluate how user-friendly the software is. Everyone will need to use the ERP software, not just the IT department. The level of usability will help you decide its adaptability for all employees. Whether it's an SAP-based system or a SaaS cloud system, its ease of use will help gain acceptance across your company. Check with your IT department to see if they are familiar with the software and aware of its system requirements.
What are your long-term goals?
ERP software is an investment of time and money. Choose software that can grow with your company. Top ERP software is customizable. Determine exactly what you need now, but also know what additional modules your company might need in the future. If you offer new products in the future or double the number of employees, your ERP software should expand to meet your business needs.
How reliable is their customer support?
Even the best IT department will need technical support. Do you need access to 24/7 support? Telephone support? Online service requests? In-person assistance? The more support options a vendor offers, the better.
What is the cost?
What is your budget for ERP software? Compare costs across the vendors who offer the features that you need. Cost shouldn't be the ultimate deciding factor, but it is a big one. Stay within your budget, and determine which vendor can offer the right features for the right price.
Every business has its own needs and priorities in choosing ERP software. These six questions should help you decide which ERP software is best for your company.
If you're still looking for additional information on some of the leading ERP systems out there, try checking out our exclusive Top 20 ERP Software report. Additionally, pay a visit to the Business-Software.com ERP software resource page, the hub for ERP-related content from us and our network guest contributors.