MagentoGo Falls Overboard: Will SMBs Jump Ship?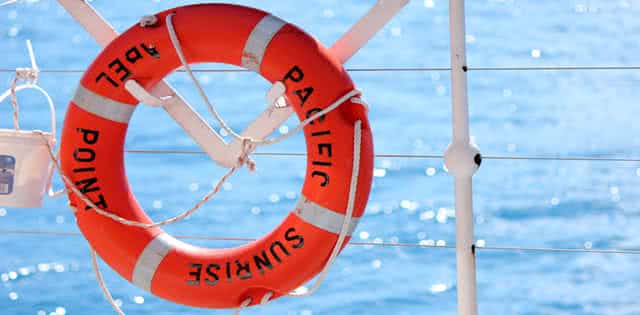 With the inevitable close of eBay's MagentoGo in February 2015, many small businesses are preparing themselves for a scenario they were promised would never happen – their lifeboat was thrown overboard. Everything MagentoGo clients have built on the platform could be gone in one fell swoop. For SMBs, their 'solution' is quickly becoming their biggest problem – they have less than a year to decide if they will keep sailing with one of Magento's other platforms or abandon ship.
For everyone except the ecommerce industry, the death of a platform may seem like an everyday occurrence. For other industries, imagine this: WordPress is shut down and you lose all of the data you had on their platform – a platform that powers just under 20 percent of the web. In this instance, small businesses are not just losing their service provider; they will be potentially losing product data, customer bases and SEO hierarchy.
While many of the big-hitting ecommerce vendors are already reaching out to the future MagentoGo orphans, these small businesses might, in an obligatory turn of events, be forced to stick with the company that dumped them.

Should MagentoGo Users Stay or Go?
If MagentoGo customers want to keep their data, then accepting eBay's next level of ecommerce solutions will undoubtedly become their easiest option. This will mean a number of things for MagentoGo clients who continue service with MagentoCommunity: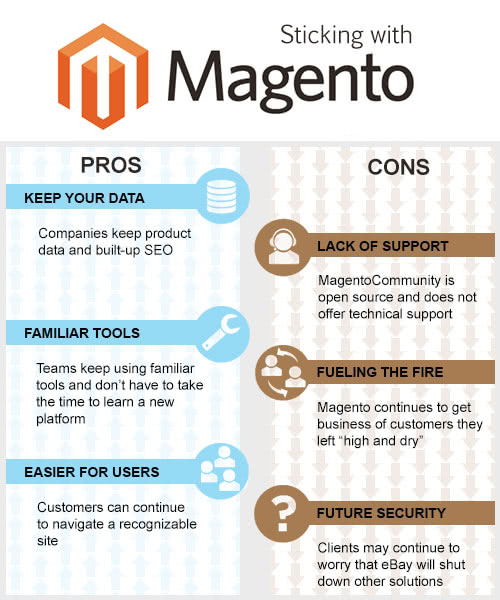 If clients choose to jump the Magento ship, they will have a bumpier transition, but will have the chance to utilize the latest innovations in the industry. Customers will most likely turn to the industry's leading competitors, namely Shopify, Volusion and BigCommerce. If MagentoGo clients choose one of these solutions, the following will need to be considered: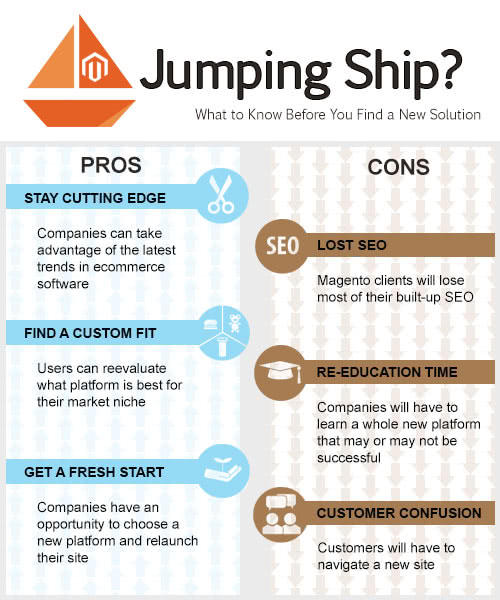 The Reality of Data Migration

If your small business axes Magento, you can use a data migration service such as Cart2Cart as your e-tail lifevest. They are advertising their service across the web right now, to draw in the SMBs that don't want to switch to MagentoCommunity. Their service is a life vest, but little more. Your e-tail business will not completely transfer over, you will most likely lose some of your SEO capabilities and you risk losing customers who preferred you kept your website as it was.
However, it is still a life vest. If your business jumps ship, it will not sink. Data migration will preserve all of the absolutely necessary components of your online store for the transition, and allow your front-end transformation to appear fairly seamless. The back-end of the move will be a little more complicated, but because eBay has given advance notice, clients can begin converting now, retain their existing platform through the crucial holiday season and relaunch in January. The Cart2Cart service will cost you $70-$500 in a product range of 1-50,000.

Beyond the Wreckage of MagentoGo
The absence of MagentoGo is a significant loss in the ecommerce industry, but most likely will not produce long-lasting effects. Other ecommerce vendors will capitalize on the absence of such a viable ecommerce solution for small businesses.
The most interesting twist to this development will be watching how eBay's decision to drop MagentoGo will affect their other platforms. They are in essence, putting all of their eggs in one basket by relying on their enterprise-level clients to carry Magento forward. Therefore, it will not be a question of whether the small businesses affected by this change will stay afloat, but rather whether the "SS Magento Inc" will sink or swim.
Want more information on ecommerce software? Browse product reviews and helpful blog posts on the retail management resource page, or download the free Business-Software.com Top 10 Ecommerce Software report to compare the leading solutions by pricing and key features.
[Photo courtesy of Flickr user Tom Page]