How Maintenance Management Systems Enhance Productivity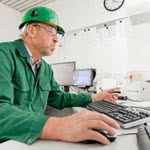 Greensboro, NC, USA: Maintenance management software automates maintenance activities and allows for the organized and systematic tracking of an organization's assets. By managing maintenance operations more efficiently, maintenance control software improves how maintenance is performed and increases productivity, which translates into cost savings.
Streamline Preventive Maintenance
Normal wear and tear can diminish the efficiency of your assets. Scheduling preventive maintenance with maintenance management software can conserve the effectiveness of your assets and extend their life. Furthermore, maintenance software prevents major asset failures by keeping your assets in peak condition. Preventive maintenance increases your organization's productivity by maximizing asset uptime, reducing unplanned maintenance, and efficiently scheduling maintenance staff.
In general, preventive maintenance procedures take less time to carry out than emergency replacements and repairs. Since assets are typically unavailable while you perform preventive maintenance, you can plan for outages to occur outside of times when you need the assets most. Knowing when downtime will occur also allows you to schedule your staff accordingly. Your maintenance program as a whole will become more profitable if you implement preventive maintenance software because schedules will be met and customers will be satisfied with receiving high quality products and services on time.
Eliminating asset downtime through preventive maintenance allows maintenance technicians to continue carrying out their regular job duties and meeting deadlines rather than tackling unexpected repairs/replacements. No more wasting labor hours and letting productive resources sit idle as asset breakdown is addressed.
Maximize Mobility
In most organizations, maintenance personnel spend less time on maintenance and repairs and more time tied to a desk doing administrative work. Maintenance management software maximizes maintenance technicians' mobility and frees them up from desk-work in the following ways:
Minimizes paperwork
Gives workers access to job-specific information on-site
Enables workers to access previous work history
Streamlines communications between maintenance workers and managers
Allows workers to enter data into the maintenance management system at the work site
DPSI offers the iMaint Mobile Add-On for its iMaint EAM system, which allows organizations to synchronize handheld computers or wireless mobile devices with iMaint. Some maintenance tasks that iMaint Mobile allows maintenance technicians to complete while on the go include creating work orders and work requests, automatically issuing parts for work orders, recording inventory received, and entering details regarding parts used, labor hours, downtime, etc.,
Maintenance Management Software: The Maintenance Manager's Secret Weapon
By automating and managing the daily operations of an organization's maintenance department, maintenance management systems reduce administrative workload. As a result, maintenance managers have more time to spend with maintenance staff. Maintenance software also puts a wealth of information at maintenance managers' fingertips, enabling them to transform raw data into valuable information that aids strategic decision-making.
The success of your maintenance department depends on the EAM/CMMS system used to organize data about your assets and maintenance tasks. With over 27 years of experience developing and implementing EAM/CMMS software, DPSI is the ideal maintenance software company to work with. Contact us today to sign up for a free trial or learn more about the maintenance management systems and consulting services we offer.
[This post originally appeared on Stamford Patch and is republished with permission.]
Want more on Maintenance Management Software? You can compare leading maintenance management and CMMS products in our top 10 asset management software reports, where we give you the lowdown on pricing, key features and technology models.