Web CMMS vs. On-Premise Maintenance Software: Making the Choice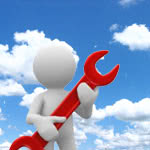 Is your organization best suited to web CMMS or on-premise maintenance software? As the price of bandwidth and storage continues to decrease, cloud-based maintenance software is becoming an increasingly popular choice.
Many cloud-based CMMS/EAM software vendors are pushing this technology as a convenient and cost-effective alternative to traditional, on-premise software, but web-based solutions aren't necessarily right for everyone.
There is no such thing as a one-size-fits-all solution, so you would be better off exploring the pros and cons of both cloud-based and on-premise options before committing to any particular technology.
Benefits of Web CMMS
As its name suggests, cloud-based CMMS maintenance software is a hosted service that's accessible over the Internet. You don't have to install any hardware or software, or worry about anything technical for that matter–your vendor will handle backups, security, and upgrades. Web-based CMMS systems enable businesses to focus on core responsibilities while avoiding the need to recruit additional IT staff. Benefits of using a web-based CMMS include the following:
Lower upfront cost and total cost of ownership (TCO)
No new infrastructure requirements
No software licensing costs
Software provider does the "grunt" work
Access your CMMS system anytime, anywhere
Cloud-based CMMS software generally appeals to start-ups and SMBs that don't have a lot of capital, IT resources, or technical expertise. Web-based CMMS software is often seen as less secure than on-premise solutions, but it also has some security advantages. For example, cloud-based systems are less likely to be affected by viruses because there is no local data and the software is regularly updated with the latest security patches. Web-based CMMS systems are typically housed on multiple servers to increase reliability and availability. The network, servers and application are monitored 24/7, 365 days a year.
Benefits of On-Premise Maintenance Software
On-premise maintenance software is installed and run on the computers of the organization using the software. The organization has to purchase usage rights for the software upfront, buy the equipment necessary to run the software and install the software or pay a third-party to install it.
The decision to use on-premise software is usually based on the fact that in-house IT staff will have better control over the security and use of the software. Security threats faced by organizations using maintenance software include stolen equipment, improper disposal of business records, and hacking or malware. On-premise software boasts the following benefits:
Dedicated IT staff for support and maintenance
Control over all data and systems
Sensitive data is stored and handled internally
Larger organizations in industries with strict compliance requirements and legislation typically prefer on-premise software because it gives them more control over their data and processes. Furthermore, on-premise software has broader customization capabilities and integrates more readily with other systems. Although the initial investment is higher, on-premise software pays for itself over time. On the other hand, a subscription-based software service could get expensive as an organization grows.
So, going back to the original question, which is better: cloud-based or on-premise CMMS systems? The answer depends on your business' needs from a financial, security, and technical standpoint. Before trying to decide between an on-premise and web-based CMMS, carefully weigh the pros and cons of both options. Don't just consider cost – other factors to keep in mind when making your decision include customization, compliance, security, and control.
At DPSI we offer both on-premise and cloud-based maintenance software. Sign up for a free trial of our system today or contact us for more information!
Ready to find the best CMMS solution for your company? Browse product reviews and top blog content on the asset management resource center page. To compare leading CMMS software by pricing and key features, download the free Top 10 CMMS Software report.
[This post originally appeared on the DPSI blog and is republished with permission.]