Nimble CEO Jon Ferrara & the Social CRM Revolution, Part 2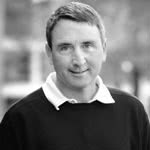 In Part 2 of our exclusive Q&A, Nimble CEO Jon Ferrara discusses Nimble's place in the CRM market, how social has changed business, and more. Nimble is a social CRM solution designed to help businesses turn their social communities into customers by enabling them to easily manage their contacts, communications, activities, and sales in a single location.
About the Company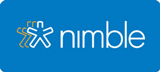 WEBSITE: www.nimble.com
FOUNDED: 2009
CUSTOMERS: A broad range of SMB companies
LOCATION: Santa Monica, CA
SOLUTIONS: Nimble
Where do you see the CRM industry headed and how do you think Nimble will fit in?
Well, if you take a look at the way that we engage with customers, in the old days, we used to yell at them, "Buy my product!" It was the Mad Men mentality of getting lemmings to line up and purchase your product. Today, sixty percent of decisions are made before anybody even talks to a salesperson. Customers are having conversations amongst themselves and they're ignoring your marketing. Now they're starting to shout back at companies. So now, companies need to begin to listen and engage with customers using the tools and the platforms that the customers want to talk on. And they don't want to hear from companies from faxes, cold calls, yellow page ads, advertisements, direct mailers, or even email blasts. They want to talk in communities, in blogs, in social media: LinkedIn, Facebook, and Twitter.
Most companies think that it's enough to put a community manager in front of your company and think that you're going to be an effective social business, or that you can use social media for just marketing. In reality, customers expect authentic, relevant engagement throughout your company: from sales, service, support, and even the C-level executives.
The way I see the transition of CRM is that you are going to begin to incorporate social marketing, social service, social listening, social community together into a cohesive integration to the contact record store and to the CRM system, providing a company with a unified method of engagement. And that's what Nimble's doing by integrating into a variety of packages that enable marketing, service, collaboration, etc.
What packages does Nimble integrate with?
We integrated with Hubspot to provide social marketing integration. We're going to do that with customer service packages, accounting, collaboration, and other platforms to empower businesses to effectively attract and retain customers. I think that's where the market is going from a CRM perspective: integration of the top of the funnel—the marketing—to the middle of the funnel, which is the engagement—some would call it social selling. And that's where the CRM systems sort of fall down: CRM systems aren't about engagement. CRM systems are about measuring activities and measuring forecasts and metrics; relationships are built through engagement. CRM systems don't provide opportunities for engagement by surfacing the person and their background, and they don't provide the tools to do so and to track the communications that have occurred. The key thing about Nimble is that it connects the conversations to the people.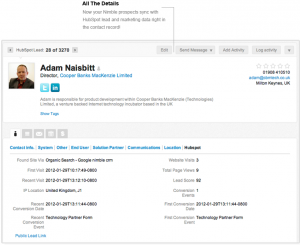 Other than Nimble, what do think are the most interesting people or companies in CRM right now and why?
CRM is a big bucket. There's a number of companies that have sprouted up that are adding value to CRMs because the CRM vendors are traditionally not innovative in those customer service or marketing aspects nor in the listening, collaboration, and community aspects. In each of these buckets, there's different people that are doing interesting things. I happen to like what HubSpot's doing on social marketing. I like what Desk.com is doing in social service. And I've always liked HootSuite for social listening. I like Yammer for social collaboration. And I'm a fan of Get Satisfaction on social community.
What do you see in the future for Nimble?
Taking everything that we're doing in the web and bringing it to mobile and empowering people to do it remotely. And surfacing more information, telling you the needles in the haystack, where you should and could engage. We're going to be showing you even more opportunities for engagement with Nimble Daily, where we daily send you an update that'll tell you who and where and how you should and could engage people and enable you to do that automatically in a transparent way that feels authentic.
How does Nimble achieve that?
We're going to use algorithms that we've developed. You connect with people typically like yourself or people in your network. So we'll look at the type of people that you typically connect with and automatically surface more. Then, we'll give you a dashboard that'll allow you to tune that.
How do you think social has changed the way businesses interact with customers?
Customers want to be enchanted and engaged. Today, customers have a whole different expectation of the authenticity, the relevance and the engagement that they have with the companies that they do business with. Social has revolutionized that process and Nimble empowers it.
Read Part 1 of our Q&A with Nimble CEO Jon Ferrara to learn more about Nimble and Social CRM. Jon Ferrara has over 20 years of experience in Customer Relationship Management and Sales Force Automation. A founder of GoldMine CRM, Jon turned his entrepreneurial instincts to creating Nimble, which was launched in 2009. Nimble has gained recognition for its simple yet effective social CRM platform.