First Look: OneSource's Multi-Channel, Real-Time Intelligence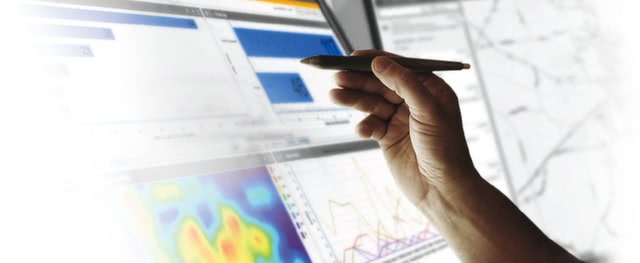 Think about the kinds of stuff that goes into a CRM database and real-time intelligence probably wouldn't apply to most of it: first name, last name, email address, phone number, chance to close, lead source, etc. etc. A lot of that data is static, input manually by individual sales reps and there more or less to simply help them keep track of where each lead is on the company sales pipeline.
What some don't realize, however, is that there's vast swaths of other actionable insights that can go into building more meaningful profiles of customers and leads. Massachusetts-based OneSource seeks to introduce organizations to these extra layers of data just beyond the surface. We talked to CMO James Rogers to learn more about the company's take on data analytics.
But What's Real-Time Intelligence?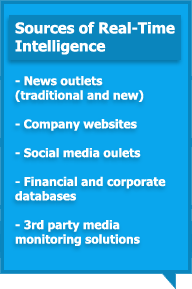 In contrast to the types of data mentioned above, OneSource focuses on tracking data that's highly dynamic. What that translates to is information that moves really fast, updates very often–certainly more than once a day–and typically maintains Hence, "real-time intelligence."
OneSource draws from multiple different channels of real-time intelligence including news sources (of which it tracks 24,000), social media and 23,000 publications.
But OneSource provides more than just extra detail on reporting.
"A lot of times people used to think of reporting when you mentioned intelligence," Rogers told Business-Software.com. "So they assumed that you were just providing better reporting. But real-time intelligence has more immediate impact within a short period of time, unlike the name of a company or the address of its headquarters."
Rogers emphasized the idea of the intelligence life cycle, contrasting things like company names, which have a comparatively long life cycle, to information regarding a change in executive leadership or the opening of a new office. That type of data has the potential to be highly valuable, but only within a shorter and more immediate time frame.
Previously specialized types of data like this might have been classified with secondary or tertiary priority, but that might not be the case for much longer, as has been suggested by some analyst groups like
Gartner
for several years now.
Recent Acquisitions
Earlier this month OneSource announced that it had acquired SalesQuest, a sales intelligence vendor. SalesQuest's flagship CRUSH Solutions collect and present real-time intelligence on mid-sized companies as well as the Fortune 1000.
Rogers said that the acquisition made sense in terms of extending OneSource's existing intelligence capabilities.
"SalesQuest has a phenomenal brand. They have evangelical customers and they're the best-in-class solution in terms of providing detailed information and intelligence on the IT vertical… Over time, as we integrate the two companies, the opportunity for coupling the Quest reports on top of the live content database and the breadth of all the companies that we cover is going to have incredible potential in the long term."
Future Plans
The company's greatest market challenge currently, according to Rogers, is continuing to grow real-time intelligence into a mainstay for sales and marketing. A key factor in doing that is keeping up with the "explosion of the various data sources" and vetting them to know which sources are going to produce actionable intelligence for those teams.
Moving forward into 2014, Rogers mentioned that OneSource is planning a new product launch in the spring. In addition, the company's financials are strong going into the new year, buoyed by backing from GTCR, a Chicago-based private equity firm, as well as other investors.
"One of the most exciting things about this company is that we have very strong financial bakcing at GTCR, and that's allowing us to make investments in both organic and inorganic growth. The acquisition of SalesQuest is a testament to the opportunities in inorganic growth investments," he said.
To find out more about specific intelligence solutions check out our Top 10 Business Intelligence Software report and our comprehensive Business Intelligence resource page.