The Cortana Analytics Suite and the Future of BI Software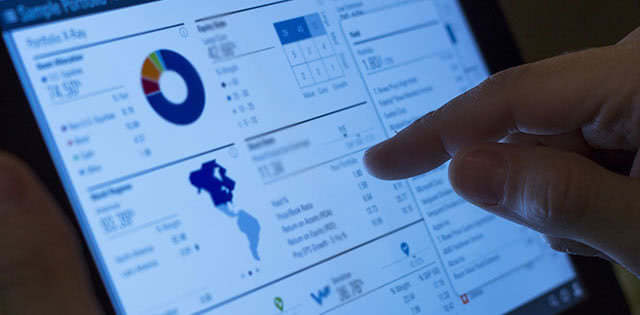 With every software vendor's annual conference arrives news of the latest advancements and a preview of the next potential trend in business technology. This time around it was longtime tech conglomerate Microsoft's turn to raise the curtain on a number of new product offerings at its 2015 Worldwide Partner Conference.
Among the various software updates disclosed in mid-July, business owners will find one of particular intrigue: the Cortana Analytics Suite. Microsoft's new analytics suite joins together — and attempts to streamline — many formerly disparate data processes: data storage, machine learning, big data analytics, information management and business intelligence.
Considering that this announcement comes on the heels of Salesforce's own recently released Wave Analytics platform (a relatively straightforward BI tool), Cortana Analytics marks an interesting attempt at transcending the status quo of business intelligence and analytics software.
Let's take a look at what the new Microsoft suite will offer, and how this platform could shake up the business intelligence and analytics industry.

First Look at the Cortana Analytics Suite
The core concept behind the Cortana Analytics Suite is a non-radical one: to collect and utilize data that enables users to understand historical behavior and adopt effective, insight-based changes. Yet many vendors have tried their hand (and fallen short) at larger-scale BI platforms that transform data from historical patterns into game-changing, easy-to-understand intelligence.
So what makes the Cortana Analytics Suite different? For starters, one could say it has to do with Microsoft's approach to taking many already available services and combining them into a single subscription-based platform with advanced capabilities. While Microsoft may not be the first vendor to attempt this, they are arguably one of the largest — and have access to an array of pre-existing technologies utilized by thousands if not millions of people. The key factor, though, will be whether the new suite succeeds at fusing all of these individual applications into a broader, more comprehensive solution.
Here's a breakdown of which existing Microsoft services will play a part in the new analytics suite — and what functionality each brings to the table: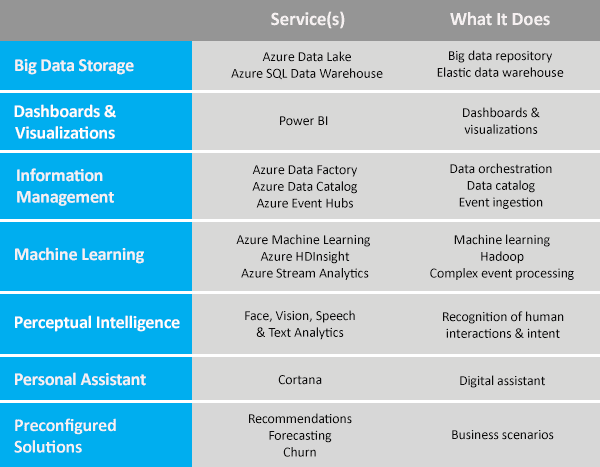 In the Context of the BI and Analytics Industry
Admittedly, Microsoft will be taking a gamble with the Cortana Analytics Suite, assembling many (currently separate) parts to build a bigger, better, more robust approach to business intelligence software.
The Microsoft analytics suite is particularly daring, considering that the current landscape of the analytics and BI software market includes many platforms that excel in a specific area such as big data, data management, data visualization, self-service BI and the like. At the moment, few tools are able to successfully address the widespread analytical and intelligence needs of a modern business.
Theoretically, the Cortana Analytics Suite could mark the start of a new wave of fully capable all-in-one BI platforms. If Microsoft pulls off the integrated analytics platform, the question will be whether BI vendors are willing to make the jump and follow suit — at a time when best-of-breed products currently dominate the market.

3 Necessities of Future BI Tools
Should other software vendors take notice of Microsoft's step toward the next generation of analytics tools, there are a few major software capabilities that vendors looking to the future of BI software platforms need to keep in mind. Here are four areas that vendors must get right moving forward in order to meet the BI demands of today's businesses.
1. Both Micro and Macro Intelligence Are Important

The need for teams to analyze data sets comprehensively and fully understand their effects will only increase as more businesses turn to analytical insight to improve every part of their operation. And as businesses continue to accumulate massive amounts of data, they're going to seek out do-it-all tools with the capacity to supply both small- and large-scale intelligence.
Certainly specialized analytics software and a-la-carte BI provide a unique opportunity for companies looking to address areas of weakness within their business model and performance levels. Yet in order for a BI software tool to offer extensive value to its users, the platform must be able to provide comprehensive insight and data intelligence — without requiring users to invest in multiple analytics solutions.
2. Integration Is Key

While integration has always been essential for BI applications and other core back-office applications, it will become an even greater priority as businesses continue to expand their web of software and data platforms.
As TechCrunch points out, Microsoft isn't the first large vendor to stitch together a handful of its existing solutions in an attempt to both lure in new users and help out customers already doing so manually. Yet a platform like the Cortana Analytics Suite must be able to meet the challenge of addressing integration on two levels: internally, among the now-joined services; and externally, with third-party BI solutions, data centers and other platforms all accumulating important business data.
3. Data Must Be Displayed Clearly and Intelligently

No longer constrained to use by analysts and experts, new iterations of BI software should be built for the everyday user who wants intelligent insight presented in easy-to-digest dashboards and reports. BI and analytics solutions that fail to cater to a large audience with limited analytical experience will find themselves on the decline as more companies grasp the value of investing in BI tools — and turn to user-friendly platforms accessible to all of their employees.
Yet BI vendors must also focus on developing intelligent dashboards that effectively utilize assembled data sets and offer original insight. Traditionally, many analytics tools fall short on some component of data analysis — failing to fully utilize archived data, neglecting detailed insight for overarching observations (or vice versa), offering analyses without steps for tangible application.
In order for BI platforms to truly advance as a form of business software, it is imperative that vendors distinguish these applications as tools for comprehensive, sophisticated, all-encompassing data analysis optimized for evaluating and improving business performance.
Looking for more insights and resources on business intelligence and analytics software? Check out Business-Software.com's exclusive reading materials:
Blog posts on BI software selection, trends, reviews and more
A product directory with 260+ leading solutions for BI and analytics


[Photo courtesy of Pixabay. Chart information courtesy of Microsoft.]