What Salesforce's Wave Analytics Cloud Means for Enterprise Software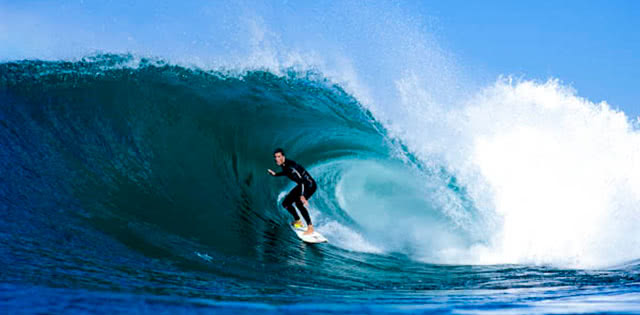 It turns out that the rumors were true — last week at Dreamforce, Salesforce unveiled its latest product, and it's an analytics platform. Salesforce is undoubtedly one of the most influential companies in enterprise tech right now, and their policy of rolling out something new and different on a regular basis is helping them maintain that distinction. We don't doubt that the platform will prove to be a solid analytics platform for Salesforce users. But what makes Salesforce's Wave Analytics Cloud noteworthy isn't the application itself. By digging a little deeper, Wave can give us a glimpse into the future of enterprise tech.
What the Wave Analytics Cloud Looks Like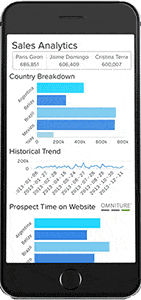 The Wave Analytics Cloud provides unified, cloud-based analytics that stretch across all of your other (Salesforce-based) business applications. The NoSQL-powered analytics application is fully integrated with Salesforce1 and sports the same security and data compliance features, which should make existing Salesforce users happy.
While the app itself is technically free, using it isn't cheap. "Builder" accounts, which let users build and manage data sets, will set you back $250 per user per month. "Explorer" accounts, which only let users view, "personalize" and share data sets, clock in at $125 per user per month. That's a not an insignificant price tag, especially for users at smaller companies with tighter software budgets.
Looking back at Salesforce's BI acquisitions over the past year, it's pretty easy to see what direction Salesforce is taking with this product. In June 2013 Salesforce bought EdgeSpring, a BI platform with a heavy slant toward visual analytics. Earlier this year they also scooped up RelateIQ, which focuses on relationship intelligence. More than just a compilation of raw data, "relationship intelligence" gathers bits and pieces of information from a variety of sources and points of contact to shape data into a complete, more usable picture. Our first looks at Wave during Dreamforce show the footprint of these tools. With a clean, flat design, bright colors and a variety of easy-to-interpret graphs and charts, Wave is meant to provide quick access to easy-to-parse information.
Analytics Is King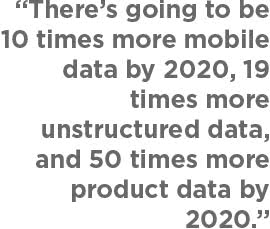 It wasn't exactly tech's best-kept secret that Salesforce's big reveal for Dreamforce would be an analytics platform. Tech news networks took note of Salesforce's recent acquisitions and job board listings for developers with experience in analytics. But even without those signs, it's evident that strong data analytics capabilities are becoming a key component of any strong enterprise software system.
During his Tuesday keynote last week, Marc Benioff remarked on the proliferation of data as an untapped resource: "Did you know 90 percent of the world's data was created in the last two years? There's going to be 10 times more mobile data by 2020, 19 times more unstructured data and 50 times more product data by 2020." The fact that there is so much data being created these days isn't that surprising. What's noteworthy is that for the first time, that data can be effectively captured and interpreted, and software developers are focusing on how to make that data a useful part of the business landscape. Enterprise-level software of all kinds is now expected to not only perform tasks, but also to tell users what the results of those tasks were and help inform future decisions.
Mobile First
"Mobile first" is a concept that's exploded in tech recently. Just a few years ago, software with complementary mobile apps or mobile versions of their desktop platforms were considered cutting-edge systems that savvy consumers learned to keep an eye out for. With the proliferation of smartphones and tablets in the workplace, mobile isn't just a nice-to-have feature anymore, it's a necessity.
Wave Analytics has been developed specifically with mobile users in mind, which indicates a whole new approach to how software developers should be thinking about the form and function of their products. Designing for touch screens and smaller devices has a significant influence on the way applications function; clean, simple layouts are preferable to cluttered ones, and graphic-heavy interfaces are easier to read on small screens than text-heavy ones. Wave's clean, intuitive design indicates a gradual shift away from robust, complex-looking interfaces in favor of simpler ones, even for applications that can be used on laptops and desktops in addition to mobile devices.
Designing for Tech-Savvy Users
On mobile devices and beyond, analytics are trending toward visual layouts. Infographics and data visualizations have become some of the most popular ways to get content to go viral, because they make the information easy to consume and understand. It makes sense that business analytics would follow this trend; when tools are a delight to look at and simple to use, it's easier to encourage user adoption. Software developers seem to be more cognizant of the fact that user experience is key, even when the end-user and the software purchaser aren't necessarily the same person, as is the case in many larger organizations.
The average enterprise software user has a lot more access to tech in their everyday life — from iPhone and Android apps to video games — than they did a decade ago, and while users are arguably more tech-savvy than their predecessors, developers should still keep a keen eye on designing user-friendly products. Because consumer tech has trended towards easy-to-learn, intuitive interfaces, enterprise tech users have started to expect that the applications they use at work should have the same ease of use as the ones they use in their personal time. Salesforce has taken this user-first design approach to heart, and Keith Bigelow, head of the Salesforce Analytics team, has stated that Wave's interface was "inspired by gaming interfaces."
A New Paradigm: Enterprise Consumer Tech
Business intelligence and analytics software vendors should definitely be keeping an eye on what Salesforce does in the BI space. We've entered an era where using your business's data intelligently can help you shape more efficient sales pipelines, stronger marketing campaigns and better business practices overall, so an analytics platform that focuses on demystifying data will most likely have a significant impact. But more than that, what Wave Analytics Cloud shows us is that enterprise software developers in general should be conscious of the industry shift toward making enterprise software more user-friendly.
Enterprise software is starting to look like consumer tech, and in many ways that's a good thing. As big companies like Salesforce roll out platforms that focus on usability, the complex dashboards of traditional CRM systems start to feel out of touch with the modern technology experience. While power is still a key component of the best enterprise software systems, it's no longer the primary factor for many buyers. The gap between what constitutes a good interface for consumer tech and enterprise tech seems to be closing — and that will probably shape how our software looks and functions over the next few years.
Head to the Business-Software.com blog to read the rest of our Dreamforce 2014 coverage. Want to check out the rest of the business intelligence space? Download our Top 10 Business Intelligence Software report to compare features and pricing for the leading BI vendors in the industry.
[Photo courtesy of Rapturecamps.]