Providing Unforgettable Web Experiences: Four Tips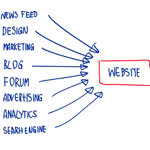 The Challenge: Brands are struggling to stay relevant online. Per a study by Forrester, only 3 percent of websites earn a passing score in terms of user experience.
Consumers cited three reasons why websites are generally failing to live up to customer expectations:
Content and website functionality aren't based on deep customer research.
Menu names are vague and typically do not provide visitors with a clear next action
Text is illegible and privacy statements are not clear enough

Poor website usability is not the only shortcoming. Per findings from Marketing Sherpa: among 1,100 online retailers evaluated, the study found a near 60 percent average shopping cart abandonment rate.
Per findings from our recent Voice of Customer research, consumers felt strongly about these four requirements for valuable web experiences.
Four Key Takeaways for Marketers:
Provide easy access to content in just a few clicks.
Customers shouldn't have to search for the content on your website. For a best-in-class example, check out 2012 Webby Award Winner, Kahn Academy. The online educator structures its homepage around three basic elements: a navigation bar, a search bar, and three call to action graphics targeted to unique visitor segments. The website is a premiere example of what's possible when 'simplicity' and 'customer experience' are the key guiding principles for design.

Make it easy to share content via social media.
It's absolutely essential that websites provide social sharing options for published content, including blog RSS syndication.

There are a variety of social sharing tools available to brands, but if you're starting out, consider adding Digg Digg or Share this—a Forbes' 2012 America's Most Promising Company — to your site.

Make it easy to engage via mobile.
Customers must be able to engage effortlessly when visiting your website via mobile device. Look to beauty supplies retailer, Sephora, for a best-in-class example of a consumer brand mobile site. The website features a clear, thumb-friendly navigational structure and beautifully modern aesthetic design.

Feature Blogs and communities.
In addition to SEO and thought leadership benefits, website blogs function as the home base for a brand's community engagement.

Per our own Voice of Customer research on behalf of NBC and Microsoft, we've found that consumers demand "connection" to peers, relevant experts, and the companies themselves.
Customers come to your website for more than just "transactional" experiences; provide a community, and they'll be back when it's time to purchase.
Want more information on ecommerce software? Browse product reviews and helpful blog posts on the retail management resource page, or download the free Business-Software.com Top 10 Ecommerce Software report to compare the leading solutions by pricing and key features.