Revamp Your Property With The Top 5 Hotel Management Software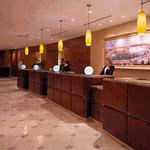 Science-fiction writer Arthur C. Clarke once said that any sufficiently advanced technology should be indistinguishable from magic. That includes hotel management software (HMS), the nuts and bolts of a quality hospitality experience.
A good hotel experience shouldn't require a whole lot of complexity on the part of the customer. The entire point of hospitality management is to make it so that the nuts and bolts behind the business of running a hotel or property don't interfere with the seamless surface of a guest's overall experience.
In addition to the core day-to-day functions that make that experience possible (check-in/check-out, invoicing, room management, etc.) there are many new tools in development that are adding onto the capabilities of an HMS and refocusing on the end user experience–even when the definition of who constitutes an HMS end user expands. Here are a few of the vendors at the forefront of that shift:
HoteloPro

Based out of Romania, HoteloPro brings a style of presentation and marketing more typically associated with flashier software segments as opposed to the more traditional image of hotel management. It's not all looks, though, since HoteloPro offers a full set of core features at very competitive prices, especially for small to medium-sized establishments.
Roomsy


Roomsy puts usability and user experience at the forefront of its offering. One of the main reasons behind this strategy, according to co-founder Tim Yip, is that much of the growth of demand for HMS is now originating from non-native English speakers, which makes the Canada-based Roomsy responsible for as intuitive an interface as possible.
"To be competitive in this segment, I think HMS developers need to understand hotel operations, and usability design. A quick search for HMS on the internet shows hundreds of solutions, but most of them extremely difficult to use. Having something that's simple and easy to use makes a HMS solution stand out," Yip said.
Avon Data Hotel Executive


Avon Data Systems represents the UK on this HMS list. Hotel Executive has a longer history than many competitors, having been in existence for twenty-five years with hundreds of UK-based clients.
Avon Data's system emphasizes integration of front-of-house and back office operations. Part of this is providing tools and interfaces not just for hotel staff, but client-facing functions as well, such as the ability to let guests submit bookings online off the hotel website.
Hetras


Germany-based Hetras is currently one of the strongest competitors in the cloud-based HMS category. The company plays to the strengths of the cloud more than many of its competitors, emphasizing an expansion into compatibility with mobile devices.
Like Hotel Executive, Hetras' system extends HMS tools not just to staff, but guests as well, a move the company believes in a great deal. "An HMS should consider who the real end user is," Keith Gruen, managing director for Hetras, said. "As we can see from the airlines, the real user of the future is the guest, not the hotel staff. Guests want more self-service functions and don't necessarily want to talk to hotel staff or wait in lines."
myHMS Hotel Management System


On its surface myHMS' offering might not seem all too different from some of the other names on this list, but there are a few key features that set it apart. MyHMS interfaces directly with myCRS, the company's central reservation system, updating information between the two programs in real time as well as with a global distribution system.
MyHMS is also compatible with secondary hotel systems like credit card processing, PBX, key machine/key programming, POS and even movie rentals and mini bar transactions.