SendGrid Offers Scalable Cloud-Based Email Delivery
One of the most successful companies to emerge from the Techstars start-up incubation program, Boulder-based SendGrid is at the fore of the transactional email delivery market, sending roughly 2.6 billion emails monthly on behalf of clients such as Pinterest, foursquare, Scoutmob, and HootSuite.
Founded in 2009, the company offers a cloud-based, SMTP email infrastructure that ensures important transactional emails find their way into customer inboxes, not spam folders. SendGrid isn't simply a bulk email marketing tool. Instead, it's designed to facilitate the delivery of automated email messages generated as a result of user interaction with websites and online applications. Common examples of such messages include password/login reminders, purchase receipts, friend requests, event notifications, and shipping alerts.
There are a number of benefits to outsourcing your transactional email delivery responsibilities. You no longer need to spend time and resources maintaining email infrastructure. You get robust analytics tools for tracking metrics related to your email campaigns. Scalable infrastructure means you don't need to worry if your business goes viral overnight and you jump from 10 emails per day to 100,000. And most importantly, it's crucial that transactional emails reach their destination without being filtered into a spam folder. To avoid this, your options are to hire personnel with email deliverability expertise to build your system, or you can let a third party like SendGrid use its expertise to work on your behalf.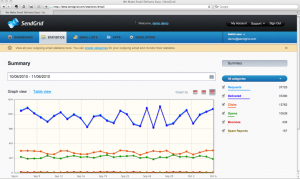 To date, SendGrid has delivered more than 48 billion emails. After raising a modest $12k through Techstars in 2009, SendGrid brought in close to $6M in Series A funding, and in January 2012 raised $21.6M in Series B funding. The company was profiled in the Boulder Daily Camera for offering employees some of the best perks of any area company—notably, unlimited free burritos from the Chipotle downstairs.
SendGrid offers customers a range of pricing plans. Its standard service, which includes advanced analytics, newsletter support, and custom integration, is available for $79.95 per month, and includes 100,000 email credits. You can see other pricing plans here.
If you'd like to explore other vendors in the bulk transactional email delivery space, check out Mailjet, Dyn, Elastic Email, JangoSMTP, MessageGears, SocketLabs, and Mandrill.
For more information on enteprise-oriented email platforms try checking out our exclusive Top 10 Email Marketing Software report.