Let's Talk Serena Software: Q&A with Senior VP David Hurwitz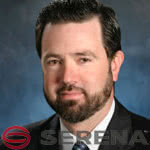 Traditional application development keeps Dev and Ops teams running parallel but separate – but that can slow things down and lead to miscommunication along the way. Serena Software has revolutionized the app development lifecycle with the DevOps approach. We talked to Senior VP David Hurwitz about what the DevOps revolution means for ALM, and how Serena is staying a step ahead of the competition.
What is Serena Software, in a nutshell, and how did you get started?
Serena provides DevOps and IT management software for the Global 2000. We got started by doing that on a consulting basis for some banks 30 years ago, believe it or not. Our founder created products from that and ultimately took the company public. We were then taken private by Silver Lake Partners about seven years ago. Today we do business around the world.
Can you tell me a little bit about the DevOps movement and what that means for IT?
DevOps is a rapidly mainstreaming movement in enterprises that are doing business online like banks, insurance companies, brokerages, telecommunication companies, and retailers. What DevOps seeks to do is instill agility into the release and operations phase of the application lifecycle so you can release new functionality quickly, frequently and assuredly, with confidence that it will run well and not crash or not cause problems. This way, you can rapidly evolve your revenue-producing applications. It's increasingly a front line capability for every enterprise that you and I deal with on a daily basis as a consumer, whether it's our bank, our insurance company, our grocery store, our airline, et cetera. Everybody is transacting business through revenue applications, whether it's on your phone or on a kiosk or a self-checkout at a store.
What sets Serena apart from the other solutions that are in this sector?
Serena uniquely offers process orchestration for all the stakeholders involved in requesting, developing, releasing, and supporting new functionality. We marry up that workflow across those stakeholders with release automation. Releasing modern web applications into virtualized environments – if it's not automated – is very labor intensive. And that's expensive and slows things down, leading to all sorts of problems. Serena's the only one who brings together both the process orchestration with the release automation.
Can you tell me a little bit more about the features that you're announcing right now?
We're announcing a range of enhancements across our suite, an orchestrated IT management set of solutions. Some of the new enhancements that are headlined include developer self-service for environment provisioning so that developers can just click a button or two and get a new development or test environment provisioned in the cloud or in their VMware environment. They don't need to create a ticket or ask somebody to do something for them. They can just do that on their own. That obviously makes them much faster and more agile. We talked a moment ago about application-release automation. We've added some important new environment targets to which it can push your apps. And those include Microsoft Azure, along with VMware, ESX and ESXI environments. And those come on top of Amazon's cloud platform EC2 and a variety of windows and Linux and UNIX environments that we already support. We also support release into the mainframe, which is still very central to many financial transactions and systems.
Thus another thing that marks Serena as unique is the broad set of platforms and environments to which we can automate your releases. Additionally, as developers and ops teams are creating and deploying new functionality or changes – from a cost management point of view – we make it very easy for them to keep track of the time. The cost that they've spent on these different things is integrated right into their normal work instead of having to fill out a time card, so that lowers the hassle factor for your most skilled people.
What do you think the biggest mistake that users of ALM software make? What's the biggest issue that new users of Serena tend to have?
When you're automating something that was previously un-automated, and it involves a lot of people and there's a lot of decisions to be made, I think a mistake that can be made is to not start with your most important applications. Those are the ones that are inevitably screaming to have new features put into them for market competitiveness. And those are the ones that you want to start with to streamline the enhancement process and then build on that success. If you start with something like an internal application – payroll, for instance, then nobody's going to see or care. So go where the money is.
Where do you think ALM is going in the next year, or the next few years? What should users be looking forward to in terms of innovation?
Release management is becoming a huge part of ALM. It used to be considered not even part of ALM and adjacent. But the old days where the developer would use ALM tools and develop new software, and every six months or so toss it over the fence to Ops to release is glacial compared to what's required today. This is a lot of what's coming out in DevOp's movement. Developers need to see their enhancements right into production. But if we're going to ask them to do that, then we have to make it easy for them so they can do things in a self-serve way. In some of the new functionality that we're releasing here, they can create new test environments at the click of a button. And they can continuously deploy – to pre-production or all the way to production as appropriate. For instance, you can continuously release right into production without having to run around or get one or two or 20 other people to do stuff for them in order to get things deployed. So ALM has to expand to encompass DevOps.
Do you think that expansion will continue until everyone involved in the product lifecycle comes together in an even more unified way? Or is that still a long way off?
Well, certainly a more unified team between dev and ops – DevOps is not simply the union of dev and ops. But it seeks to automate and create visibility at the juncture of dev and ops. There's a lot of progress to be made there, with the promise of tremendous results from that.
For more information on Serena Software and the ALM solutions they offer, visit www.serena.com. Download our free Top 10 Application Lifecycle Development report to compare top ALM solutions side-by-side.