Take the Coordination Quiz: How (In)Efficient is Your Supply Chain?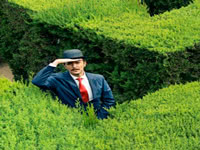 Why aren't more companies demand-driven? I had an eye opening discussion with the SVP of supply chain at a multi-billion dollar company the other day, and together we tallied up the number of systems under his watch. In less than 5 minutes we came up with over 20! I thought it would be an interesting exercise to turn our discussion into a "Coordination Quiz".
To take the quiz, look through the list of supply chain processes/functions below, and try to determine whether each is managed with a separate system. If you can't answer or don't know because the process is outside the four walls of your enterprise or department, then count that as if it were in a separate system and add it to your score (because it effectively is). Find out what your score means below:
Sales forecasts (those for the end consumer at point of consumption e.g. the store)
Sales forecast ( for the suppliers' side)
Promotions/events management
Customer order and forecast collaboration (demand sensing)
Replenishment (customer and DC replenishment, including VMI)
Sales and Operations Planning (S&OP)
Inventory planning
Deployment planning and execution
Order aggregation
Transportation planning
Dock scheduling (internal network)
Dock scheduling (customer sites)
Labor and capacity planning
Manufacturing forecasting
Demand translation
Supplier order forecast generation
Supply and forecast collaboration
Production planning
Co-packer and Co-manufacturer planning
Sourcing
Global Trade (Global TMS optimization)
Your highest possible score is 21
> 18: The good news is that you share your score with the vast majority of supply chain professionals. The bad news is you likely struggle to keep up with demand and supply changes. Oftentimes you find that these multiple engines are in conflict with each other and put each company, and in many cases, internal organizations, on different plans. With so many disconnected systems and so many plans in conflict, it simply takes too long for correct information to flow to various trading partners, and the result is higher levels of inventory, sub-par service levels, higher operational costs, and a lot of confusion.
> 10 but < 18: Congratulations. In some respects you're ahead of your peers. You've probably made some investments in standardization and experienced some efficiency gains. However, you still struggle with system lead times from customers, and slow demand translation to your suppliers and outsourced partners. Until you are focused on consumer demand, and all operational processes are focused on meeting that demand at the lowest cost, you will continue to have stock-out issues and carry too much safety stock.
<10: If you scored less than 10, please contact me and let me know, as there aren't many companies in this category. Most are actually companies that believe stacking standalone software systems that just happen to have the same vendor name on the solution gives them a system that is real time and end-to-end (shelf to raw material suppler). The real question is, do you, your customers, and your trading partners all work from the same consumer forecast? Does the system automatically convert the sales forecast into order forecasts for all nodes and trading partners? Have all system-related lead times been eliminated within and across trading partners? Do your suppliers match production to their order forecasts, or do they not trust the forecast and therefore increase their lead times?
= 1: The holy grail of SCM. All of your systems, functions, processes, trading partners operating with a single version of the truth. This isn't a pipe dream, it actually exists today. You simply need to connect to a cloud-based many-to-many network that accommodates a supply chain from end-to-end.
Get a poor score? Visit software reviews of supply chain management software on Business-Software.com's supply chain research page. Or, download the Top 15 Supply Chain Management report to get comparisons of the top supply chain software solutions.