The 5 Most Common Fleet Tracking Pitfalls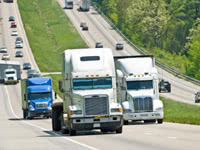 Fleet tracking still involves trucks, cargo, unexpected road hazards, and lots of logistical planning, but like many traditionally analog industries, fleet tracking is experiencing an overhaul of its core technologies as digital, wireless, and integrated systems make fleet optimization easier and more affordable for business of all sizes. Of course, the changes that come along with a smaller and better connected world aren't all so rosy.
Among the biggest issues facing the fleet tracking industry in 2013 as identified by GPS tracking developer SafetyTrack are driver safety, increased labor restrictions, economic austerity, driver shortages, and the cost of fuel. All of these issues with the exception of safety are simply too large for a single company to tackle, but this doesn't mean that software can't help lighten the load. The latest in fleet tracking technology enables even small fleets to decrease on-the-job accidents, provide better visibility to customers to reduce service complaints, and save money across the board on expenses like fuel, insurance, and dispatching. No matter the size, reach, or volume of your fleet, here are five of the most common pitfalls to avoid when choosing a fleet management system.
Passive Tracking
The ability to track vehicles isn't new, but it's easy to be fooled into thinking that your fleet tracking system is providing you real-time data when in fact it's performing what's called passive tracking. Passive tracking, as opposed to active GPS tracking, means that each vehicle's data is being stored and updated at intervals of 5 or more minutes. Not only does this mean that passive tracking doesn't give you an exact location for your fleet, but it may even charge you extra to access location data between updates. By contrast, active GPS tracking relays location data back to the dispatcher every minute to inform on-the-fly decision making.
Cellular Communication
In a world where nearly everyone has a cell phone and reception problems seem to be disappearing, relying on cellular communication to relay your fleet's data seems like a good fit. Unfortunately for those who have already implemented a cellular tracking system, its shortcomings quickly become evident in the form of dead zones and blocked signals. Because trucking involves passing through remote areas, the reliability of a satellite tracking system is a must-have for fleets that operate anywhere outside of major cities.
Fuel Monitoring
One of the major advantages of using a fleet tracking system is the ability to calculate efficient routes so drivers can save money on fuel. What many people don't realize, however, is that a good fleet tracking system should do a lot more than just show your drivers the best roads to take. Fuel monitoring and alerts are an essential part of any fleet tracking system, especially as the price of fuel continues to rise. When a driver is idling too long or exceeding their target speed, the dispatcher will automatically be alerted to the driver's behavior and can act immediately to curb unnecessary fuel expenditure.
Timecard Reporting
One of the problems that has consistently plagued trucking companies is how to accurately manage time tracking. In the past, drivers were responsible for reporting their own hours in a trust-based agreement between employer and employee that assumed drivers were acting in compliance with the law. This led to exhausted drivers causing accidents, companies overpaying for misreported labor, and employees with no recourse to a computerized system to back up their claims. By contrast, many modern fleet tracking systems include an integrated time tracking module so drivers and dispatchers can easily see how many hours an employee has worked and ensure compliance with labor regulations.
Obsolete Maps
While it's easy to assume that using maps from previous years isn't hurting your business, the additional mileage and delays that using outdated maps causes can easily add up to a significant loss. For this reason you'll want to make sure that any fleet tracking system you consider integrates with a reliable source of mapping data like Google, Garmin, or TomTom. Drivers should have access to the same map features that are available on the internet including street-level zoom, real-time traffic data, and weather and public safety advisories.
Ready to Shop Fleet Tracking Solutions?
Now that you have this handy set of tips under your belt, it's time to shop for the software that will best fit your company needs. Compare pricing, deployment options and key features of leading platforms in our Top 10 GPS Fleet Tracking Software report. Or peruse all of our resources on field service management by visiting the field service software resource center.