Tips for Enterprise Production Cutover Projects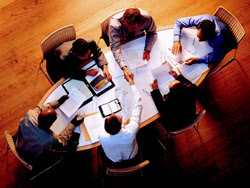 What is production cutover?
Production cutover is the transfer of the enterprise project solution from the project team to the business. It starts with the creation of the production instance the phase will close following the first month end transacted on your ERP/CRM (EBS, , Siebel, PSFT, JDE, etc.).
This is where you initiate your planned recipe for cutover week.
Example of statements that should be included: No legacy systems will be available during cutover week except for the payroll process.
You should also outline the manual transaction mechanisms that will be used to capture and maintain business operations if any systems remain operational.
The production cutover plan outlines all the process steps and manual procedures/activities to be executed in the migration of legacy systems to Oracle. It also identifies and assigns resources and management to each control process , including sequences of all tasks using linked dependencies to set dates for deliverables, and identifies and integrates all other points of coordination.
Tips: One item that is usually overseen is task duration. We all tend to be optimistic and add some slack, the longer you take to perform your task the more pressure is added to your colleagues, and make sure you check all dates on your plan. In most cases an enterprise-wide implementation takes longer than a day.
Here is a high-level flow diagram of a production cutover team: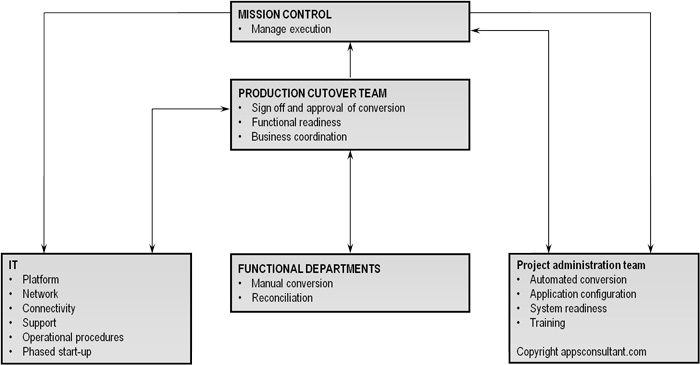 Be very careful that all transactions are accounted, workflows complete (as much as possible) and payments completed. Review cutover best practices for more detailed advice (ping your consultants, they've done this before). If you don't do this you will hit serious problems.
Cutover is a stressful time no matter how well planned. The project manager should ensure everyone stays calm, ensure work is balanced and avoid burn-out for those working shifts. Organize some food during the cutover, step in to calm any friction quickly and monitor every last aspect of progress.
Want to read more insider-perspective posts? Browse our entire archive of blog posts on insights gleaned from the software industry by visiting the Industry Insights section of the Business-Software.com blog.
[This post originally appeared on Alex Antonatos' blog on AppsConsultant.com and has been republished with permission]