Top CRM Software for Enterprise-Sized Companies
A company's relationship with its current and potential customers holds the key to the organization's overall success — regardless of business size. Yet for large enterprises, the ability to simultaneously foster new connections, maintain timely communications and adequately address consumer inquiries requires a complex but organized web of activities.
On the most basic level, large businesses simply have more to oversee — more employees to handle, more files and data to store, more revenue to regulate, more processes to manage, and of course, more customers to attend to. Undoubtedly, that provides increased opportunities for tasks to slip through the cracks, whether that be customer attentiveness or unoptimized tactics for reaching potential consumers.
Due to the unique challenges these larger companies face, businesses of this size require more comprehensive software solutions than their smaller counterparts. CRM software is one such area where enterprises can better excel with systems designed for their more expansive needs.

Understanding CRM for the Enterprise
With the widespread growth of cloud solutions tailored to smaller businesses, enterprise-scale companies are finding themselves with somewhat limited options for viable software products. Sure, many software vendors are marketing their platforms to companies both large and small by offering multiple editions of a solution — but often those "enterprise editions" fail to meet the scalability and flexibility demands of an enterprise.
CRM solutions built for larger businesses must include a feature set tailored to the needs of a company with a larger client base and more employees, and one that is willing to pay more for premium modules with comprehensive functionality. Among these capabilities are:
Advanced collaboration tools for use among teams, between departments and across office locations
Marketing automation that streamlines the prospect-to-lead pipeline for both sales and marketing personnel
Detailed analytics that provide a wealth of data without manual intervention, covering everything from opportunity and success rates to team performance and sales forecasting
Specialized oversight of partner information, activities and sales
Our Top 5 Enterprise CRM Picks
Below, we've listed our picks for the top CRM software for enterprise-sized companies. Use this as a handy guide to better understand the leading vendors for enterprise CRM and to begin developing your vendor short-list.
Salesforce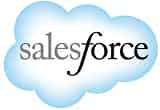 Though marketed to businesses of all sizes, the Salesforce Sales Cloud is optimized for enterprise-sized organizations. Detailed contact, opportunity and lead management tools ensure comprehensive records of all customer activity and capture brand feedback on social media for easier monitoring. The Sales Cloud also includes handy tools for tracking performance with activity summaries, sales forecasting and a customizable report builder.
Scalability is a core reason that the Sales Cloud has become a go-to product for big names like ADP and Coca-Cola Enterprises. With built-in integrations to other Salesforce products, the Sales Cloud enables users to easily extend the product as their business demands grow. Users can also opt for Salesforce product bundles, which provide options like CRM combined with customer support to ensure all client needs are met and maintained in a single database.
Noteworthy Features:
Customize dashboards, page layouts and more
Access the more than 2,700 apps available on the Salesforce AppExchange market for additional customization
Assign territories by role and monitor territory performance
SAP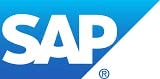 The leader for enterprise-specific applications, SAP designs their software with large businesses in mind — and their platforms for sales departments are no different. SAP's solutions are currently undergoing changes as the company converts many of its offerings to the cloud, which means users can opt for the traditional SAP CRM solution or select the newer SAP Cloud for Sales. Though updated editions of SAP CRM will no longer be released, the company has pledged to continue maintenance support.
Part of its original Business Suite, the software giant's SAP CRM platform employs in-depth customer management tools to help large organizations consolidate, organize and oversee their abundant sales tasks. SAP CRM's younger sibling, Cloud for Sales, is a revamped version of your standard CRM that includes features for team collaboration, customer intelligence, performance analytics and mobile accessibility.
Noteworthy Features:
Drill down into sales performance with deep analytics
Perform intricate client management and sales pipeline tasks with feature-rich tools
Connect all of your back-end systems together with SAP's comprehensive business suites
Oracle

Like SAP, Oracle is renowned for its enterprise-grade software offerings, many of which can be interlinked for complete automation of back-end processes. With a framework similar to SAP's cloud-based solution, the Oracle Sales Cloud provides end-to-end oversight and simplification of critical sales activities. With an emphasis on collaboration and usability, the Sales Cloud can translate complex, global sales operations into a single, universally accessible sales database.
The Oracle Sales Cloud also empowers users with on-the-go access to all sales data, customer account details and more via smartphone- and tablet-friendly mobile apps. In addition, users who wish to improve communication and the exchanging of information between their sales and marketing departments will benefit from the Sales Cloud's ability to integrate fully with Oracle Marketing Cloud.
Noteworthy Features:
Oversee quotas with seasonal and historical analyses for improved insight into sales performance
Easily review data and quickly train new users with a simplified user interface
Evaluate sales activities, forecasts, opportunities and performance with advanced reporting tools
Aptean

Enterprises who operate production lines or are looking for a CRM solution to integrate with their ERP or manufacturing system should evaluate Aptean Pivotal CRM. Known for serving businesses with complex supply chains or manufacturing processes, Aptean also offers a solid CRM choice for large companies in need of consolidating their sales operations and customer account details. Pivotal CRM fuses traditional activities such as sales force automation and account management with additional functions that are vital to the modern enterprise: social media integration and monitoring, mobile accessibility, a customer self-service portal and the like.
Other highlights of the system include tools to streamline administrative activities and improve oversight of client relationships. Aptean's CRM solution extends beyond sales-specific tasks as well, including a fully featured marketing automation module as well as customer support management. The Pivotal CRM platform offers deep integration with the Microsoft Office suite of products plus Outlook, making it an ideal option for users with an existing software infrastructure built on the .NET framework.
Noteworthy Features:
Eliminate tedious inter-departmental data exchanges with a comprehensive, multi-team platform
Address unique business needs with industry-tailored editions that include tailored feature sets
Oversee partnership performance and opportunities with a specialized partner management module
SugarCRM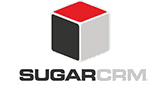 A great option for budget-conscious enterprises, SugarCRM offers many of the same features as the other vendors on this list without putting such a burden on company funds. SugarCRM is an open-source platform with sales force automation, customer management, support and marketing automation tools included to help make a company's customer-facing activities more agile.
The enterprise editions of SugarCRM provide functionality unique to the demands of a larger business, such as enterprise-level opportunity management, enterprise forecasting and a self-service portal for customers. SugarCRM also includes an open architecture that allows for virtually unlimited customization to the product, while a streamlined interface ensures users can easily navigate tools and modules. Additionally, SugarCRM provides both on-premise and cloud deployments for added flexibility.
Noteworthy Features:
Update profiles, sales progress and more in real time with the SugarCRM native mobile app
Consolidate your marketing strategy and activities with Marketo integration
Utilize platform assistance with phone support and unlimited support cases (available in the Enterprise Edition)

Check out our complete series of Top CRM Software Comparison Reports to further review leading CRM tools. Our CRM reports cover solutions for small businesses, those for the enterprise, social media-oriented options, mobile-friendly platforms and more.
[Photo courtesy of Flickr user Paul Bica.]