The Ultimate Web Conferencing Tool: WebEx vs GoToMeeting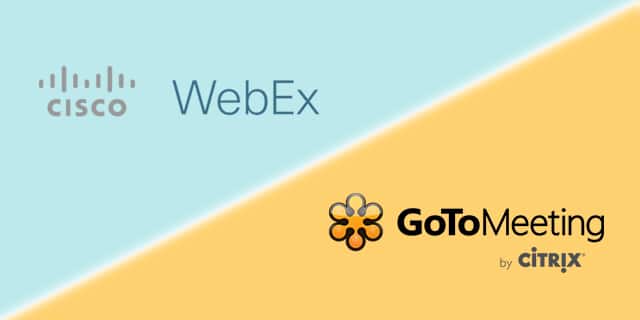 Whether you spend half of your day on web conference calls or are just learning about web conferencing software, you've probably already heard of WebEx and GoToMeeting. Operated by tech powerhouses Cisco and Citrix, these platforms offer feature-laden, budget-friendly and powerful tools that have proven to impact both SMBs and enterprises in a unique way.
It doesn't come as a surprise that thousands of businesses have found these two web conferencing software tools invaluable, with both providers backed by never-ending funding, 10 to 20 years of market share and the trial and error of real-world experience. Through the adoption of web conferencing software, companies may expect an increase in departmental collaboration, employee satisfaction and morale and even bottom-line profits (with less travel-time and paid employee expenses, and in some cases, a shorter sales cycle).
Let's dive into the inner workings of both tools to see how WebEx vs GoToMeeting stack up against one another:
Customers:
WebEx:

Kohn Pederson Fox (KPF) Associates, Sentara Healthcare, Statseeker
GoToMeeting:

O'Neill, Angie's List, Jones Lang LaSalle
Pricing:
WebEx:

WebEx offers a varying range of packages, based on the amount of users and organizers. Before we talk about monthly costs and service levels, it is important to note that WebEx allows one to three users to use the web conferencing software for free — no credit card, no hassle — just sign up for an account and off you go.
As the numbers denote, the Premium 8, 25 and 100 tiers allow for meetings with up to that many "attendees," or users, with prices listed at $24, $49 and $69 per organizer per month, respectively. Organizers can catch a small break on pricing by registering for an annual plan, rather than the month-to-month option.
GoToMeeting:

Similar to WebEx, GoToMeeting offers a few service options, including a free package for up to three users. The difference, however, is that with GoToMeeting's free meeting service, users don't even need an account; the caveat being that you are assigned silly nicknames within your meeting's chat box, like "Creative Geek" and "Heroic Viking." While not a big deal for team collaboration, you may want to consider signing up for an account for sales pitches.
Paid accounts are available in two levels — PRO or PLUS. PRO allows up to 25 users for $49 per organizer, per month; while PLUS quadruples the amount of users to 100 for $69 per organizer, per month. Similar to WebEx, there is a discount available for paying annually.
Key Features:
WebEx:
Video conferencing with up to seven video feeds
Screen sharing with entire desktop view or just one application
Whiteboard markup tools for notes and presentations
"Call Me" functionality automatically dials you when it's time to begin the meeting
HD voice when joining with VoIP
GoToMeeting:
HD video conferencing with up to six video feeds
Personalized meeting room and URLs
Presenter capability from a computer or iPad
Toll-free call an option with local numbers
Record, store and download meetings
Support:
WebEx:

The WebEx support center has evolved much like the rest of the tech industry to feature valuable information in a forum-style FAQ model, rather than just a toll-free number. For issues, concerns or more cumbersome troubleshooting, users can submit support tickets over the phone (in a select handful of countries) or online 24/7. For those who need more individualized service, WebEx offers what they call Global Assist Services — a concierge-like service for the planning and preparation of an event.
GoToMeeting:

GoToMeeting also offers a forum-style FAQ bank with training videos to support its user base. For those who need additional help, there is a choice of asking the community, calling by telephone (with local numbers in over 30 countries) or submitting a ticket online. Beyond troubleshooting and general support, the folks behind GoToMeeting also offer consulting services to provide guidance, pre- and live event support and event/meeting moderation.
Other Tools and Integrations:
WebEx:

Beyond the WebEx Meeting tool, Cisco has also developed the WebEx brand to include Event Center for events and webinars; Training Center to offer online training; Support Center to allow companies to offer remote support; and the newest option, Cisco Spark, which allows teams to share files and messages within their virtual meeting space.
Beyond Cisco's own tools, WebEx offers integration capability with Microsoft Outlook. Organizers can start instant meetings, schedule future or recurring events and more, all from within the Outlook application.
GoToMeeting:

GoToMeeting goes beyond simple web conferences. Citrix rolled out GoToTraining to cater to the onboarding and training of employees, as well as GoToWebinar to tap into larger group settings. Additionally, the company has created OpenVoice, which boasts the more traditional capability of audio-only conferencing.
Along with the Citrix branded apps that work with GoToMeeting, there is also the Integration Marketplace, where users can find third-party applications and integrations to further enhance their experience.
Final Thoughts:
WebEx:

The WebEx platform is both neatly and intuitively organized. The built-in scheduling tool within the UI makes WebEx feel more nimble than the competition. If you find the extra video feed and markup feature attractive, WebEx may be the better choice for you. First-time users can take a spin with WebEx Premium 25 — free for 14 days. (No credit card required!)
GoToMeeting:

Similar to WebEx, GoToMeeting's UI is very modern and fresh feeling; although GoToMeeting does feel a bit more minimalist. With the quirky assigned names on the free version (without signing in), GoToMeeting feels more playful than Cisco's entry. That being said, the tool is usable for face-to-face meetings within the workplace. To begin your 30-day free trial, visit the GoToMeeting homepage.

At the end of the day, WebEx and GoToMeeting are nearly identical in price and feature sets. In a face-off so close, the winner lies in personal preference. We recommend users considering these platforms give the free trials a shot — test each tool with your colleagues or friends to better decide which would work best for you. For more web conferencing options, be sure to download our FREE Top 10 Web Conferencing Software Report.