The Best-Value Web Conferencing Software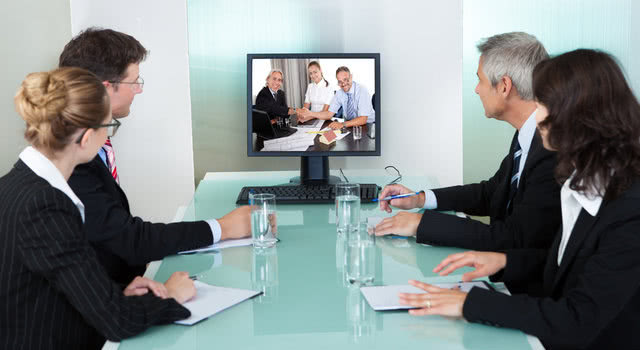 Welcome to the Best Value series, a Business-Software.com exclusive about the software solutions that give you the most bang for your buck. We created this series in an effort to address one of the most common questions we receive from our Business-Software.com community members, "what software is the best value?" Browse the entire series in the Best Value series section of our blog.
In this week's Best Value we're taking a look at web conferencing tools. In contrast to some of the other segments we've covered in past installments like Marketing Software and Nonprofit Management, web conferencing can be applied to just about every single department in any given organization.
Any team is going to have to have meetings at some point or another. Additionally, in the contemporary workplace many teams, even at smaller organizations, are working remotely from each other with potentially vast distances between individuals. All of this contributes to the fast-growing and intense popularity of web conferencing software.
If this is your first time with the series you can check out this introductory post on how we develop our criteria.
The Essentials for Web Conferencing
At the heart of every web conferencing solution is Voice over Internet Protocol (VoIP), in essence the technology that allows users to conduct voice communication over the internet. VoIP itself has been driven by the widespread proliferation of broadband around the world.
Faster, more reliable internet connections provided a backbone on which VoIP could develop into a telephony platform a layman would actually want to use. You need only look at the continued success of consumer-oriented apps like Skype and Viber for proof.
Business communication has even more need for reliability and high fidelity, something that's been realized in the multitude of web conferencing apps that have come out from both established vendors like Cisco and newer companies more heavily specialized in the segment. Over time the feature set has grown, bringing in a lot of things that have since become essentials, like video feeds, call recording and email-delivered dial-in bridges.
Here are 4 of the key features we focused on when evaluating the products on our list:
Screen Sharing: This one makes perfect sense as soon as you see it in action. By letting participants view the host's monitor display a conference can be based around reviewing anything from a live product demo, a pivot table report or a slideshow presentation. Screen sharing enables a more directed experience vs. emailing the file(s) out to every participant ahead of time and hoping everyone stays on the same page.
Meeting Recording: Meeting notes are great, but it's inevitable that even the most studious stenographer is going to miss something every so often, especially in a fast-paced conference involving multiple participants. Integrated recording tools keep a reliable log of past conferences, even if only as a point of reference while revising the minutes of a meeting.
HD Video: While it might not be all that important for your colleagues to be able to see your face in the glory of 1080i, there are other important uses for HD-quality video. For one, if there's a conference call to present a mockup of a new website design or a video composition it's going to be vital that all the stakeholders can view the presentation in the highest definition possible. The magic of broadband magic has made this feasible.
Followup Tools: It's simply good practice to circulate minutes and action items after a meeting regardless of whether it's online or in person, but many web conferencing vendors have gone the extra mile by enabling automated followup emails. These can even be put to use after meetings with partners or potential clientele, sending out customized messaging based on whatever the conference's talking points happened to be.
Our 3 Finalists
For this post we put together a list of 11 different web conferencing solutions and compared them head to head. Looking beyond just simple price point, we checked out the overall feature set that each solution provides in its most basic version and saw how they measured up. Based on that, we narrowed our list down to these 3:
Citrix GoToMeeting: Citrix is one of the 10-ton gorillas in the room when it comes to web conferencing software, and the position is well deserved. GoToMeeting is simple, easy to use and quick to get a large team oriented familiarized with. Besides the slight inconvenience of having to download a lightweight client app, getting outside participants in on conference calls is a snap as well.
Voxwire: This might just be the best solution for a very small company that's just outgrown the capabilities of Skype and/or Google Hangouts' video chat function. Voxwire has the lowest price point (for Basic Edition) of our 3 finalists and offers many of the same features, albeit for a maximum of 10 conference participants vs. 25 for both GoToMeeting and ReadyTalk.
ReadyTalk Web Conferencing: This solution brings many of the same features found on GoToMeeting at the same price point along with a few important extras.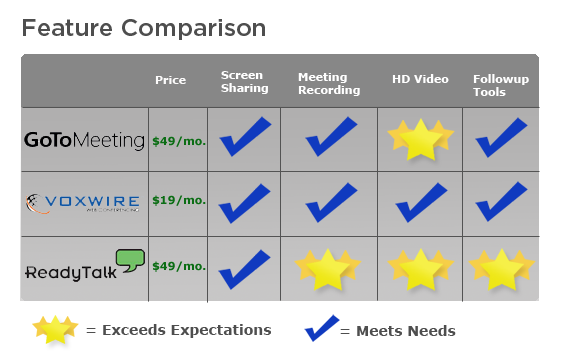 And the Results are In…

Readers picked ReadyTalk as the winner out of our top 3 picks for best values in web conferencing software. While ReadyTalk isn't the cheapest solution off the list of 11 competitors, it's definitely one of the best in terms of what you get for the money you put into the monthly subscription.
Like Voxwire and GoToMeeting, ReadyTalk Web Conferencing has a call recording tool. Where it differs, however, is in having the option to upload conference recordings to a ReadyTalk-hosted server. Users can easily build and maintain an archive of previous meetings and even repurpose recorded content for podcasting and other types of syndication.
The other thing we really like about ReadyTalk's offering is the variety of ways users can execute their followup correspondence with attendees. The standard emails are present and accounted for, but there's also automated surveys that participants can be presented with immediately after the conference's conclusion. This kind of exit survey can be a valuable guidepost in determining the effectiveness of a given presentation or demo. It's that kind of attention to detail that sets ReadyTalk apart.
Next Steps From Here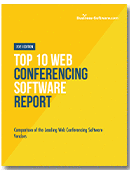 There's no need to fret if you still need more info on web conferencing software. We've got ample material available about the industry in general in addition to insights on many of the specific web conferencing solutions out there today.
To get started you can try taking a look at our exclusive Top 10 Web Conferencing Software report. Additionally, there's our web conferencing software resource page, a central go-to page with all our segment-related blog posts, research, product profiles and premium offers.