The Best Value Series: Business-Software.com's Guide to Quality, Budget-Friendly Software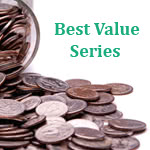 Welcome to the Best Value series, a Business-Software.com exclusive about the software solutions that give you the most bang for your buck. We created this series in an effort to address one of the most common questions we receive from our Business-Software.com community members, "what software is the best value?" Browse the entire series in the Best Value Series section of our blog.
Next week we kick off our new series on best value software, devoted to finding you affordable solutions that provide the best value in terms of cost-to-benefit ratio. We conceived the series both as a spin-off of our No-Cost Office sequence about free software and as an aid for Business-Software.com community members, who consistently inquire about which software systems offer the most comprehensive set of tools at a reasonable price.
As we covered in our No-Cost Office series, free software is great. But unless your business requires only basic system functionality, open-source and free editions simply won't cut it for organizations that are expanding or those too large to be considered SMBs. We hope to help you meet your software needs without straining your budget to the max. Whether you seek information on best value solutions for accounting software, customer service needs, ERP solutions or content management, we'll cover it in our Best Value series.
You can even participate in the process by voting for your favorite product on one of our social media channels — read on to find out how!
What Do We Mean By Best Value Software?
Perhaps the words best value bring to mind bargain bins or sale signs (which are always great associations). For our purposes though, best value is all about finding quality products at reasonable prices. You shouldn't have to sacrifice capabilities simply because you can't finagle the most comprehensive software on market into your limited company budget.
More precisely, our series aims to highlight the leading products that provide a noteworthy amount of functions and features for a reasonable cost, especially as compared to competing solutions both in the same price range and more generally within the same segment of the marketplace.
How Will the Best Value Solutions Be Determined?
To ensure each best value product is fairly selected, we'll perform a comprehensive multi-step evaluation process to thoroughly evaluate each software solution in the running. We'll begin the proceedings by choosing anywhere from 10 to 20 of the most popular software products in the industry, based on a variety of sources and research. We will then build out a list of the most common, practical and popular features and evaluate the candidates in-house in regard to each quality. We'll also record pricing details for each individual product, including starting price points and specific edition costs when applicable. Based on those results, we will pick 3 finalists with the largest selection of useful features for the most budget-friendly prices.
Then we let users take the lead — we'll post a poll question about the 3 finalists to each of our social media profiles and choose the title-holder based on your votes.
Keep up with the series by checking out the Best Value Series content section of our blog, and vote for your favorite software on our Facebook, Twitter, Google+ and LinkedIn pages.
Best-Value Exclusive Blog Posts: