The Best-Value CRM Software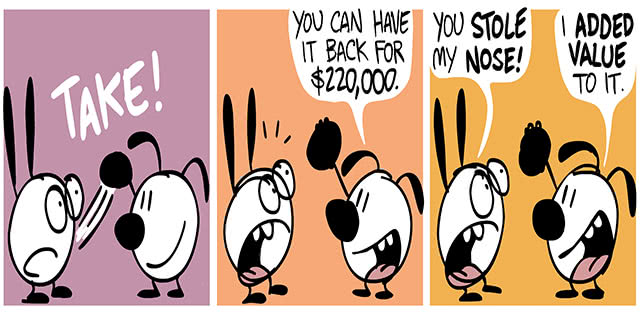 Welcome to the Best Value series, a Business-Software.com exclusive about the software solutions that give you the most bang for your buck. We created this series in an effort to address one of the most common questions we receive from our Business-Software.com community members, "what software is the best value?" Browse the entire series in the Best Value series section of our blog.
Our quest to seek out the best values goes on. Having spent last week covering the best platforms for social media management, we've decided to take a sidestep away from marketing-side software towards sales-side solutions.
This week we move onto that stalwart of enterprise software, Customer Relationship Management (CRM). Successor to the old low-tech Rolodex, CRM has quickly become a digital home base for many a sales team. In doing so it's also become one of the indelible icons of enterprise software in general. If the first generation of enterprise software proliferation was driven by ERP and MRP then CRM was almost certainly the mascot for the second.
For more info on our criteria for this series check out this introductory post from a few weeks back.
Essential CRM Features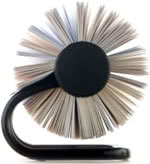 These days the amount of different features many CRM solutions advertise in loud, bold text are as kaleidoscopic as any other type of business software, if not more so. This can get confusing to say the least.
Fortunately, in the contrast to other more abstract segments like ERP, it's pretty easy to narrow one's lens down a few basic key priorities. Organizing leads and contacts is a fairly intuitive function, and even a team with only moderate field experience can quickly develop a list of CRM essentials. Here's ours:
Data-Rich Contact Info – A CRM system that empowers your team to work smarter instead of harder has to provide the maximum amount of meaningful data on each individual contact logged in your database. Names, titles, phone numbers, email addresses and the like are vital, but they're basics. Worthwhile CRM systems let users build vivid profiles for every lead: size of company, lead source, when they were last contacted and by whom, etc.
Generous Storage Capacity – For smaller companies lacking the time or resources for a hybrid deployment linked to an existing on-premise database this is especially important. While it seems like CRM entries might not take up that much storage, you'd be surprised. Think about how quickly one can hit the 1GB mark on a business-related email account if little to nothing gets deleted, which is how a CRM database would operate. We see 1-1.5 GB as the minimum recommended capacity for a smaller team updating and adding leads on a daily basis.
Email Templates and Campaign Management – Email outreach is an essential for many sales and marketing operations, and anything that helps make it easier to draft templated emails and send them out to various mailing lists is a major plus. A lot of CRM developers have heard this loud and clear and made email marketing campaign tools a standard.
The Finalists
So with the above criteria in mind we set out and evaluated a dozen of the top CRM systems that occupy the more affordable end of the price spectrum. After comparing each of them feature by feature we worked our way down to three finalists:
Zoho CRM – Zoho has one of the lowest CRM price points at any level. It also provides a very generous feature set even at the most basic subscription level and plenty of room to expand into Zoho's many other business applications.
Contactually – Of all the finalists Contactually has the best-looking, most intuitive UI. Additionally, you get visually vivid reports on user and lead analytics as well as novel gamification elements that few other CRM competitors have tried.
Highrise – Highrise is technically the most affordable of our three finalists. In contrast to most competitors in this price range, Highrise doesn't charge per user but has three tiers based on range of registered users: 1-7<, 6-15 and 15-40. Combine that with 5GBs and 5,000 contacts on the most basic plan and you have a pretty impressive offering.
All three of our finalists have outstanding offerings that strike a sweet spot of quality feature sets and reasonable price point. Here's our abbreviated chart pointed out some of the key categories where each one stood out: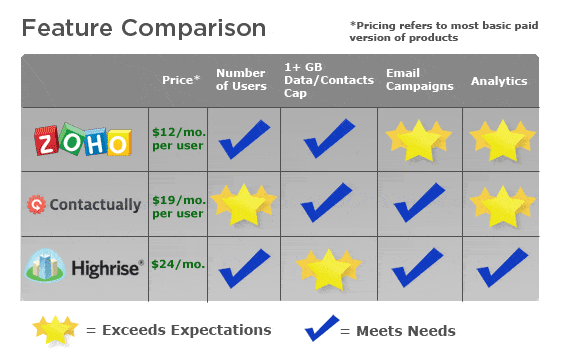 The Best-Value CRM: Final Verdict

Zoho CRM wins out by simply having the best ratio of overall cost vs. overall feature set. The tools for managing leads and contacts, the heart of the system, are solid and come paired with an impressive array of built-in integrations with 3rd party applications as well as the dizzying array of Zoho Apps.
Of course, Zoho isn't perfect. The utilitarian, even bare bones UI is a bit off-putting coming off the lush visuals of a comparable system like Contactually. As powerful as the built-in tools are, some, like the reports and analytics, aren't very intuitive, requiring users to invest time and effort into reading up on the documentation or learning from a poweruser if they really want to get in depth. But even with those flaws you're not going to find a more powerful and scalable CRM solution for a small or medium-sized team on a budget.
Community Pick: Insightly CRM


We paired our review of CRM solution finalists with a call to send in votes for your pick via social media. The results are in and the clear victor is Insightly, and what a choice it is.
At $29 per month Insightly is very competitive from a pure price point perspective, but that's far from its only strong point. Similar to Highrise, the $29/mo. isn't per user, but rather a flat monthly rate for any team between 3-6 people in size. Additionally, Starter subscribers get 6GB of storage as opposed to 5 and 25,000 contacts instead of the 5,000 cap on Highrise basic.
One issue with Insightly is that there's no built-in tool for creating, sending and tracking mass email blasts for outreach campaigns, but a robust integration with MailChimp mitigates most of that. Our favorite Insightly feature, however, is the sheer amount of different sources from which you can import contacts. The standard .CSV and .XLS/.XLSX spreadsheet formats are covered, but you can also bring in mailing lists from MailChimp, Gmail contacts and Outlook contacts. Though it's easily overlooked, any way of saving the end user from the doldrums of creating contact/lead pages by hand… one by one… over and over… all day–that's a huge plus in our book.
When it comes to Insightly, as with all the products on our finalist list, we can't wait to see what they come up with next.
Still looking for more insight on CRM? We've got you covered. To get more information on outstanding CRM systems the best place to go is our exclusive Top 40 CRM report. You can also check out the newly redesigned CRM resource page, the hub for all our CRM-related blog posts, research, product profiles and community members.