Yammer Networks Your Enterprise, Socially

Enterprise social software or "Enterprise 2.0," is a segment of business software that's on the upswing. With a market currently valued at $700 million and a predicted compound annual growth rate of 61% this software segment, which provides Web 2.0 social media functions like those of Twitter and Facebook for a workplace environment, is one that many companies want to deploy and more and more developers want to provide.
In our recent primer on enterprise social we mentioned Microsoft's entry into the segment with its purchase of Yammer, a firm that services more than 80% of the Fortune 500. Now, as part of the Microsoft Office Division, Yammer seems poised to tackle this segment backed by all the resources a huge and diversified player like Microsoft can provide.
Yammer got its start in 2008, founded by former PayPal COO David Sacks. The software itself has its roots in Geni, a program designed to trace genealogy and build and visualize family trees. Buzz for the company and its software built quickly, evidenced by the $142 million raised in venture funding in just a three-year period from 2009 to early 2012. When the company was purchased in June, 2012 it cashed out for a total of $1.2 billion, a price Microsoft was more than willing to pay.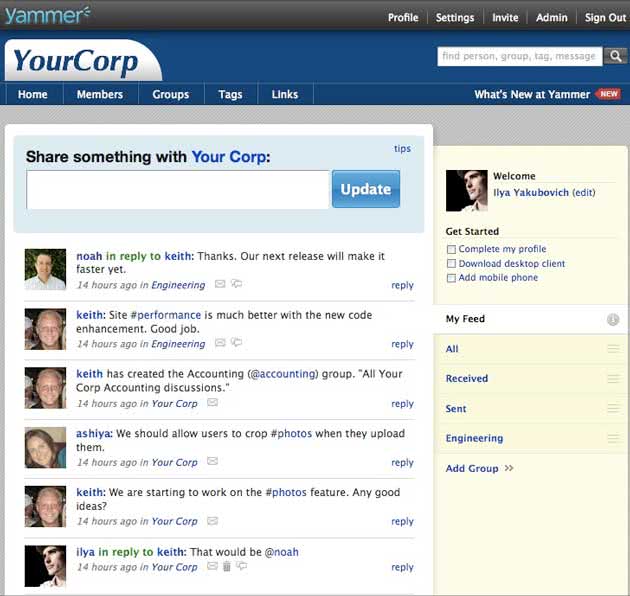 The Microsoft buyout was driven not just by its interest in entering the enterprise social segment, but an appreciation of what CEO Steve Ballmer called Yammer's "viral adoption model."
What Ballmer was referring to is Yammer's approach to easing prospective customers into picking up their software. The basic edition of Yammer is offered for free as a way to encourage test runs with the software. Being a cloud-hosted solution with a fully web-based interface makes it even easier for smaller groups or even individuals to download the basic software to experiment with it. From there goal is for people inside the company to see the prospective value Yammer can bring to their enterprise until it finds full implementation (and subscription) by IT departments.
Yammer's lightweight, Facebook-like interface is accessible on any computer with internet access and many different mobile devices. What the software provides is a secure social network for company employees to share information and documents as well as communicate inside and outside of their departments. User profiles also serve a secondary purpose as detailed employee records and bios listing skill sets and previous accomplishments. Additionally, features like quantifying praise for good work through built-in merit badges and achievements dabble in the sort of gamification elements that purport to boost productivity.
It hasn't all been rosy for the Yammer team, however. The service's website has suffered a series of outages throughout its run, most notably the day after its $1.2 billion purchase by Microsoft. Despite those setbacks, Yammer still looks like it will be a competitor in this growing segment.
Looking for more reviews of the best enterprise social networks? Head over to the Expert Picks & Reviews section of the Business-Software.com blog for top product reviews, deep dives, the best free software and more!