Swipe Right for These 6 Features of Web Content Management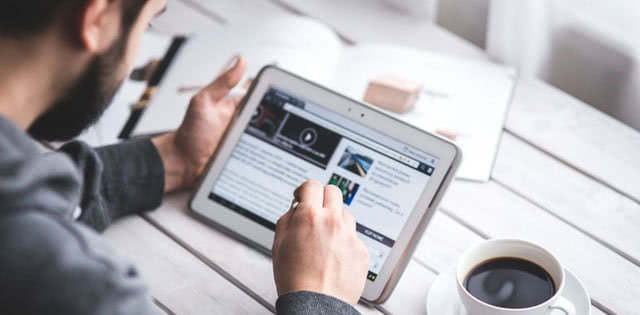 Every business needs a good website. Serving as an ambassador of your brand and often the primary portal your customers will interact with, a website is perhaps the most important element of a company aside from the actual product or service being offered.
In turn, making that web experience engaging and worthwhile for your clients will play a large role in determining their desire to move forward with a purchase or enroll in a subscription plan. Your website needs to reflect the hallmarks of your business in both style and design, communicate with your audience on a personalized level and deliver quality content that will succeed in driving conversions.

Web CMS: The Key to a Perfect Website
For many business owners out there, tackling the challenge of creating a website that accomplishes all of the aforementioned demands is tantamount to their own Mission: Impossible, due to the intense technical knowledge required to successfully pull off such an endeavor. Luckily, there's a better option than going it solo: web content management software.
Web content management solutions provide content creation and publication tools that make implementing great web content fast and simple for users, regardless of their technical know-how. Unless your team members are experienced web developers, your business needs a web content management solution to turn the vision of the content-rich website you've always dreamed of into a reality.

6 Essential Features of Web Content Management
To reap the full benefits of web CMS, your business should consider what specific features you desire. You'll also do well to evaluate the most common functions found within content management systems, as not all solutions will shine in the areas of greatest value to your company. To help you get started, we've compiled a list of the six must-have features of web content management.
WYSIWYG Interface

As visual beings, humans appreciate optical presentations of information — and that goes for their software tools as well. With web CMS, the ability to preview directly through its content creation tools how your content will appear when published will save you hours of headaches and frustration.
A "What You See Is What You Get" (WYSIWYG) interface allows you to edit your content in a form that closely, if not exactly, represents how that content will look when published. And for those without web coding knowledge, WYSIWYG's easy-to-use, drag-and-drop styling empowers even the biggest tech newbies out there to implement professional-looking content online without the hassle.
SEO Tools

If a website launches online and no one is there to see it, does its content matter? Ensuring that your website's content is driving traffic to your site is critical, as content that never receives viewers is worthless to your business — no matter how spectacular it might be.
A good web content management solution will incorporate SEO tools that allow you to optimize pages for search engines and ensure you select a unique keyword for each piece of content. SEO tools should also provide the means to choose whether the page is indexable and easily set up a page redirect when desired.
Content Development Tools

One method of reaching your online audience relies on using development tools to build content just like this blog post. Content developed within web CMS is flexible in that it can be tailored to fit any need or topic of your choosing, and can be drafted in a wide variety of formats.
Web content management platforms include the ability to build and customize content for each page of your site, from a company blog to your products and services page(s). Whether you want to post about your business's latest success, conduct interviews with high-profile clients or start an entertaining series that keeps readers coming back, web content management will give you the capabilities to do just that.
Ecommerce Integration

If a goal of your organization is to drive business conversions online, a platform with ecommerce integration will offer the best way to facilitate that revenue. Out of necessity, ecommerce solutions often have content management tools, and yet these tend to lag far behind the features offered by their fully fledged web content management counterparts.
Many web content management solutions include customizable store templates and order management in addition to providing the rich content creation and delivery tools that will help you build an emotional attachment with your audience.
Mobile Accessibility

With 64 percent of Americans owning smartphones and frequently using those devices to go online, it's imperative that your system provide full content management tooling. The latest versions of content management platforms don't just scale to fit the screen size of each visitor; they provide comprehensive front- and back-end access to your website. As with the desktop version of your site, the mobile version of your CMS should allow for simplified content creation and on-page editing.
Digital Media Management

Why settle for bland content when you can implement audio and visual components on your site that will help engage your target audience? Content such as graphics and videos are arguably the most powerful ways to demonstrate value, exemplify professionalism and inspire customers to act. Digital media management enables your business to easily add, format and publish mixed media on your website, which will take your site content to the next level and ensure your business stays on top of the media trends of the moment.
Ready to start shopping for your new web content management system? Begin your search with our handy guides to the Top Content Management Solutions — available for free and featuring an easy-to-read chart format.
Kristin Crosier also contributed to this blog post.
[Photo courtesy of Pexels.]