From the Community: Best Web CMS for Non-Developers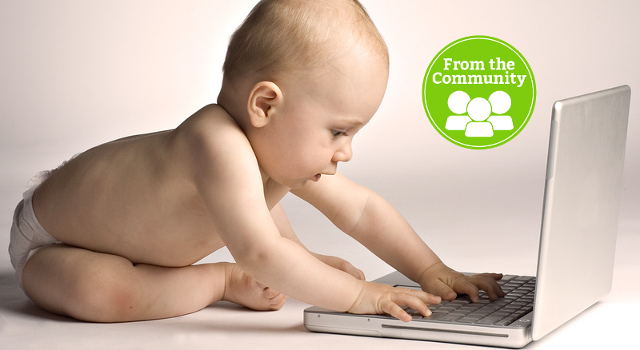 Welcome to From the Community, where we highlight questions from our community members. Join us each Friday as we dive into the featured inquiry. To submit your questions, head over to the Business-Software Community.
Every business needs a web CMS in order to survive. A shop with a neon "open" sign may not win traction, and the old "word of mouth" has been replaced with the "share" button. In a world full of texts, tweets, posts and shares, having no voice at all on the web can be detrimental to your small business.
Today's #FromTheCommunity question comes from Juanita D. who asks, "What is the best CMS that non-developers can use and easily update?" For this post, let's assume our questioner also plans to design and build the site without glancing at web script.
Why web CMS and not a static website?
You may be a real estate agent, a freelancer, or a lawyer in need of a simple portfolio site. Or perhaps you're the entrepreneur of a garage-based startup with just a single product and a short description. At first glance, a web content management system doesn't make sense. After all, with a static site you write it once and it's done.
Sites like GoDaddy provide canned sites with minimal effort: pick a template, customize it with your own content, then buy a domain and a host. Certainly in the short term, this choice is a small and seemingly practical investment. But taking ROI into account, CMS may be an overall better choice.
GoDaddy provides canned, static sites for small businesses or personal portfolios using customizable layouts.
Here are three reasons to choose a web CMS over a static website:
1. You don't speak out once, but many times
A static website contains the essentials: your product, your company description and your contact information. A modern site will have a large banner or two, and maybe a simple image gallery. But as far as the marketability goes, the static website does little.
With a web CMS, you can host a blog within your CMS, which allows you to make updates, post videos and keep your presence known. When you publish a static site, it's like broadcasting out into the web community once. With CMS, you will speak out again and again.
2. You have room to grow
While your site may have barely enough content for a single-paged, parallax scrolling website today, plan for that to change. For a company with no developer experience whatsoever, adding additional pages to a static site will take some technical and design knowledge. CMS often includes what-you-see-is-what-you-get (WYSIWYG) authoring tools. Editing and adding pages to your site can be a quick and intuitive experience.
3. You can develop an online following
According to an uberflip infographic of top content trends, "Online content is where the mainstream is heading." 92 percent of marketers are using content marketing, and companies plan to increase their content marketing budget by up to 60 percent in 2014. The budget increase is partly due to deafening noise on Twitter and Tumblr. Gaining exposure isn't always easy, but all marketers agree that it matters.
Content marketers know they can reach their audience through the devices people use most. Content marketing is a form of advertising that's been uniquely embraced by consumers. If done right, you can harness it to cultivate brand loyalty in a way billboards and magazine ads can't.
OK. So I should use a web CMS, but which vendor do I choose?
So you've decided to go for a web CMS over the static site. But how do you begin when you've never made a website before? If you feel you don't have the tech know-how to maintain an active site, these CMS recommendations will eliminate any concerns:
What makes it easy to use:
Intuitive page editing
Open source and free to use
Strictly curated add-on marketplace
Simple yet flexible WYSIWYG design tools
Pick up and use without instruction
Named a Best-Value CMS back in December, a number of respondents to our Twitter poll said Concrete5 is superior for easy client handover and intuitive editing capabilities. This translates into incredible ease-of-use for even the least technical individuals.

What makes it easy to use:
Stock website designs that adapt for mobile
WYSIWYG design editor
Edit content directly on the page
Ecommerce store built in
Cloud hosting included with purchase
This web CMS matches its title perfectly. Eliminating the need for even a web designer, LightCMS includes a complete WYSIWYG solution that has everything a company website could need, including a built-in ecommerce store and marketing tools. LightCMS also takes care of hosting and allows you to edit directly on the page. CMS doesn't get much simpler than that.
What makes it easy to use:
WYSIWYG templates
Theme import
Drag-and-drop navigation editor
Automated SEO
For those looking for a more robust solution, Percussion doesn't compromise on the usability. Named the Hot Vendor for 2013 by Aragon Research, Percussion creates websites with modern designs using a visual template editor. The drag-and-drop navigation editor makes your web structure fail-proof by ensuring no links are ever broken.
Once I pick a web CMS, what are my next steps?
To get your new website up and running, you need several things beside your CMS: (1) a domain name, (2) web hosting and (3) content. Content means more than written content: videos, high-quality images and other assets are essential to a visually appealing website. Many companies use resources like iStockPhoto to purchase quality, images to add color and vibrancy to the page.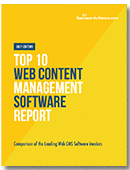 To learn more about web CMS, Business-Software.com has a variety of resources that can be found both on the CMS research page and the web content management whitepapers page. If you want to find more of the best web CMS vendors, download our Top 10 Web CMS report, which contains side-by-side comparisons of the industry's leading solutions.